Bernard Tomic's father charged over 'altercation'
Last updated on .From the section Tennis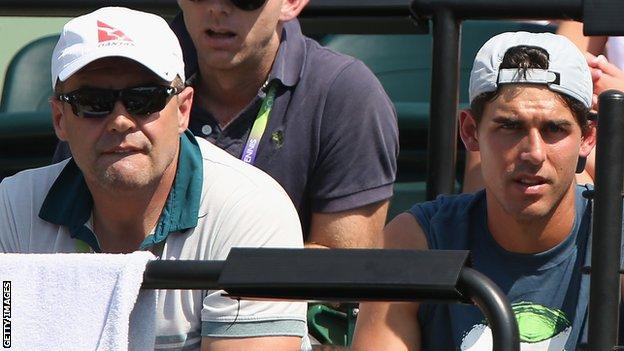 The father of Australia's number one tennis player, Bernard Tomic, has been charged with assaulting his son's practice partner.
John Tomic, who coaches his 20-year-old son, allegedly headbutted Thomas Drouet in an incident in Spain ahead of this week's Madrid Open.
He has denied the charge and will attend a court hearing on 14 May.
Tennis Australia is investigating the incident and has offered assistance to Bernard Tomic in the interim.
"The key for us in this whole thing is making sure that Bernard's welfare is being taken care of," Todd Woodbridge, Tennis Australia's head of professional tennis, said.
"What's important is that tennis will be a bit of a sanctuary for him.
"This might not help his tennis in the short term, but Bernard has been really good at playing under these stresses and duress."
World number 53 Tomic, who has a career-high ranking of 27, lost 6-3 6-2 in the first round of the Madrid Masters clay-court tournament to Czech Radek Stepanek on Sunday.