Laura Robson knocked out of the Madrid Open by Ana Ivanovic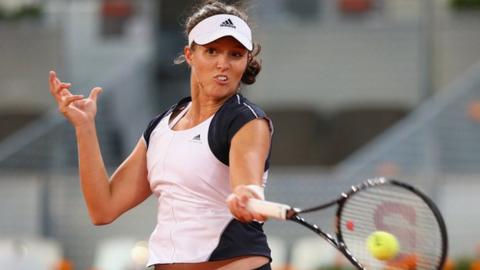 British teenager Laura Robson was beaten 5-7 6-2 7-6 (7-5) by former world number one Ana Ivanovic in the third round of the Madrid Open.
Robson, who beat world number four Agnieska Radwanska on Monday, let a 5-2 lead slip in the deciding set.
The British number one was aiming for a spot in the quarter-finals but hit an 11th double fault when facing match point.
"I'll definitely take the positives out of the match," said Robson, 19.
"It's been a good week of tennis for me and my level has picked up a lot since Estoril last week. It's not all bad and I've still got Rome to look forward to next week. It was a great match from her and hopefully we'll have some more great matches in the future."
Robson's defeat followed news that she had split with Croatian coach Zeljko Krajan after only nine months together.
The Briton, who has suffered six first-round defeats on the WTA Tour this season, plans to work with coaches Sven Groeneveld and Mats Merkel in Rome next week.
Serb Ivanovic, who won the French Open in 2008, will play German Angelique Kerber in the last eight in Madrid.
Elsewhere, Victoria Azarenka suffered a shock 1-6 6-2 6-3 defeat by unseeded Russian Ekaterina Makarova.
The world number three, who was unbeaten in 18 matches this year, appeared firmly in control against her 24th-ranked opponent after cruising through the first set.
However, Makarova took the second set and then Azarenka smashed her racquet on the ground at 3-3 in the decider to pick up her second code violation.
The 23-year-old Belarusian's game fell apart from there and she suffered her first defeat of the year.
"After all you've done, how are you still in the game?" Azarenka shouted at the official while on court.
Azarenka, who had a first-round bye, said she felt confused by some refereeing decisions.
"I didn't understand what happened, what I did," she said. "I was very sure that I didn't have a code violation, that's why I broke my racquet."
Playing in her first event since suffering an ankle injury in March, Azarenka said the lack of competitive action had been a factor.
"I have been making mistakes that I don't do but that's what comes after not playing for a long time."