Andy Murray no drama queen as injury hits French Open hopes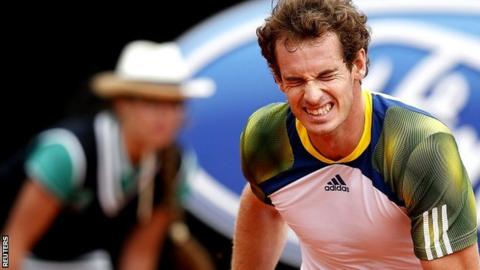 As Andy Murray came to terms with the fact that he might well miss the French Open, it clearly still rankled that doubts have been cast over his injuries in the past.
About an hour and a half after the British number one had at the Italian Open, he sat down to explain his decision to pull out of the second-round match moments after winning a second-set tie-break to draw level with the Spaniard.
Little probing was required before he volunteered the information - at first softly, and then with real emotion as he was asked to repeat his words - that he would be very surprised if he even made it to the French Open.
Earlier, an on-court massage from the ATP trainer had gradually brought the British number one - clearly labouring up to that point - to life.
And having produced one of his favourite party tricks - on his 26th birthday - by retrieving a seemingly lost situation to square the match, the expectation was that he would claw his way into the third round.
But the lower-back injury, which he says has been troubling him since late 2011 and so undermined him on clay last year, had returned with a vengeance.
"It was a slight issue for me in Madrid last week," he told me afterwards.
"I practised yesterday and it felt OK, but once you get into match conditions, that's different.
"It was quite sore early in the match and I decided to stop after the second set, as I wouldn't have been playing tomorrow even if I had got through.
"It's the [problem] I had during the clay-court season last year, which was apparently not an injury according to a lot of people, and it's been there for a few months now."
That last comment was a sign that he has not forgotten the criticism he received after last year's second-round victory over Jarkko Nieminen at Roland Garros.
Former Wimbledon champion Virginia Wade described him as a "drama queen" for serving remarkably slowly and repeatedly clutching his back after lengthy on-court treatment.
Murray turned that match around and went on to reach the quarter-finals, but he thinks a repeat is unlikely this year.
He will take a few days off and consult a range of experts before making a decision in the early part of next week. Emotion can cloud a player's judgement when asked for an instant prognosis, but his instinct tells him that the injury won't recover in time.
"You have to generate more power on the clay because it's a slower court and you have to use more rotation," he explained.
"You use your back a lot more on the clay than on other surfaces. I don't want to have this issue for another four or five months. I need to give it a bit more time to settle down."
The world number two left the Rome press room a dejected figure - one unlikely to be able to salvage much joy from what was left of his birthday.
Wimbledon is barely a month away and at the end of August he will be desperate to put up a strong defence of his US Open title.
Missing a Grand Slam that he would struggle to win, even if fully fit, might seem like common sense, but he's a natural competitor who thrives on success at the Slams - which might just make next week's decision a little less straightforward.