French Open: Rafael Nadal and Serena Williams 'logical picks'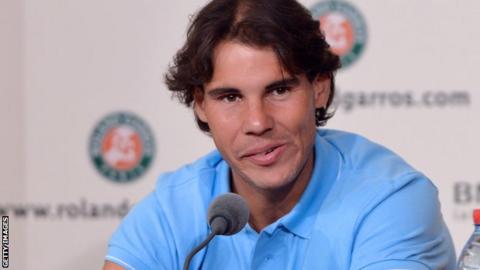 Rain, hailstorms, even a bit of snow: a most peculiar build-up to the traditional start of the tennis summer at Roland Garros.
The covers were over Court Philippe Chatrier for most of Friday and when they were rolled back around lunchtime, it was Roger Federer who stepped out to make the most of the available window.
After his single-message debut on Twitter the previous afternoon, and sporting a very Gallic blue and white hooped shirt to go with his new thinned-down haircut, Federer hit for a while with Benoit Paire and then got on with media duties.
Roland Garros isn't much fun in the rain. Spectators on the grounds for the qualifying matches had to grab the precious few spaces under cover while ball-boys and ball-girls, umpires and line judges often stayed by their courts in pretty heavy rain in the hope of a break in the weather.
The player lounges are at their busiest just before the start of a Grand Slam and both areas - at Chatrier and underneath Court Suzanne Lenglen - resembled airports at times of great delays.
Needless to say the chance to come in and spend some time with the press - normally an understandable chore - turned into a marginally more attractive way of passing the time.
Federer was grilled about his social-media strategy (he belatedly thinks Twitter could be fun, after previously saying, "Why on earth would I want to do that?"); Serena spoke of enjoying her tennis more and being less stressed; Rafa Nadal claimed that winning six tournaments - as he has this year - means more than winning one Slam; and Novak Djokovic curiously announced that he didn't want to be asked about the draw. "Please respect his wishes," said the moderator.
Nadal and Djokovic, last year's finalists, are in the same half, generating early anticipation of a classic semi-final in a fortnight's time. Maybe that's why Novak didn't want the questions. After defeats by Grigor Dimitrov in Madrid and Tomas Berdych in Rome, the top seed doesn't want to take anything for granted, particularly with Dimitrov, the exciting Bulgarian, lurking as early as round three.
In-form Berdych has a horrible draw with the wildcard Gael Monfils, returning from injury, in the first round probably followed by enigmatic Latvian Ernests Gulbis who, like this time last year, is suggesting he could make a big impact. Don't hold your breath, though. A Berdych-Ferrer quarter-final looks likely.
The highlight of the women's draw, and not just from a British perspective, is the pairing of 10th seed Caroline Wozniacki with Laura Robson. The British number one has a burgeoning international reputation thanks to her wins this year over Petra Kvitova, Agnieszka Radwanska and, to a lesser degree, Venus Williams. This is another glorious opportunity for her against the former world number one.
Wozniacki is on a terrible run of form. She has lost on her last five outings, four of them opening-match defeats on European clay, including as the number one seed in Brussels this week. She will not fancy meeting Robson one little bit.
Any possible conflict of interest with adidas coach Sven Groeneveld will be avoided (both players are clients of the clothing manufacturer) as LTA coach Iain Bates plans to look after Robson's preparation. Ever the professional, Groeneveld - Robson's interim advisor while she searches for a replacement for Zeljko Krajan - will have to be strictly impartial, and both players know that to be the case.
How nice it will be to see Heather Watson back on a tennis court, although her return to form and recovery from glandular fever will undoubtedly require a little patience. Her opening match against Stephanie Voegele is a tricky one, especially for someone who hasn't played a warm-up tournament.
In terms of newcomers, Canadian teenager Eugenie Bouchard, doing so well in Strasbourg this week, could get an early crack at Maria Sharapova while Caroline Garcia, the local wildcard who impressed Andy Murray a couple of years ago, may be an early obstacle for Serena Williams. The clash between Donna Vekic and Mallory Burdette has an outside-court appeal.
With the forecast cold and cloudy for the first few days, success for all the players in those cramped locker rooms will just be getting out onto the famous Paris clay.
Going on form, an eighth title for Nadal and a first since 2002 for Serena are the logical picks.