Andy Murray planning to compete at Wimbledon despite injury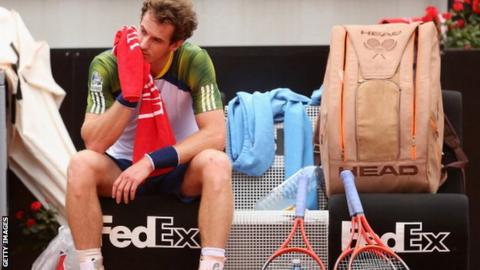 World number two Andy Murray has said he needs to patient and admits he has a "long way to go" before he is 100% fit.
The Briton withdrew from the French Open with a back injury that had forced him to retire from the Italian Open.
He said he is aiming to play at Queen's in June, telling ESPN: "I'm going to try to get myself ready to play at Queen's but I have to wait and see.
"Hopefully by the grass court season I will be feeling better. I have a long way to go before I am 100%."
This year's French Open is the first Grand Slam tournament he has missed since he pulled out of Wimbledon in 2007.
He was troubled with a lower-back problem at the Italian Open on his 26th birthday on 15 May and withdrew after winning a tie-break to square the match at one set all against Marcel Granollers.
Queen's starts on 10 June and the US Open champion, who has suffered with a back problem for the last 18 months, said the plan was to compete in the Wimbledon warm-up event.
Wimbledon begins on 24 June.
"The grass is a bit easier on my back than the clay and I'm hoping that Wimbledon is going to be fine," he added.
"I have been doing three hours of rehab and treatment every day to make sure it's as good as possible for the grass court stretch, but I still have a process I am going through to build up my training to see if I have any setbacks or not when I start to push a little bit more.
"I have hit some balls the last couple of days but I haven't been doing any movement on the court yet.
"It's very easy standing in the middle of the court having a controlled practice session for 30 minutes, it's another thing playing for four hours on a clay court or even a grass court when you are playing the best players in the world."