French Open 2013: Bernard Tomic backs banned father and coach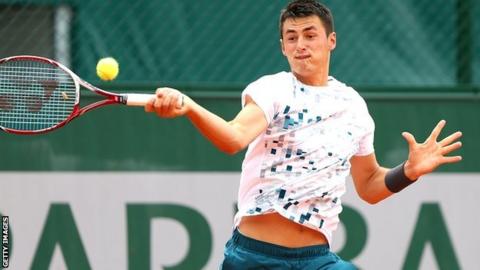 Australian Bernard Tomic has confirmed that his controversial father
Tomic, 20, withdrew with a hamstring injury during his French Open first-round match against Victor Hanescu on Tuesday.
The world number 61 then faced the media for the first time since his father, John, was charged with assaulting Thomas Drouet before the Madrid Open last month.
John Tomic was subsequently banned from attending tournaments and had been barred from entering Roland Garros by the French tennis federation.
Officials on the gates were given instructions to prevent him entering the grounds if he tried.
"He's here right now in Paris, so he's still working with me," said Bernard Tomic. "He's still my dad, he's still my coach, and, you know, I love him a lot."
There had been speculation that John Tomic might attempt to enter Roland Garros as a spectator to watch the match, which took place away from the bigger arenas on Court Six.
He apparently stayed away but will be travelling to the UK next month with his son, who is scheduled to play at Queen's Club, Eastbourne and Wimbledon.
"Nothing's changed between my dad and me," said Tomic.
"It's still the same. He's still with me; he's in Paris in my hotel. We're leaving tomorrow, I think, back to Monaco, so he's still the same. Nothing's really changed."
And he revealed that he is looking to bring in someone to work alongside his father, with two or three candidates in mind.
"I might put someone else on board that can help my dad, sort of, and them two people negotiate," he said.
"Not sort of a coach but someone just to help me a little bit. I haven't made a decision yet who. It might be a few weeks away, maybe after the grass, but I'll see.
"I'd like to get someone in before the grass that can help me and my dad."
Asked whether he had been able to focus on tennis amid all the speculation about his father, the younger Tomic added: "I'm the type of guy where I can sort of let these things go.
"I was feeling fine. The last two weeks, I was training well, playing well, didn't think a lot about it, was not worried.
"To be honest, I didn't think about it the last week."