French Open 2013: Grigor Dimitrov on facing Novak Djokovic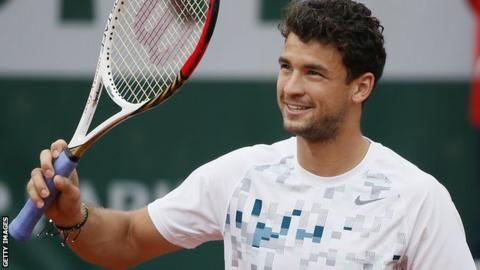 Grigor Dimitrov has so much to smile about at the moment that even mention of the word 'paparazzi' cannot shift his grin.
The 22-year-old Bulgarian's profile has risen to such an extent this year that pictures of him taking a romantic stroll through Madrid with his girlfriend earlier this month were the talk of tennis.
Admittedly, the fact that his girlfriend is Maria Sharapova might have had something to do with the worldwide interest.
Asked what he thought of those paid to take the pictures, the smile didn't fade, even if the jaw clenched just a touch.
"Well, they've got to live, right?" he said. "It is what it is. It will happen, so I've got to be ready. Next time I'll wave, maybe."
It may or may not be coincidence, but while his personal life has been making waves, his professional fortunes have also been on the up.
The former world junior number one reached a career-high ranking of 26 this month and, after pushing Rafael Nadal to three close sets in Monte Carlo,he toppled world number one Novak Djokovic in Madrid.
Following his win over Lucas Pouille on Thursday, Dimitrov faces a third-round rematch against Djokovic that promises to be one of the early highlights of the French Open.
"It's a great feeling, obviously," said Dimitrov, seeded at a Grand Slam for the first time. "I'm going to smile coming out on the court. That's one thing. Smiling won't win the match."
Extravagantly talented, with a flowing single-handed backhand, Dimitrov has a style that connects with tennis of past eras, much like Roger Federer, but the modern game demands more than pure shot-making ability.
A bout of cramp during last year's four-set loss to Richard Gasquet at Roland Garros is an experience that has stayed with him.
"Last year is a bad memory for me here," he said. "I would say the physical part always been a little down on my side, but I have been feeling quite well lately.
"I have been working a lot the past six, seven months, trying to improve on every aspect of the game and putting a lot of hours on the court. So I think I got all that wrapped up together and put it on court."
That hard work took place at the Good to Great Tennis Academy in Sweden, run by Mikael Tillstrom, Magnus Norman and Nicklas Kulti, and they clearly pushed their new charge hard.
"Last December I think is one of the darkest months in my life," said Dimitrov.
"We had been working a lot on the fitness, and of course we spent a lot of hours on court playing indoors for a month. It wasn't easy. You know, going to Australia was actually sort of a walk in the park after that."
The year began with Dimitrov reaching his first ATP final, losing to Andy Murray in Brisbane, but a disappointing first-round loss at the Australian Open maintained his modest record at the majors.
Without a tour title to his name and preparing to play in the third round of a Grand Slam for the first time, Dimitrov should be a million miles from contending for the title in Paris.
But if he can knock over the world number one for the second time in a month, he will at least be in the mix at a Slam for the first time. He believes he can go all the way.
"When you come into a tournament, you've got to be ready and come positive and loaded with energy," he said.
"You have four Slams a year, so of course it's never easy to say something like that. I think with every match you're starting to wonder, can I go further?
"Once that talk kind of seals in your head, and you have that mindset that I can win, I think, 'Yeah.'"