Andy Murray admits being boring in news conferences to avoid rows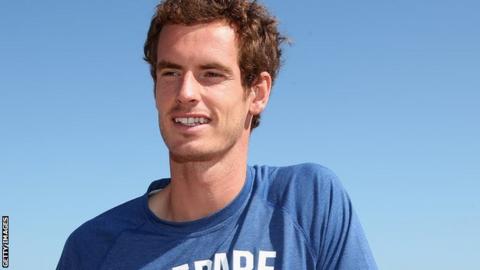 Andy Murray says he deliberately makes his news conferences bland in order to avoid being subjected to the kind of criticism Ernests Gulbis has received for saying the sport's top four players are "boring".
Latvian Gulbis, ranked 40th in the world, on Wednesday accused Murray, Roger Federer, Rafael Nadal and Novak Djokovic of lacking character.
Murray said: "I always try to give honest answers. But they are fairly boring so I don't have to deal with the aftermath of any scandals."
Gulbis made his comments ahead of his second-round defeat by Gael Monfils at the French Open.
He accused tennis of being too polite and civilised, recommending that the sport should follow boxing's example.
"I have no interest in appearing nice," he added in an interview with French daily L'Equipe.
"On the court, it is a war. Off court, no problem. I have a good relationship with most of the players.
"But I want to say what I think. And if my prognosis is that I am going to win the match, it doesn't bother me to say so.
"I respect Roger [Federer], Rafa [Nadal], Novak [Djokovic] and [Andy] Murray but, for me, all four of them are boring players. Their interviews are boring.
"It is Federer who started this fashion. He has a superb image of the perfect Swiss gentleman. I repeat, I respect Federer but I don't like it that young players try to imitate him."
Murray, who withdrew from the French Open last week because of a back injury, says he is not interested in becoming involved in any off-court histrionics.
He said in an interview with GQ magazine: "As an athlete, all I do is try my best to be as good as I can be as a tennis player.
"Whether people like you or not should be irrelevant. But, to be honest, over the years I have found it difficult to open up and be a bundle of laughs in press conferences or interviews.
"I would say that I am different from what a lot of people think I am like.
"You don't get to see what people are really like from in front of the TV. It is very easy to be false and fake in front of the camera. But to tell jokes and be fun all the time, that's not actually very hard to do.
"If you are going to be truthful and tell things like they are, that is much harder."