Rafael Nadal labels French Open schedule 'a joke'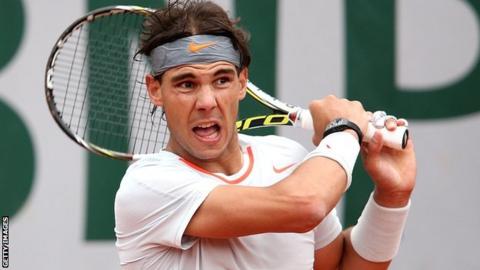 French Open
Venue:

Roland Garros, Paris

Date:

26 May to 9 June

Coverage:

Live radio and text commentary on BBC Radio 5 live, 5 live sports extra, BBC Sport website, mobiles and the BBC Sport app
Rafael Nadal described the French Open scheduling as "unfair" and "a joke" after he completed his second-round match on day six of the tournament.
The seven-time champion beat Martin Klizan 4-6 6-3 6-3 6-3 on Court Suzanne Lenglen in a match held over from Thursday because of rain.
But Nadal was unhappy that his third-round opponent, Fabio Fognini, benefited from a day off on Friday having been scheduled earlier on Thursday and completed his match against Lukas Rosol.
"I think everybody knows in this room that the schedule of yesterday was wrong," said Nadal. "That's the real thing.
"I don't know if the director of the tournament, supervisors, guys who take the positions, they take a bad position two days ago, because when you make the schedule at 7:00 in the [evening], not 11:00 in the morning, you know which weather predictions you have for the next days.
"I cannot play third after men's and girls when my possible opponent plays second after girls. That's not fair. And today I was playing almost three hours on court, and my opponent was watching the TV in the locker room.
"So if you told me that's fair, I say that's not fair. The only thing that I can do is be positive, smile, and try to win my match and try to be ready for tomorrow."
The first week of the French Open has been disrupted by poor weather, and Thursday was the worst hit.
Nadal was scheduled third on Lenglen but after wins for Grigor Dimitrov and Victoria Azarenka, the Spaniard did not get any further than the knock-up before the rain returned.
"This is not right, and I hope they accept the mistake because girls plays best of three," he said.
"For them it's a normal tournament. Even if they play Grand Slam and all the matches of the career and all the tournaments, they play best of three. It's not a change. If they have to play two days in a row, it's not a big deal.
"For us it's completely different. The excuse they told me was because Rosol has to play doubles. I am sorry, but that's a joke. You have one more week to play doubles if you want to play doubles.
"Why do you want to protect the player who has to play doubles? So I'm going to write myself on the doubles draw then and I have the priority to play? That's not the right excuse to make a schedule like this.
"I don't want to keep talking, because it seems like I am the bad guy saying that, but that's the real thing, and everybody here knows that's not right."