Wimbledon 2013: The state of grassroots & elite tennis in Britain
By David Ornstein
BBC Sport
Last updated on .From the section Tennis238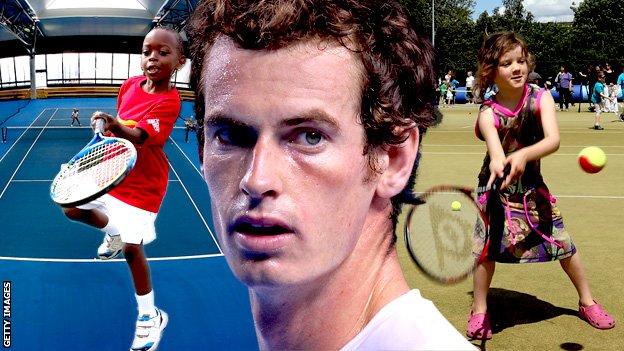 With the grass-court season upon us and Wimbledon less than a week away, British tennis is about to experience its annual moment in the spotlight.
But this year carries added importance because charged with failing to grow participation and threatened by the loss of £10.3m in funding.
The governing body has until December to prove itself worthy of receiving that public money. If not, Sport England will pump it into the game through alternative means.
So while the nation craves success from the likes of Andy Murray and Laura Robson, the LTA is working frantically to improve the state of tennis at grassroots level.
Sport England director Phil Smith is of the opinion that elite success and grassroots participation are not mutually exclusive.
"We think they can be both achieved at the same time," he told BBC Sport. "British Cycling has managed to do both and that tells me it's possible.
"I want the LTA to have a big summer, winning as much as they possibly can with British players. I want the knock-on effect of that to be more people on tennis courts."
Easier said than done, but many would argue this should be expected of an organisation with a £60m turnover, a £40m National Tennis Centre and an earning £640,000.
LTA statistics indicate that there are 4,118 places to play tennis in England, Scotland and Wales, including 97 performance centres, 21,186 courts (1,645 of which are indoor) and 3,904 registered or licensed coaches.
Tennis Ulster lists a further 40 clubs, 320 courts (10 indoor) and 80 coaches in Northern Ireland.
According to Tennis for free, which campaigns for better access to tennis facilities, there are 2,594 free public courts and 16 free park coaching programmes in the United Kingdom.
For a nation of its size, the level of infrastructure appears reasonable, but Britain still has fewer players in the ATP and WTA rankings - 66 men and 27 women - than any other leading tennis country.
Great Britain and Northern Ireland

Population

Venues

Courts

Outdoor

Indoor

Coaches

England

53m

3,624

19,197

17,717

1,494

3,507

Scotland

5.3m

301

1,110

1,008

102

263

Wales

3m

193

879

814

65

134

Northern Ireland

1.8m

40

320

310

10

80

Sources: LTA (England, Scotland, Wales) and Ulster Tennis (N Ireland) Note: All figures combine verified statistics with unverified estimates
The success stories - the rise of Laura Robson and Heather Watson, and various junior triumphs - are offset by the fact that just one man and four women are inside the world's top 200.
At the French Open, exposed the lack of strength in depth in men's singles as no British man contested the main draw for the first time since 1994. In the women's event, Britain's three entries won one just set between them.
"We need to start again, no matter how long it takes," said John Lloyd, a former British number one and Australian Open finalist who has also coached Britain's Davis Cup team.
"Spending money on players at the top has not worked. The important thing is to create a base from the bottom up."
Tennis Europe's 2012-13 report shows that, despite similar populations, France has three times more clubs than Britain, 11,000 more courts, five times the number of indoor courts and 7,000 more coaches.
France can also lay claim to 132 ATP and 58 WTA ranked players, with 19 men and 11 women in the top 200, although its wait for a male Grand Slam singles champion now stands at 30 years.
Spain has 1,500 fewer clubs than Britain and a quarter of the courts, but 16,500 more coaches. It also has 92 ATP and 32 WTA players - 19 men and eight women in the top 200 - plus plenty of Grand Slam winners.
"France has some of the best coaches in the world, a club system that is the envy of nearly all of their international rivals and good courts in almost every town across the nation," Pat Cash, Australia's 1987 Wimbledon champion, wrote in the Sunday Times.
"The Spanish players are tough because they are brought up the hard way and thrust into solid competition against senior male players at a very early age. It's a case of sink or swim and those who are good enough keep afloat and flourish."
The LTA points to a promising future after Britain won the for the first time in 2011. There have been other notable performances from British youngsters, too, with Kyle Edmund winning the boys' doubles at this year's
The LTA also highlights its vast Talent ID programme and claims that 58,000 juniors compete in six or more matches a year, with 17,000 playing 20 or more.
Elena Baltacha, one of Britain's leading female tennis players for the last decade, said more needs to be done.
"Kids have to compete more regularly," said Baltacha, who runs the Ebat academy in Ipswich.
"The more we get competing, the higher the quality is going to be. Then a filter begins to emerge and the strongest will survive."
Cash argues that junior competition - an area in which Britain traditionally has a reasonable record - is not necessarily the key.
"In the boys' singles at Roland Garros this year, there were 12 French entrants, four Australians and three players each from Britain and the United States," he wrote. "How many Spaniards? Just one.
"Spanish kids don't bother with the juniors and are brought up on the ultra-competitive network of Spanish clay court tournaments."
It was this environment that led London-based Cash to send his son to the Sanchez-Casal Academy in Barcelona, where Murray spent two years developing his career after leaving Scotland in 2002.
"Every day they empty crates, hitting hundreds of tennis balls, honing the groundstrokes and technique. At weekends, they play in extremely demanding contests," Cash explained. "The kids learn resilience, stop using lame excuses and lose their softness."
Speaking on the condition of anonymity, one British player told BBC Sport: "A lot of the British players I see are flaky, they're weak.
"A lot of the young British players get funding without doing an awful lot or, if they don't, their parents help out.
Great Britain v other nations

Population

Players*

Clubs

Courts

Indoor

Coaches

USA

313.9m

13.2m

14,226

99,014

11,182

25,000

Germany

81.8m

4m

9,584

48,056

4,898

20,000

France

65.4m

4.1m

8,217

32,387

8,554

9,291

GB&NI

64.3m

4.4m**

2,740

21,506

1,528

15,000***

Italy

60.7m

3.2m

3,000

9,600

1,800

5,000

Spain

47.3m

4.8m

1,226

5,676

57

16,500

Australia

22.3m

2.2m

2,980

15,785

167

1,818

Sources: Tennis Europe 2012-13 Report, LTA, Ulster Tennis, USTA, Tennis Australia Note: Some figures combine verified statistics with unverified estimates *All club members, plus recreational players play at least four times a year **Includes those who play at least once a year ***Unverified figure - LTA has 4,495 registered or licensed coaches
"They work hard, but maybe the commitment is not 100%. They do the gym and tennis sessions, but they don't push it past the point of no return. They go to discomfort but they don't go to pain.
"A lot of players I see from other nations - the Spaniards, the Serbs - are much tougher mentally. They're very hardy people."
Baltacha agreed that coaches should "be harder with the players", a philosophy she feels has helped grow the number of players at her academy grow from 10 in 2010 to around 150 today.
She is adamant more British players will rise to the top if the volume of people taking part in tennis is greater.
That sentiment is now being embraced by the LTA, whose 2006 vision of "winning" has shifted to "more people playing tennis more often".
A detailed plan has been drawn up to address Sport England's concerns, focusing on three areas to drive participation:
Community

- play for free or pay and play in parks, indoor tennis centres, leisure centres and community centres

Clubs

- play via membership at public and commercial venues

Education

- play in schools, colleges and universities
In response, the LTA believes more than 110,000 children already play Mini Tennis at 1,500 venues across the country.
"It's really important we have an attractive offer at the entry point so we can bring kids into our sport in a fun and engaging way," said Oliver Scadgell, the LTA's head of competitions and programmes.
"The more kids we get in, the more likely they are to progress through and maybe become the next Andy Murrays or Laura Robsons."
There are countless other initiatives being used by the LTA to get people of all ages, abilities and backgrounds involved, with a significant emphasis on changing perceptions of tennis.
One example is the Urban Tennis Passport scheme in Birmingham, launched by coaches James Keatley and Paul Bayliss.
"When I was at school, I was beaten up for playing tennis," said Keatley. "There is a bit of stigma about the game, especially around Wimbledon and wearing whites. It is very middle-to-upper class.
"We're trying to change the culture of tennis, take it to the kids, give it a re-wrap, make it cool and put some fun back into it using things like music, video, graffiti and freestyle tricks to enthuse."
Similar initiatives are being piloted in Portsmouth, Swansea, King's Lynn, Leeds, Liverpool and the London Borough of Tower Hamlets as the LTA looks to make tennis more accessible and affordable.
Meanwhile, a £1m project is boosting tennis in Glasgow, with inner-city courts at Drumchapel Park and Knightswood Park transformed to offer free play and coaching on new floodlit surfaces.
Virgin Active is also offering free introductory sessions and Aegon is investing in schools,Parks Tennis and domestic tournaments.
The LTA claims the average cost of club membership in England, Scotland and Wales is now £2.81 per week for adults, 94p per week for juniors and 40p per week for children under the age of 10.
Sport England says it is noticing a "dedicated and concerted effort to fix the problem" and believes better times could lie ahead for British tennis if the LTA is able to deliver on its promises.