Wimbledon 2013: Andy Murray keeps it low-key in quest to win

By Jonathan Overend
Presenter, on BBC Radio 5 live
Last updated on .From the section Tennis97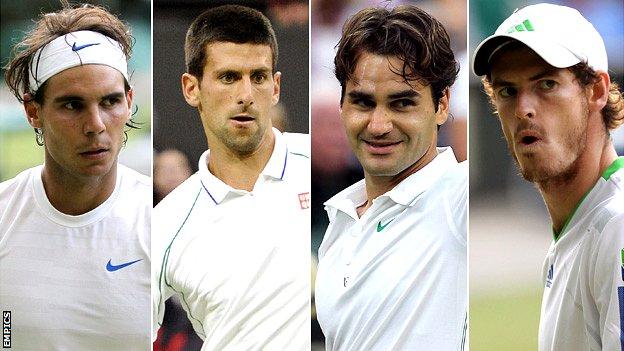 One of the most endearing aspects of Andy Murray's slightly important day last year - Sunday 8 July, his first Wimbledon final - was the fact he travelled to the match of his life in a Volkswagon Polo.
Shunning courtesy cars or the more extravagant vehicles at home, Murray spent much of the fortnight zipping about in his little runaround, something he uses deliberately for the anonymity factor, and nothing changed for the final.
As legend has it, he rattled up the A3 towards Wimbledon with his mate at the wheel and racquets in the back, and was almost cut up by an enthusiastic fellow motorist. The other guy, having clocked Murray in the passenger seat, apparently penned a good luck message and held it to the window while attempting to stay London-bound on the busy dual carriageway.
Everything staying as low-key as possible is the formula which works for Murray. And the world number two - who turned up at a local pub quiz a few weeks ago - is running his own transportation department again this year.
After a couple of practice sessions on Friday, hitting impressively with Marin Cilic around lunchtime on a near deserted Court 6, he departed to a Pilates class. He looks in great shape, sounds comfortable and relaxed, and I don't think he's ever been in better shape ahead of a Wimbledon Championships.
The tears which flowed after last year's final defeat, combined with BBC One's documentary, which again shows the human side of one of Britain's most fiercely private sportsmen, have helped solder his connection with the wider sporting audience. Considering his phenomenal achievements, Britain should be right behind him and everything appears set for a massive assault on the Wimbledon title.
On Sunday morning, I was asked on BBC Radio 5 live: "I know it's an impossible question, but can he win it?"
That's actually an easy one. He reached the final last year, won a massive title on grass when he took Olympic gold, claimed his first Grand Slam title at the US Open and has just won five matches in the build-up to win the trophy at Queens. Of course he can win it.
The impossible question is "will he win it?". His rivals are too strong to make a definite case for Murray and the only person seeded higher, Novak Djokovic, has the more comfortable side of the draw.
I do think Novak has some trickier matches than Murray along the way. His first round against Florian Mayer should be more awkward, and potentially Tommy Haas in round four and Tomas Berdych in the quarter-finals could be trickier than Murray's projected battles with Janko Tipsarevic/Victor Troicki/Mikhail Youzhny and then Jo-Wilfried Tsonga.
Well documented has been the possible quarter-final between Roger Federer and Rafael Nadal. What an amazing day if we have Federer/Nadal and Murray/Tsonga on Centre Court on the second Wednesday.
The bookies have Federer at 7-1 for the title; an absolute steal. He may be 31 and more vulnerable than during his years of domination, but he is defending champion, seven times a winner, and loves the place. Talking to him on the players' lawn, it's clear the passion still burns deeply, and form and fitness cannot be doubted.
Nadal, joint second favourite with Murray last time I looked, offers the great intrigue of the tournament. He says he wasn't fit when he lost to Lukas Rosol in the second round last year and while I take his word on that, I also believe the evidence of my own eyes which witnessed a guy being bludgeoned off the court by an inspired underdog who seized the moment.
Some are making Nadal the favourite. He has won Wimbledon twice before, has just won the French again and has beaten the world number one Djokovic over four-and-a-half hours in recent weeks. Surely any doubt about the knee trouble which sidelined him for seven months has been banished. He's a contender for sure and ask four different people for a men's champion and you might get four different answers.
That certainly isn't the case in the women's singles tournament where everyone is going for Serena Williams.
Will she be rattled by recent controversies and be in danger early on? Laughing and joking with Caroline Wozniacki on the lawn, Serena seemed unruffled and in high spirits.
She was fresh from the press conference where she confirmed she'd apologised to Maria Sharapova on Thursday night for comments in her revealing Rolling Stone interview.
Williams had spoken in the piece about a "top five player" who is "in love" and who gives interviews which are "so boring". The apology on Thursday didn't stop Sharapova from dropping in some personal stuff back on Saturday, lapped up by the media who love a good catfight.
I think Williams is the strong favourite but Victoria Azarenka, after two Wimbledon semi-finals, is ready for an assault on the title. If they meet in the final then it's worth remembering that their US Open match was entertaining and tight. Watch out for Donna Vekic, Eugenie Bouchard and Madison Keys among the stars-in-waiting.
The whole thing begins on Monday with a blockbuster opening day schedule. It's such a hot ticket, the club had to close the overnight queue at just after 11am on Sunday with more than a thousand fans camping out to grab the golden tickets on the gate Monday morning.