Wimbledon enters the twilight zone on day of withdrawals and upsets

By Tom Fordyce
Chief sports writer, BBC Sport at Wimbledon
Last updated on .From the section Tennis90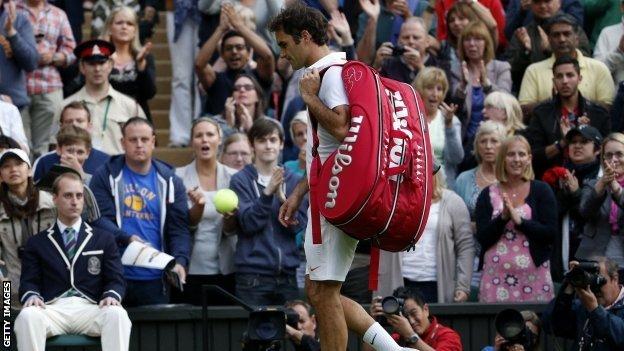 Walkover Wednesday, one wag was calling it. And and What the Heck Wednesday was complete.
John McEnroe called it the craziest day he has known in his 36-year association with Wimbledon. McEnroe has known some crazy days - he's been personally responsible for several of them. But this was a sober and entirely accurate assessment of an afternoon and evening when things started strangely and accelerated at bewildering pace.
You want the cold numbers? in the seven hours between 1pm and 8pm. Four players withdrew injured without making it onto court. Three more retired in action.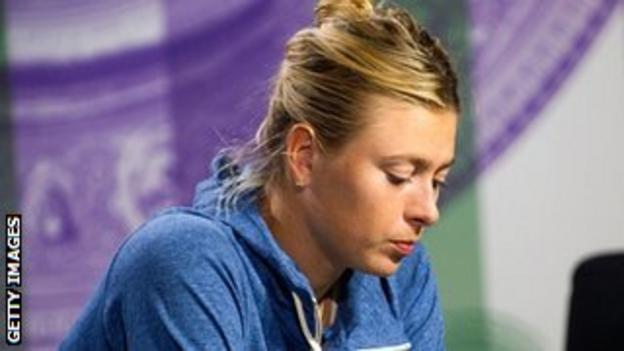 There were shocks, slips and screams. What there wasn't much of by the end was seeds. With half the second-round matches still to be played, five of the 10 top-ranked players across the men's and women's tournaments have already gone, equalling a Grand Slam record in the Open era which began 45 years ago.
As the Pimm's went down on a sticky afternoon in south-west London, so too did the big names: Victoria Azarenka (knee); Rafael Nadal's nemesis Steve Darcis (shoulder); John Isner (knee number two); Radek Stepanek (hamstring), Marin Cilic (knee three), Yaroslava Shvedova (arm) and Jo-Wilfried Tsonga (you guessed it: knee). Never before has a single day at a Grand Slam tournament seen so many retirements and walkovers.
Each tale on its own was enough for a headline. When beaten in straight sets amid dark whispers of greasy courts and dead grass clippings, we thought we had our story of the day. But then at that point Federer's match against Sergiy Stakhovsky was no more than a footnote to a schedule that also included Andy Murray's second-round contest.
Stakhovsky, an affable Ukrainian who has spent a large part of his professional career slogging round the second-string Challenger circuit, had played 19 matches against men ranked in the world's top 10 and been beaten in every single one. Federer had never lost in the second round of a Slam in 49 meetings.
So much for precedent. History was being created, not followed.
This was no sporting fluke, no victory stolen away while the old champion snoozed. Stakhovsky, to the astonishment of a Centre Court crowd who had come to pay homage to the most feted grass court player of all time, to see him strut his languid stuff in the arena he has made his own, grabbed logic by the scruff of the neck and shook it until Federer fell to pieces.
The outsider hit a remarkable 72 winners. He did so in a style that was thought lost to this era of endurance rallies and baseline chasers, coming to the net behind his serves and punching away volleys with stiff wrists and unshakeable nerves.
Federer had famously reached 36 consecutive quarter-finals at Grand Slam events. When he took the first set on a tie-break, there was nothing to suggest that remarkable streak would be gone before the midsummer daylight.
The acolytes and disciples were first startled and then silenced. Then, as Stakhovsky continued to maintain his own exalted level, they began to turn.
There is always sadness when a great player starts to slow, let alone a man hunting a record-breaking eighth Wimbledon singles title. Yet so spirited was his nemesis, so inspired on his first ever outing on this famous old court, that the mis-hit backhand wide from Federer on match point was greeted with wild celebrations all around.
Not since Monte Carlo in 2005 had Federer lost to an opponent ranked outside the world's top 100. Not since Lleyton Hewitt fell to Ivo Karlovic a decade ago has a champion been sent packing so early in the fortnight.
Lost in the initial mayhem were the consequences for Britain's great hope Murray.
Reduced to tears after his defeat by Federer in the final a year ago, Murray had begun this fortnight expecting a semi-final against either the Swiss or Spain's Rafael Nadal.
With both sensationally sent packing by the most faraway of outsiders within the first three days, that scenario has been turned on its head. From facing down arguably the two finest players the men's game has seen, Murray now will not face anyone ranked higher than 15 before any potential final against world number one Novak Djokovic.
It is the first time neither Federer nor Nadal have got past the second round of a Slam event in which both have participated. The highest seed left in Murray's side of the draw? Nicolas Almagro, possessor of a mighty forehand but a clay-courter at heart who has not been past the third round at Wimbledon in eight attempts.
Beyond that, we are down to such names as Juan Monaco and Jerzy Janowicz. The sinking of Nadal and Federer should make us wary of so-called underdogs and pushovers, but if someone can now somehow also put the mockers on Djokers, opportunity will not so much be knocking as banging down the door.
Quite why this is turning into the Foinavon of Wimbledons has yet to be agreed.
De Brito thought the courts were slippery, Sharapova reputedly muttered that the playing surface was dangerous as she slipped for a third time during her straight sets defeat on Court No.2.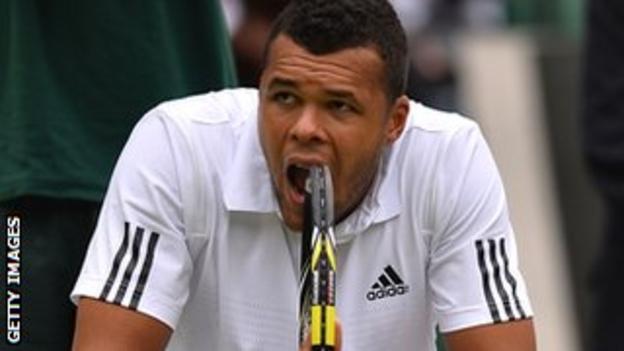 Wimbledon's chief executive Richard Lewis denied that in a carefully worded statement. 1987 men's champion Pat Cash did so in characteristically blunter terms. "I don't think there is any problem with these courts," he told BBC 5 live. "That's rubbish. 15 years ago players were slipping all over the place."
For others - not least Tsonga, Murray's vanquished semi-final opponent 12 months ago - it was more about nagging injuries they had been carrying before arrival in SW19. Tennis has never been a more physically punishing sport. Few of the top players are ever entirely niggle-free.
There is one school of thought that says all these early shocks and departures are bad news for the second week of a Slam. Front-load too much drama and you're left with too little for the grand finals and showpiece scenarios of the concluding weekend.
Few of those at Wimbledon on this remarkable day could care to look that far ahead. There was too much smacking of gobs and flabbering of ghasts to be done. What the Heck indeed.