'Andy Murray and Laura Robson have lifted Britain at Wimbledon'
By David Ornstein
BBC Sport at Wimbledon
Last updated on .From the section Tennis
Britain will experience a rare treat on Monday when two home players compete in the last 16 at Wimbledon for the first time since 1998.
Andy Murray advanced on Friday with and the Scot faces Mikhail Youzhny for a place in the quarter-finals.
He is joined in the fourth round by Laura Robson after she to book a meeting with Estonia's Kaia Kanepi.
Robson is the first British woman to go this far since Sam Smith in 1998 and Smith gave BBC Sport her verdict on the 19-year-old, while Tim Henman - the men's week two representative in 1998 - assessed Murray.
Sam Smith on Laura Robson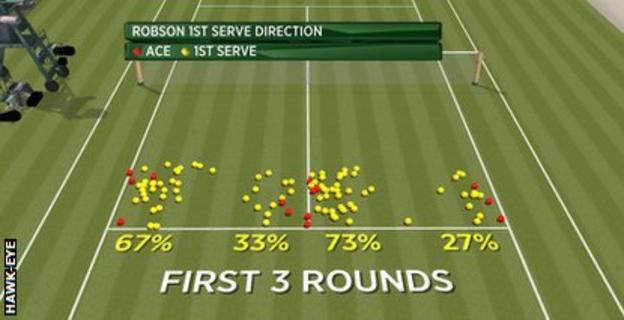 "Laura is a wonderful talent and in a few years' time the fourth round of Wimbledon is not even going to make a footnote in her career - this is just a little stepping stone to wonderful things.
"Against Erakovic, she played horribly for the first 50 minutes and was not in the match at all. But I was very impressed by the way she didn't panic, she didn't rush. Deep down, Laura knows what a good player she is and knew she was much better than Erakovic.
"Laura is big time. We've known it for a while and now she's starting to deliver. But if she thought the first week was mad, it's going to go to a completely new level now. She's going to be on the front page of every single newspaper.
"She should enjoy Sunday; come in to Wimbledon - which will be lovely and quiet - get her training done, go home, relax, switch off, get away from it all and brace herself for Monday because it will be crazy.
"The good thing is Laura has experienced some of it before. She's been around Andy Murray and I'm sure he'll be texting her a few bits and pieces. She's got great support people round her - like her agent Abigail Tordoff, coach Miles Maclagan, her dad and also her older sister is here from Melbourne, which is a huge boost. She needs them more than ever next week because life changed on Friday, completely.
"Laura is definitely capable of beating Kanepi. They haven't played before and the Estonian has a massive game, a huge serve and moves pretty well for a big, strong woman.
"But it's the kind of match-up Laura will like - the heavy baseline rallies will really suit her game and I don't think Kanepi will enjoy Laura's lefty serve.
"Kanepi made the quarter-finals here in 2010 and would probably be seeded were it not for injuries last year. However, she gets really nervous in big moments and that's a huge advantage for Laura, who seems to be very calm in the big moments.
"It's really hard to call because Laura is still a young player and you don't know quite what you're going to get on a day-to-day basis.
"She's not consistent but in Laura's mind she'll probably see Kanepi as a player she can swing against, so she may be more relaxed than she was in her last two matches.
"Last summer was wonderful with Andy making the final of Wimbledon and then winning Olympic gold. I've noticed a lot more fans have brought their flags this year and when Laura and Andy are on court people stop.
"The weather's been awful and these are tough times for Britain with the recession, but this has cheered a lot of people up and long may it continue."
Tim Henman on Andy Murray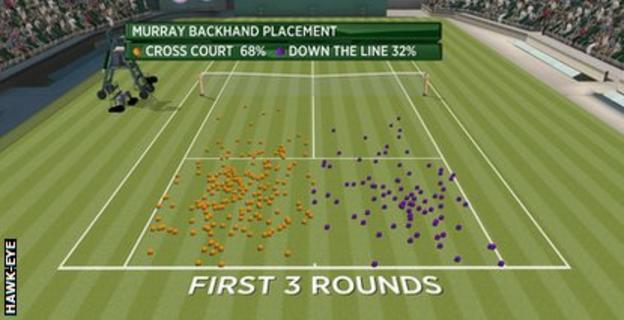 "It's been an ideal first week for Andy. To have played three matches and won nine out of nine sets - you couldn't have asked for more.
"The upsets that have gone on elsewhere can be a bit disconcerting for the other seeds, but he's done very well to avoid upsets in his half. Even the schedule - playing Monday, Wednesday and Friday - means he gets two days off to make sure he's absolutely fresh and raring to go for the second week.
"I watched the Robredo match and his ball striking from the back of the court was very impressive. He hit the ball so cleanly and he had his backhand down the line on a string, which is definitely a good sign.
"He's really getting the balance right between control and aggression, plus he's in a very good place physically and mentally.
"He's obviously very comfortable in these surroundings. He practises here a bit during the season, he's been through the whole Wimbledon experience for the last seven years and he was in the final last year. It's a case of so far, so good.
"He'll be very relaxed this weekend. He might work on a couple of things in his game if he feels he needs to, but otherwise he'll just make sure that physically he recharges the batteries and focuses on Youzhny.
"Andy is a real student of the game. He knows lots about the players' strengths and weaknesses, so he'll sit down with coach Ivan Lendl and formulate a game plan.
"He's played Youzhny twice and beaten him on both occasions, but they were a long time ago. Youzhny is playing great tennis, and he was in the final of Halle, but the way Andy's game matches up against Youzhny is good.
"While Youzhny serves solidly Andy returns so well. From the back of the court Youzhny hits the ball pretty flat, which can be a good thing on grass, but Andy will be able to exploit his movement - he's not one of the quickest guys around the court and I expect Andy to come through that. I think it could be another straight-sets victory.
"At this stage, it's that old cliche about taking one match at a time and Andy has done a very good job of going step by step.
"With the upsets that have taken place, this tournament has been such an example of how you can't get ahead of yourself. The first week has made me feel even more confident that Andy can go the whole way, but you can't take anything for granted."