Serena Williams: Tracy Austin on the shock Wimbledon 2013 exit
By Paul Birch
BBC Sport at Wimbledon
Last updated on .From the section Tennis
World number one and defending champion Serena Williams added to the list of shock exits at this year's Wimbledon as she bowed out in the fourth round against Sabine Lisicki.
Williams was 1/2 on to win what would have been a sixth singles' title in SW19, but she had no answer in the final set to the 23rd seed from Germany,
Her defeat has blown the field wide open, with Petra Kvitova the only former Wimbledon champion left in the quarter-finals.
Here, former two-time US Open winner and BBC expert Tracy Austin gives her verdict on Williams' defeat.
How big a shock was it?
"That was such an astounding, absolutely monumental upset in women's tennis.
"I don't remember a day ever in Grand Slam history like the first Wednesday [when Roger Federer lost] and then you add in this huge upset and it's really quite shocking.
"Very few athletes have gone into an event as much an overwhelming favourite as Serena Williams was here at Wimbledon.
"To put it in context, Serena came into the match off the back of 34 straight wins. She won Wimbledon last year, the Olympics, the US Open and six titles this year including the French Open. That's quite a streak.
"Plus, with the draw opening up following her two biggest contenders - Victoria Azarenka and Maria Sharapova - going out then this was her title for sure.
"This result is going to take a while to digest as it is certainly the shock of the decade."
What happened in the match?
"Serena knew that Sabine Lisicki was going to be dangerous. But being dangerous is one thing, finishing the match off by sustaining the kind of pressure and type of play that the German did is quite another.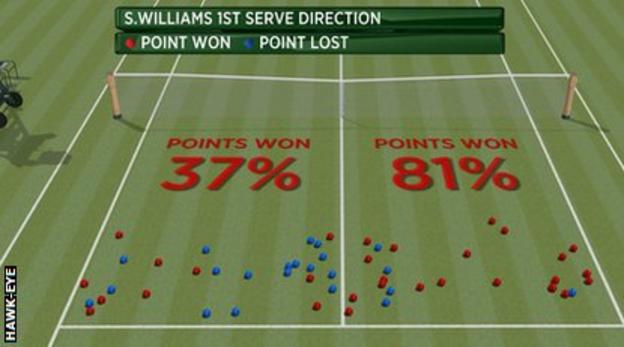 "There were a few loose points for Serena that really cost her. After losing the second set, she got things back on track at 3-1 in the third set and was 40-15 up on her serve. She had lost just one of the previous nine games and was on cruise control.
"But she just seemed to let her foot off the pedal just enough and you can't do that against Lisicki. She loves this surface, she loves Wimbledon, and she has had her best Grand Slam results here.
"You've got to give her so much credit for retaining her poise and confidence to hang in there and look to get a foot in the door back into the match. She saw an opportunity, took it and played without fear."
What impact will this have on Serena?
"I think this result will affect her in a big way. I think she will be extremely disappointed as she had such an opportunity with her biggest rivals out of the way. I know how hard she is on herself and is such a perfectionist.
"When you've won 16 Grand Slams there is no such thing as complacency and I don't think Serena was ever over-confident going into this match.
"Anytime Serena goes into a tournament hungry, ready and prepared she will be expected to win and that's why she was such an overwhelming odds-on favourite here, especially as she has already won Wimbledon five times.
"The way she puts her mind to something - and I've never seen her fitter and hungrier - her quest to create history and catch Chris Evert and Martina Navratilova on 18 Grand Slams [she has 16] will always entice her and interest her.
"I definitely see her coming back to Wimbledon one, two, three - who knows - maybe even four times.
"If anything, this will make her even hungrier."
So who can win it now?
"All the remaining players have a huge chance to win Wimbledon.
"If I'm still in the draw I'd think 'I've got a real opportunity' as there is no clear favourite like Serena was.
"If I really had to place a bet now I would probably have to place it on Petra Kvitova because she has won here before so we know she can get really hot. But since winning in 2010 she has gone cold and has been very streaky.
"She hits the ball with so much power, but with such huge momentum swings in her form you can't always count on her.
"Is it going to be Sloane Stephens? Li Na? Agneiszka Radwanska, or some unknown we don't really know?
"Lisicki can play well obviously but can she sustain it? That's going to be the question.
"It's such a shame that Great Britain's as she would much rather have faced Lisicki than Serena Williams in the quarters.
"It's really hard to pick a favourite now."