Wimbledon 2013: Laura Robson tipped for future glory
By David Ornstein
BBC Sport at Wimbledon
Last updated on .From the section Tennis
Laura Robson saw her Wimbledon singles bid end with defeat by Kaia Kanepi on Monday, but a run to the last 16 only served to enhance the 19-year-old's reputation.
Robson became the first home player for 15 years to reach the fourth round of the women's singles at SW19 before in straight sets on Court One.
The British number one is guaranteed to climb the world rankings as she turns her focus to the US Open, where she also reached the last 16 in 2012.
BBC Sport hears the verdict on Robson from 1998 Wimbledon champion Jana Novotna as well as Sam Smith - the last British woman before Robson to make the last 16 at the All England Club - and Jo Durie, the most recent British woman to reach the quarter-finals of Wimbledon.
Jana Novotna, former world number two
"Robson had a great tournament. Her first six months of the year was very patchy; some good results, some bad, ups and downs and not much consistency. She has struggled with her serve and movement, so she should be quite happy with getting to the last 16 at Wimbledon.
"Looking at the draw opening up and I think she could have been in the quarter-finals with a real chance against Sabine Lisicki. It could have been interesting. But even though she played very well against Kanepi, she didn't do anything extra special to win.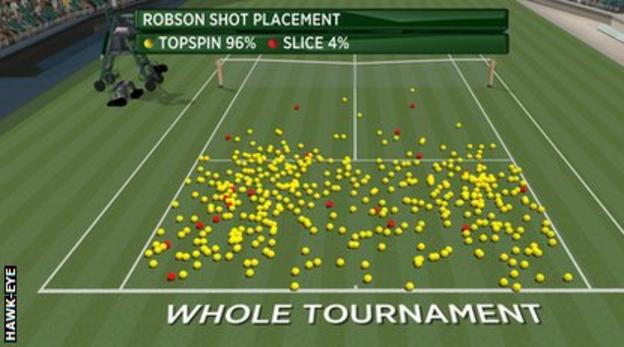 "It's going to be important now to get on the right track because we don't want to keep saying 'It was good, she's only 19'. She's a good player but she can be much better.
"I like her game - she has a fantastic racquet motion in the serve, forehand and backhand. She hits it well with fantastic racquet-head speed and when she times the ball well, she plays very well and the balls start flying past.
"Robson needs to play the right tennis at the right time. Sometimes she chooses the wrong shots and that comes with experience. She has to improve her movement and I haven't once seen her at the net.
"If you have had the success in doubles that she has, use it. Come into the net and do something different. That was the difference today; if she'd done something different, if she'd have surprised Kanepi with something unpredictable, she would have won.
"In order to step up, she needs to select the right person or people to work with, who will take her to the next level, because she's a player who needs a direction. When she has good people around her she will make a lot of progress. If she doesn't, it's going to take a long time.
"Robson has the potential to win Grand Slams and reach the top 10. Women's tennis is so open it's quite amazing. She's 19 and the likes of Serena and Maria Sharapova are not going to play for ever and I can't even name five who are going to be consistently playing well. So the chances for her are fantastic."
Sam Smith, former British number one
"I'm sure Laura is bitterly disappointed, but when she's had time to get away from the madness she can absorb the fact she made another fourth round at a Grand Slam, beat a top-10 player and is improving all the time.
"There were opportunities there to win on Monday and little bits of her game let her down, but she also has to look at how good Kaia Kanepi is. Laura has some really good people around her and, although their words probably won't go in for a while, in a week or two she'll realise what she's done.
"Her talent is always undoubted and the ball-striking is wonderful. What I'm impressed about most of all is the maturity. She realises that you're not always able to play your best tennis, but that doesn't mean you can't win.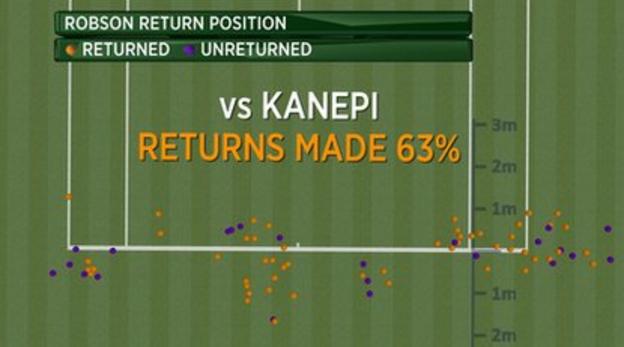 "She's starting to understand now how to go deep into Slams. Soon, getting to the fourth round of a Slam won't be a big deal.
"I'm really pleased with her groundstrokes and I think the work she did with her previous coach, Zeljko Krajan, has made them a lot more stable. She's much more behind the ball and in the right positions.
"Key areas to work on are foot speed, overall conditioning - she's fit but there's more to come - and some slight technical problems, particularly on the second serve and also sometimes on shot selection. But you'd expect that from a 19-year-old. She's not far off from being a Grand Slam contender.
"She hasn't played a huge number of matches this season so, after a few days off, she should be straight back to work. The hard court season is good for Laura but she's also defending fourth-round points from the US Open and a lot of points at the end of the year.
"For her to end up the year in the top 30 and be seeded for the Australian Open, she has a lot of work to do. It's the boring stuff; hours on the practice court, hours in the gym, all the things that are really tough to do mentally.
"Wimbledon confirmed everyone's feeling that Laura can be a top player and a Grand Slam contender. It may not be next year or even the next couple of years, but at some point if she sustains this level of progress, keeps free of injuries and gets some consistency on the coaching side, she will be contending for Slams, she will be a top 10 player.
"She's proved she's big time. She came through some really tough moments in all three matches and there's a toughness about her that there hasn't always been in British tennis, perhaps since the time of Jo Durie. We have probably lacked some mental toughness and steel. Laura has that and it will take her a long way."
Jo Durie, former world number five
"This is the best Laura has played all year. Being a British player at Wimbledon is never easy and she dealt with it all really well. I was impressed by her serve, her composure and what's nice to see is she hits the ball as well as anyone else in the top 10, so she's got the game. In the future this will prove a great experience, it's just Kanepi is a strong player and was too good on the day.
"She needs to keep improving her serve, especially the second serve. Keep working on speed and, in general, keep working hard because this isn't the Laura Robson that's going to get to a quarter-final of a Grand Slam, this is still a work in progress. If she keeps working hard, it will be very exciting.
"This year has been reasonable for Laura and it would be nice if she ended up in the top 25. Then the aim is top 20 and hopefully top 10 next year. It's all about consolidating year on year, learning, getting better and getting your ranking to keep going in the right direction.
"She can definitely be in the top 10, who knows after that? It's an exciting prospect. Look at someone like Petra Kvitova, who's won here and has a similar game to Laura in the way she goes for her shots. If she can do it, why not Laura?
"We've still got to let her develop, let's not go totally mad at the moment. It's nice to have someone else to cheer apart from Andy Murray and I'm sure he's pleased about it as well. Two Brits in the second week hadn't happened in a while and long may it continue."