Andy Murray ready for 'dangerous' Verdasco at Wimbledon
By Piers Newbery
BBC Sport at Wimbledon
Last updated on .From the section Tennis386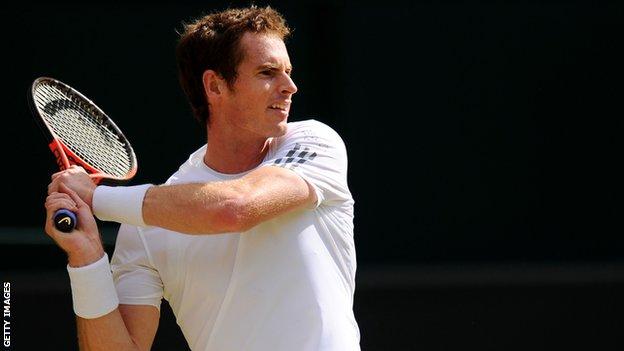 Andy Murray has prepared to take on Fernando Verdasco in the Wimbledon quarter-finals by facing a swinging left-hander's serve in practice.
The British number one is scheduled to play the Spaniard in Wednesday's second match on Centre Court at approximately 16:00 BST.
Fourth seed David Ferrer opens play on Centre against eighth seed Juan Martin del Potro at 13:00, while world number one Novak Djokovic is up against seventh seed Tomas Berdych on Court One.
Following that match, and in Murray's half of the draw, an unexpected all-Polish battle will take place between Jerzy Janowicz and Lukasz Kubot.
Murray described Verdasco as "extremely dangerous", and the world number 54 will be the first left-hander the Scot has faced in 2013.
"I think it's pretty amazing six months into the year," he said.
"I don't normally mind the way the ball comes off the racquet from the back of the court. I grew up playing with my brother, so that almost feels a bit more natural to me than a righty.
"But it's just the serve and the way you move on the return that's different."
Murray, 26, practised with doubles player Johan Brunstrom on Tuesday, and the Swede told BBC Sport: "They wanted to see a left-hander like Verdasco and get to see the serve a lot, and what spin there is on the ball.
"He was just getting used to playing with a leftie and the little loop we have, so we were doing some cross courts and down the line. I served a lot, so he got to see a lot of leftie ball."
Murray has seen Roger Federer, Rafael Nadal and Jo-Wilfried Tsonga all lose early on his side of the draw, but when it was put to him that Verdasco was an appealing quarter-final opponent, he said: "Verdasco is a very, very good tennis player.
"He's playing very well this week. He's extremely dangerous when he's on his game."
Murray looks to be fully fit going into Wednesday's match after saying the back injury that saw him miss the French Open was "no cause for concern".
He appeared to wince at times during his 6-4 7-6 (7-5) 6-1 fourth-round win over Mikhail Youzhny on Monday, but said afterwards: "It felt way, way better than it was a few weeks ago.
"Now that I'm playing, there's no chance I would stop. I mean, unless I couldn't hold the racquet."
Verdasco is a former world number seven but he has slipped down the rankings in the last two years, and has won just one of his nine matches against Murray.
"The last two years haven't been good for me and my ranking shows that," said the 29-year-old from Madrid.
"It has gone down a lot and I lost a lot of confidence every time I lost in the first round.
"I started questioning myself, I started asking why I couldn't find the form that I had before, but I started training well the week before Madrid [in May], and really since Madrid the feeling has been different for me. I have felt much better.
"I feel more relaxed than ever and that helps. It's a tranquillity that I'm responding to well."