Andy Murray must adjust to left-hander Fernando Verdasco

By Jonathan Sutherland
BBC Scotland at Wimbledon
Last updated on .From the section Tennis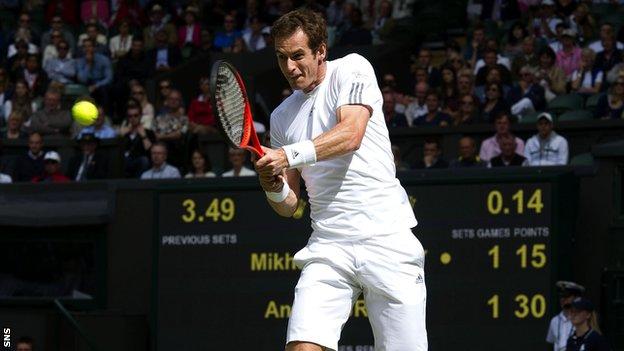 If you allow yourself to, it's perfectly possible to wallow in the sense that we're all waiting for a final on Sunday between Andy Murray and Novak Djokovic.
Of course, decent opponents still stand in the way of both. Djokovic has a quarter-final against Tomas Berdych, while Murray tackles Fernando Verdasco - his first left-handed opponent this year.
But while players have to 'take each match as it comes', we mere viewers of the spectacle can dream of all sorts of possibilities.
As for Murray, the carnage that saw Federer, Nadal, Serena and Sharapova fall before the quarter-final stage has acted as a warning.
"I don't take anything for granted," said Murray, tellingly, after victory over Mikhail Youzhny.
At times in the second set of their last 16 match the Russian made life difficult. And at times Murray struggled to find top gear, although his sheer class told in the end.
But there was a relative calmness, focus and concentration from Murray as he vanquished the number 20 seed, something that was noted by David Felgate - Tim Henman's former coach - who thinks the slight Murray 'wobble' was nothing to worry about.
"We don't read anything into that. He hasn't lost a set yet," he told BBC Scotland.
"You can go to these slams and have tough first round matches, losing sets and coming through.
"He'll be delighted he didn't drop a set. He showed good resolve, when things weren't quite going his way. But no, we don't read anything into it."
Murray now faces Verdasco for a place in the final four. The Spaniard is unseeded, but has been as high as world number seven and easily disposed of Kenny de Schepper in the last 16.
And although Murray has an 8-1 winning record against Verdasco, Felgate thinks the 29-year-old could be a handful.
"He'll be a huge test for Andy Murray I think, especially early on in the match," he adds.
"He won't be afraid of winning the match. He's been on the big stage before. If it gets close we can expect a real battle."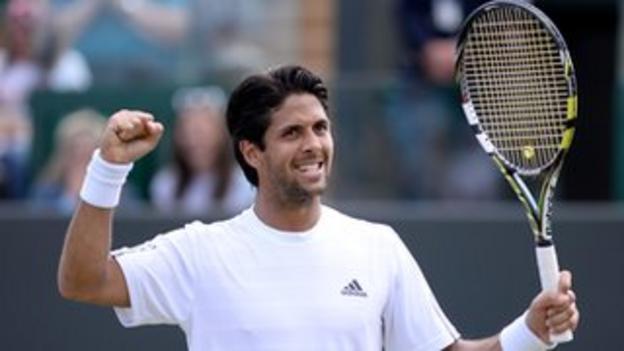 And Felgate is confident the Scot can handle this particular challenge, and will prepare accordingly. Indeed, mixed doubles player Johan Brunstrom was drafted in for a spot of practice on Tuesday.
Like Verdasco, the Swede is a big man, adept at slice and spin and left-handed.
"The main difference is the serve when you're going back across court," explains Felgate.
"It might take a little bit of adjusting because he hasn't played a lefty this year.
"With the swing-serve the lefty really takes you out of court but Andy can do the same to the lefty.
"He's got a great return and he's also got the chip return. When he's swung out wide he can block it back and make ground and get back in the court."
On a day without any men's singles matches there's plenty of time to speculate wildly and idly dream of Murray slaying the Djokovic dragon in the final to lift that golden trophy.
Yes, there's still a lot of tennis still to play. Even if Verdasco is successfully negotiated, the big serving Jerzy Janowicz of Poland could well be the sizeable obstacle Murray needs to navigate come the semi-final on Friday.
But for now though, we can dream - safe in the knowledge that Murray is taking nothing for granted.