Andy Murray v Fernando Verdasco Wimbledon quarter-final analysis
By David Ornstein
BBC Sport at Wimbledon
Last updated on .From the section Tennis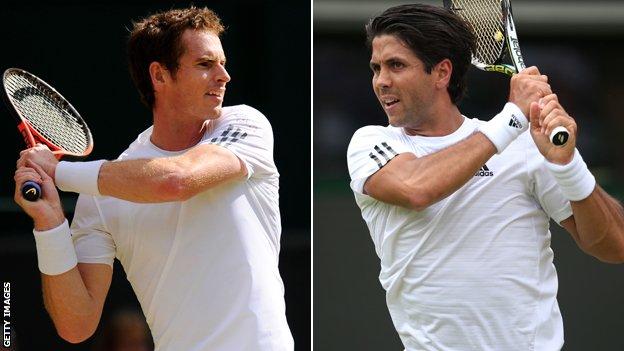 Andy Murray will attempt to reach the Wimbledon semi-finals for a fifth consecutive year when he plays Fernando Verdasco of Spain at approximately 16:00 BST on Wednesday.
The Scot holds an 8-1 head-to-head advantage over former world number seven Verdasco, but they last played each other at the ATP World Tour Finals in 2009 and have never previously met on grass.
Verdasco, 29, was taken to four sets by Xavier Malisse in his opening match but has come through the subsequent three unblemished, while 26-year-old Murray is yet to drop a set.
Ahead of their encounter on Centre Court, BBC Sport heard from world number 37 Jurgen Melzer, two-time Wimbledon semi-finalist Todd Martin and British doubles player Ross Hutchins.
Jurgen Melzer, world number 37
"I don't expect it to be an easy match, but I think it will be a win for Andy in three or four sets. He's just a better grass-court player than Fernando. Don't get me wrong, Fernando is a great player - but he doesn't quite have enough weapons, or a big enough serve, to actually threaten Andy.
"I've played Fernando eight times and he's not the kind of guy who is going to serve Andy off the court, so he needs to use his big forehand as much as possible.
"The only problem for him is that on grass, it's sometimes not so easy to run around and hit the number of forehands I think he needs to hit if he is going to beat Andy.
"Ultimately, I think Andy will move Fernando around too much and win quite comfortably. Andy is a great defender and absorbs pace really well, and if he needs to attack, he attacks.
"He has a strong all-court game and knows exactly what he has to do, having won the Olympics here and reached last year's Wimbledon final.
"Andy was my pick to win Wimbledon - and I'm sticking to it."
Todd Martin, two-time Wimbledon semi-finalist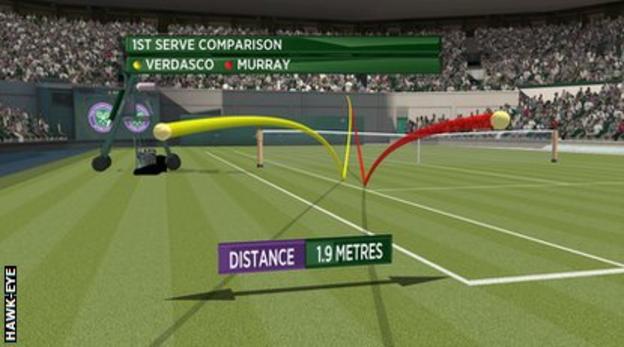 "Although I sense Murray is mentally stronger than he's ever been before, I also think Verdasco is awfully dangerous.
"He likes this surface, he's obviously playing well and he's rejuvenated by a new racquet and a new coach. So Murray has a lot to be concerned about, but he also needs to walk out on the court very confident in himself. He's the better player and he should know it.
"Verdasco has to try to be as left-handed as possible. Murray returns brilliantly, but Verdasco has to get the court opened to the backhand and then attack the forehand. Once he gets a look at his own forehand, he should be as aggressive as possible.
"It's not going to be a match he wins with length of point - he's going to have to try to shorten some of the points and also do whatever he can to get a good first hit on the Murray second serve.
"For his part, Murray must look to avoid his momentary lapses in concentration. He only had one on Monday and that's important.
"Secondly, when he does have opportunities to attack, he needs to take them. If he plays cat and mouse too much with Verdasco there are going to be enough points for the Spaniard to get a look at the ball and hurt Murray.
"I would say Murray in four sets, maybe three, but if he lets Verdasco stick around long enough to get some confidence, then it's one of those matches that is not a foregone conclusion."
Ross Hutchins, British doubles player
"Verdasco changed coaches earlier this year - he's now working with Richie Sanchez, who is very experienced - and that seems to have not only brought the fire back but a clear plan as well. He also changed racquets last week and he's hitting the ball well.
"It won't be easy but Andy has a very good record against Verdasco and he normally enjoys facing left-handers. He's playing fantastic tennis and goes in as the favourite. I think he'll move Verdasco around too much, exploit his backhand and come out on top.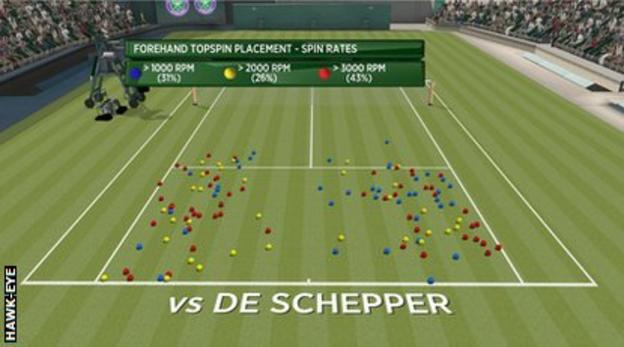 "A lot will depend on how Verdasco serves because he'll need to get free points if he wants to mount a serious challenge. He went through a phase of taking a lot of pace off his delivery and trying to use more spin, but he's starting to hit it big again.
"They played each other at the ATP World Tour Finals in 2009 and it was clear to me then that Verdasco has purple patches in matches where not many guys can stick with him.
"Andy, however, is one of the few players who can chase balls down and return them with interest by using a lot of slice, variety, power and his mind in such a smart way.
"Andy will have clear tactics - he will target the Verdasco backhand and try to exploit the Spaniard's movement, which is not bad but it's not as good on grass as it is on clay.
"That said, Verdasco has a fantastic forehand, it's a huge weapon. It's technically very good and he hits it with a huge amount of spin.
"He's one of those players who you'd say hits a 'sweet ball' - he hits the centre of the strings pretty much all the time on the forehand and it's naturally heavy.
"He has easy power, which means the ball comes off his racquet fast and feels like it's heavier to opponents. He does not swing so hard but the ball comes off the racquet very fast.
"Andy hasn't lost a set yet and to go into the quarter-finals of a Grand Slam having not lost a set on grass is very impressive. He has been tested and in at least one set of all his matches he's found himself in a bit of a dogfight, really testing his mental toughness.
"Those tests have been passed, but Verdasco is a big step up - he's a top player who has beaten Andy before and this is not a gimme by any means."