Wimbledon 2013: Tomas Berdych critical of tennis drug testing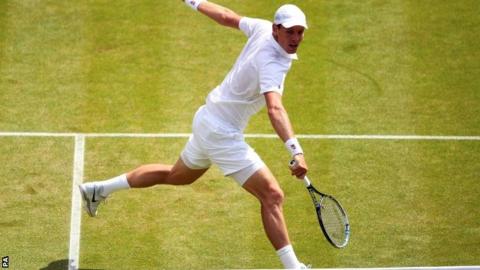 Tomas Berdych says drug testing in tennis "cannot be worse" as the sport's governing body defended its procedures.
Last year, world number one Novak Djokovic claimed he had not been blood-tested for "six or seven months", while Roger Federer and Andy Murray also said they wanted to see more testing.
There were only 63 out-of-competition blood tests in tennis in 2012.
The International Tennis Federation said "intelligently targeted" tests were the best use of resources.
"The programme is in a good place to detect instances of doping," Dr Stuart Miller, the ITF's anti-doping chief, told BBC Sport.
"In an ideal world you would test every player, every day but the resources required for that would be astronomical. Nobody does that.
"You need to make more use of your resources. More testing doesn't mean better testing.
"I'd rather have a programme that is more intelligently targeted, testing the right people at the right time, rather than doing more tests for the sake of it."
This year the ITF introduced biological passports, which track any changes in an athlete's blood against an original profile, but Darren Cahill, who has coached Lleyton Hewitt and Andre Agassi, nevertheless claimed drug testing in tennis had "gone backwards".
"I've only heard a little bit of that," world number six Berdych said of the biological passports.
"Maybe it might work. I hope it's going to be better than it is now - it cannot be worse. Everything can be better so fingers crossed for that."
Federer, a 17-time Grand Slam tournament winner, said in March that it would be "naive" to think the sport is without drug cheats.
Cycling's governing body the UCI, which introduced biological passports in 2008, carried out 3,314 out-of-competition blood tests in 2011.
Figures for last year show tennis carried out 2,185 urine and blood tests in 2012 - but only 124 of these were in-competition blood tests.
And according to the World Anti-Doping Agency's own 2010 statistics, tennis carried out 3,638 tests in 2010, compared with 21,427 in cycling, 25,013 in athletics and 13,138 in swimming in the same year.
Asked about Djokovic's claims that he had not been tested for more than six months, Miller said: "I can't comment on that particular statistic but what I do know is that in the last 22 months he's had over 20 tests.
"All the top players are tested on average about 10 times a year so it would be highly unusual for any player to go for an extended period untested."
Since 1996, 66 tennis players have tested positive for banned substances. Four received warnings while the rest were banned for between 55 days and eight years.
Stimulants such as cocaine are the most common substances detected, while the last of the 12 players caught using anabolic agents was banned in 2005.
The ITF, which leads the unified Tennis Anti-Doping Programme, men's tour the ATP, women's tour the WTA and the four Grand Slam tournaments unanimously supported the introduction of the biological passport when it was announced in March.
And all bodies agreed to increase anti-doping funding, which currently stands at approximately £1.3m a year.
"Would we like more money? Everybody would like more but that's an issue that you're not going to be able to deal with in a single day," added Miller.
"Is it possible there are instances of doping we haven't caught? I suppose so. What you try to do is have a programme in place that detects doping where it exists and we try as hard as we can to detect doping where it exists."