Wimbledon 2013: Who will reach the women's singles final?
By Paul Birch
BBC Sport at Wimbledon
Last updated on .From the section Tennis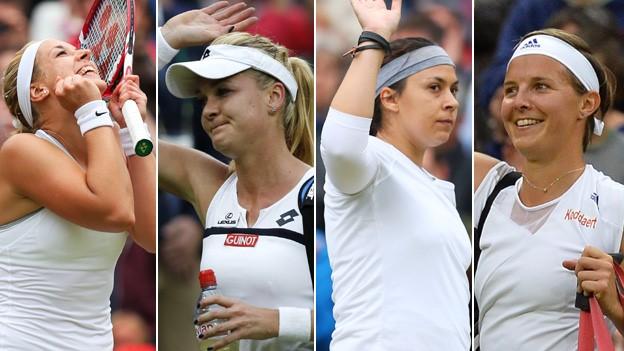 A series of shock results at Wimbledon has created an unfamiliar semi-final line-up in the women's singles.
With the likes of Serena Williams and Maria Sharapova suffering early exits, only one of the world's top-10 players will be in action on Thursday.
All four semi-finalists are chasing their first Grand Slam victory.
While the Sabine Lisicki-Agnieszka Radwanska and Marion Bartoli-Kirsten Flipkens match-ups may not feature household names, both last-four clashes certainly provide a fascinating clash of styles.
Here, 1999 Wimbledon champion Lindsay Davenport and former British number one Sam Smith give their take on both matches with the help of Hawk-Eye graphical analysis.
Sabine Lisicki v Agnieszka Radwanska
Sam Smith on Sabine Lisicki
As long as her emotions don't get in the way, Sabine Lisicki is almost unplayable at the moment. For me, she is now favourite to win the tournament.
I'm impressed by her big serve - not just the first, but the second as well.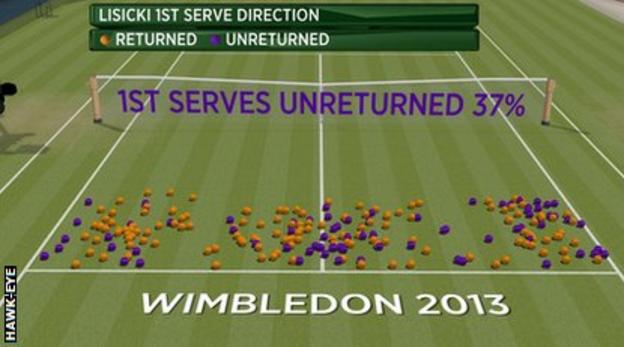 If she is serving at 120mph and is consistent with it - and she is doing it as well as I have ever seen her - then she is absolutely devastating.
She also has the big groundstrokes to back up her serve.
Lisicki has had so many fitness and health problems over the years but she is in the best shape I have ever seen her in.
The big physical fitness regime she has been on is really paying off now.
She has become a crowd favourite as she wears her heart on her sleeve.
She is a very open and honest player.
Fans can relate to her - she's human - and the crowd don't see enough of that these days.
Lindsay Davenport on Agnieszka Radwanska
A lot is going to depend on Radwanska's fitness and how she recovers from a long match on Monday and another on Tuesday, when she again seemed to hurt her quad muscle.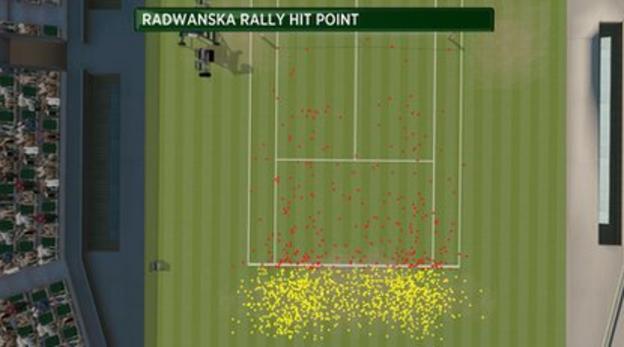 She has been getting tons of treatment and we are going to have to wait and see what her movement is like early on.
She is going to have to move and defend so well against the Lisicki's powerful serve and big forehand.
Radwanska never seems to have matches in her own hands.
She often has to rely on her opponents to make mistakes and she uses many strategies to make them commit errors.
She was far more aggressive as the match went on against Li Na and I think she needs to be even more positive against Lisicki in an attempt to end points early.
It certainly gets harder to defend when you are feeling the effects of an injury.
I would say that if Lisicki's serve isn't firing then Radwanska has a real chance of making Saturday's final.
Kirsten Flipkens v Marion Bartoli
Sam Smith on Kirsten Flipkens
Flipkens plays with rare imagination and a style which is perfect for grass.
Hers is the brand of tennis that fans really love here at Wimbledon.
Her biggest strength is her variety. She really mixes up the sliced backhand which so many players don't like, and Bartoli will not fancy facing it at all.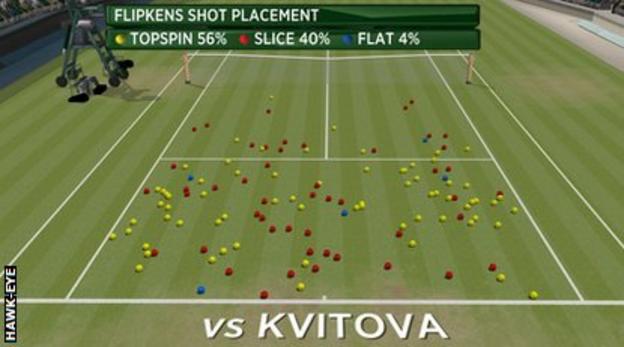 While Flipkens doesn't have a big serve, it is very accurate and she has hit a high numbers of aces in this tournament.
She's got top spin, she hits flat and she is very mobile.
The crowd really fell in love with her in the match against Petra Kvitova and the fans will have fallen for her even more when they read in the papers about her incredible recovery from injury.
Having former world number one Kim Clijsters around as a mentor has been massive for her.
Just having someone like that supporting you is a huge boost.
Kim only retired recently and has played so many of the players that Flipkens faces on the Tour. That means she will be able to impart a lot of tactical information.
Lindsay Davenport on Marion Bartoli
I never thought Marion Bartoli could get to another Grand Slam final, after her one and only appearance against Venus Williams in 2007, but she has a fantastic chance to do so.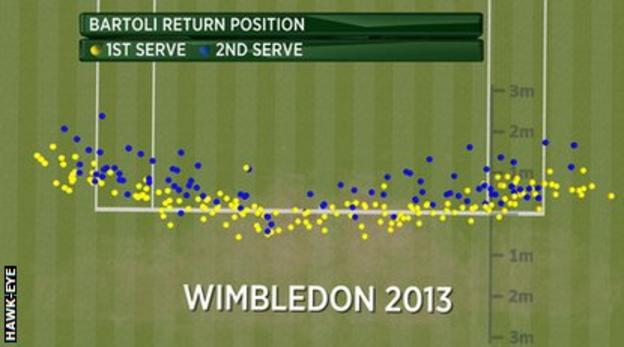 Bartoli rushes players. She plays so quickly, so hard and hits the ball so early that Flipkens is going to have to defend so well and mix up her shots and move around the court.
When the Frenchwoman is timing the ball well she is so confident and she just keeps going.
What could cost Flipkens is her relative inexperience in these sort of matches. Bartoli has been here before.
And Flipkens played such a fantastic match against Kvitova that you always wonder whether the magic will eventually run out for a player who is having the tournament of her life.