Kirsten Flipkens takes magical ride to Wimbledon 2013 semi-finals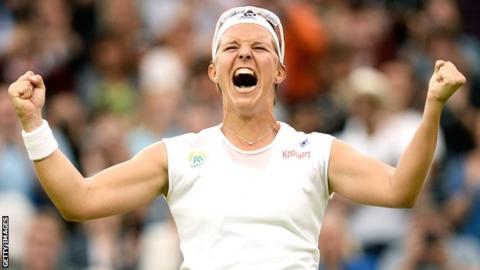 WIMBLEDON 2013
Venue:

All England Club, London

Date:

24 June - 7 July

Coverage:

Live on BBC One, BBC Two, BBC HD Channel, Red Button, BBC Radio 5 live, plus 10 live streams available on the BBC Sport website, tablet, mobile and connected TV.
Kirsten Flipkens enters a dark interview room wearing the brightest of tops and a smile to match - a smile that has lit up the All England Club and will remain on her face regardless of what happens in the coming days.
For this is a woman who was diagnosed with life-threatening blood clots in her legs 15 months ago and, ranked 262nd, was not even eligible to enter qualifying for Wimbledon 2012.
Struggling for sponsors and with her funding withdrawn by the Flemish Tennis Association, the Belgian's career was hanging by a thread.
But with the help of those closest to her - including four-time Grand Slam champion Kim Clijsters - Flipkens returned to fitness, collected wins and quietly climbed to world number 20.
Remarkably, she will play Marion Bartoli of France on Thursday for a place in the SW19 final. No wonder people are referring to Flipkens as the Cinderella of Wimbledon 2013.
"Not getting into qualifying last year and now to be a semi-finalist… it's more than a fairytale," the 27-year-old Belgian told BBC Sport.
"A year ago I was 26 years of age and ranked 262nd, so not a lot of people were believing in me and I'm happy I proved them wrong.
"It's a matter of love of the game, and being a Capricorn I'm very stubborn - that's why I fought back. I was feeling down, I had blood clots and I didn't get any financial support.
"Only about five people believed in me, giving me the confidence I could still do it and come back to the top level and be a top-100 player. To be in the top 20 is like a dream come true."
The blood clots were discovered after Flipkens returned from an ITF tournament in Thailand and saw her miss two months of the season.
"Two days before we had to leave to Japan for a Fed Cup tie they found I had four blood clots and told me I was very lucky," she explained.
"If I had stepped on the plane then nine times out of 10 I would have come out blue, so I was really lucky at that time.
"I feel very blessed that I'm still in the game, in Wimbledon. It's 10 years since I won the junior title, which makes it even more special, and it was my mum's birthday on Tuesday so I gave her the nicest present I could."
Flipkens lifted the 2003 girls' singles crown at Wimbledon and the US Open version a year earlier, but of her 13 senior tournament triumphs only one has come on the main WTA Tour.
She has been blighted by injuries, yet after returning in June 2012, the 5ft 5in right-hander qualified for the 2012 US Open, made round four at the Australian Open and was runner-up at a recent grass-court event in the Netherlands.
Then came Wimbledon and straight-sets victories over Yulia Putintseva, Bojana Jovanovski, Vesna Dolonc and Flavia Pennetta were followed by Tuesday's stunning victory over 2011 champion Petra Kvitova.
After each win Flipkens has laid down to kiss the turf and she remains in contention to become the first bespectacled women's champion at Wimbledon since Martina Navratilova in 1990.
"The celebration is a way for me to be thankful that I can play on the court and to all the people," she said. "I just love the grass. It's the way for me to thank Wimbledon."
Flipkens is the first Belgian to reach the Wimbledon semi-finals since Justine Henin in 2007, yet it is Clijsters who she looks up to.
"We've known each other from when we were six years old, I practice at her academy and our mums are very close friends," Flipkens revealed. "She was one of the few people still believing in me, she's like a big sister to me and is there for me through good times and bad.
"We've been texting all the time and she wanted to call me yesterday but we're superstitious so we're not going to speak on the phone until I'm out of the tournament.
"Reaching the fourth round for the first time was already very special and the dream continues. I don't know where it's going to end, I'm just enjoying every moment. I have 0.0 to lose so I can go out there and give 200%."
Flipkens reportedly once dated Rafael Nadal, rides a scooter and is an aspiring magician.
Whether on not any of that is true, she managed to baffle the BBC cameras with a card illusion and by making a handkerchief disappear.
"Flipper with magic tricks," she joked, referring to her nickname. "That would be amazing."
It would be even more amazing if Flipkens won Wimbledon, a fitting way to cap her fairytale story.