Wimbledon 2013: Freya Christie turned on to tennis by chance
By Ian Westbrook
BBC Sport at Wimbledon
Last updated on .From the section Tennis
If Nottingham teenager Freya Christie's mother had not been looking for somewhere to leave her daughter while she went to the gym, the 15-year-old might not have been part of this year's Wimbledon.
Christie was just five-and-a-half when her mum, Carol Bloomer, dropped her off in a tennis session, while she attended a keep fit class.
And when she picked her up an hour later, she heard some surprising news.
Her daughter had never played tennis before that day, but Bloomer said: "I was told afterwards how good she was.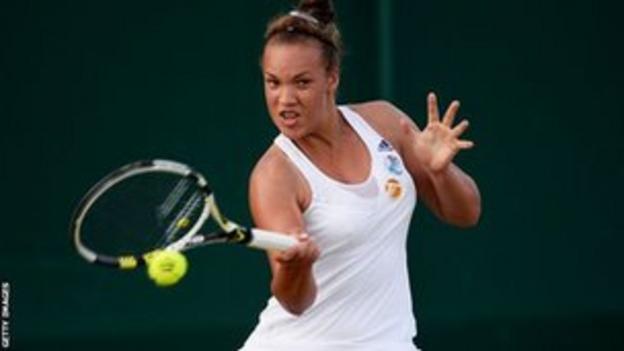 "They said she had good eye-hand co-ordination and she needed to go up to the seven to eight year age group, so it went on from there."
Christie's hometown of Hucknall is far from being a traditional hotbed of tennis and her mother told BBC Nottingham it had been "very, very tough" at times for her to pursue her dream of a career as a professional.
"She does have quite a few sponsors [now]. The LTA (Lawn Tennis Association) have been very supportive as have the Tennis First (Charitable Trust) and the Armchair Club, which are a little group from Mansfield (supported by Olympic swimming medallist Becky Adlington and her dad Steve).
"We do rely a lot on support and it does depend on your ranking as to how much funding you get and trips abroad, so it is tough, but she's working hard."
As for Christie herself, her debut at Wimbledon has merely whetted her appetite for more.
"It's unbelievable really to know that I've played at Wimbledon and it just makes you want to work harder and come back again and hopefully next year do a lot better.
"I'm doing well at the moment, so hopefully I can just keep that up," she said.
Christie could not have had a harder task after being paired with top seed Belinda Bencic in the girls' singles competition and also being drawn against the Swiss player in the doubles, where she was in the second seeded team.
The British youngster lost the singles match 6-1 6-1, but reflected: "You've just got to get on with it really. It was a very tough draw and she hasn't lost a match all year in the juniors.
"It was quite nerve-wracking at the start, the walk was really long to the court, but I really enjoyed it and the nerves kind of settled after the first couple of games."
Although she and Gabriella Taylor were beaten by Bencic and her Slovakian partner Petra Uberalova in the doubles, they put up a gallant showing, earning two set points in the second set before finally bowing out 6-1 7-5.
"I felt for her getting the number one seed, but it was great experience and maybe next year she might not get the number one," said Bloomer.
She believes her daughter's story shows that anyone can break into the game, regardless of any previous connection with the sport.
"You don't need a tennis background, there's no-one in our family that does tennis, so anyone that enjoys sport should be encouraged to carry on," she added.
It is a long road from chance involvement in tennis to champion, but Christie's win at a junior international event in Nottingham earlier this year shows she is travelling in the right direction.