Andy Murray v Jerzy Janowicz - experts on the Wimbledon semis
By David Ornstein
BBC Sport at Wimbledon
Last updated on .From the section Tennis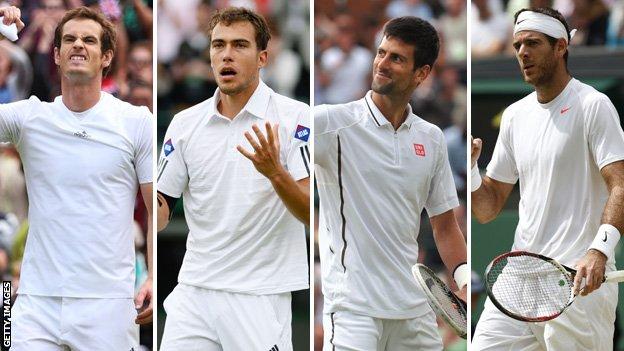 Andy Murray will attempt to reach his second consecutive Wimbledon final when he goes up against Jerzy Janowicz on Friday, with Novak Djokovic or Juan Martin del Potro awaiting the winner.
In the opening semi-final at 13:00 BST, Serbian top seed Djokovic meets 2009 US Open champion Del Potro in a repeat of their Olympic bronze medal match, when the Argentine emerged triumphant.
They are followed on Centre Court by British number one Murray and Janowicz, the Pole who is making his last-four debut at a Grand Slam and beat Murray when they met at the in November.
BBC Sport previews both matches with former champion Pat Cash, seven-time Grand Slam champion Mats Wilander, 2006 semi-finalist Jonas Bjorkman and 1993 runner-up Jim Courier.
Andy Murray v Jerzy Janowicz
Pat Cash: "Janowicz is 22 and I guess he never thought he would get here. In the past this is the sort of age you would have expected players to break through at a Grand Slam like I did in 1987, but these days it tends to be a little bit later.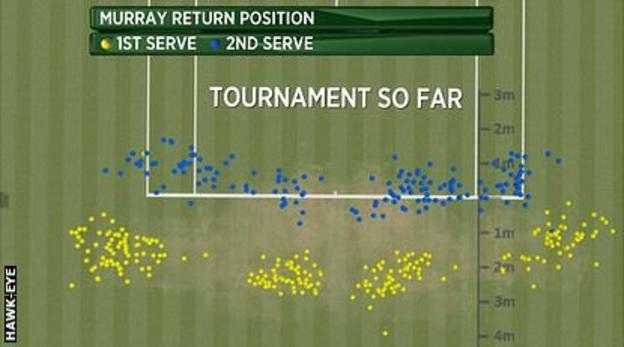 "For somebody who has got that much power, at 6ft 8in with a monster of a serve, a big forehand and decent movement, he is always going to be a danger.
"He has beaten Murray convincingly before. Murray may have been a little bit off and thinking about the ATP World Tour finals a week later, but a win is a win and it will be at the back of Murray's mind."
Mats Wilander: "I expect Murray to come out and play a real tennis match, open up his shoulders and hit out. I thought he was too passive
"He knows Janowicz leads the head-to-head and will be unafraid. He has a big serve, a big game and this is not the only time he is going to make the semis at Wimbledon. Murray has to step it up - a lot - and I expect him to do that, but it's going to be a tricky one.
"Experience will be the biggest factor. Murray is physically really, really strong and very quick. He is strong in the corners and returns well. As long as he gets the ball back in play from Janowicz's huge serve, it's going to take another blow by Janowicz to do something with it.
"By the time Murray has hit three shots, he has neutralised the power and we are then on an even playing field. Murray will show he is a little bit too good.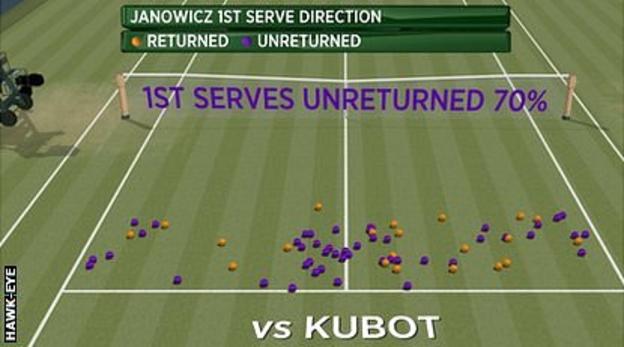 "Although I think Murray could win in three sets, a couple will probably go to tie-break. But in the long run, Murray is a marathon runner, Janowicz a sprinter and the marathon runner is likely to prevail."
Jonas Bjorkman: "Wednesday was the best performance I've ever seen from Murray without playing his best tennis. He showed some great character, he worked hard to find his game and I was massively impressed. He got the crowd going and in the end managed to come up with some big plays to win the match.
"Janowicz has the biggest serve in tennis right now; he hit 30 aces in the quarter-finals. He's had a day to adjust to what he's achieved, but it's going to be interesting to see how he handles all the attention because it's completely different.
"I watched him warming up on Court 15 on Wednesday and there were maybe 10 people watching. That quadrupled on Thursday, it will be even more on Friday and a lot will depend on the mental approach he takes into the match.
"Andy is a great returner and he's going to make Janowicz play a lot. Once he gets the ball in you've got to favour Andy, but he can't be too defensive because Janowicz moves well for a big guy and has got big weapons.
"Andy needs to make sure he steps in and takes control of the rallies. With the crowd on his side, I think Andy will come through in four sets."
Novak Djokovic v Juan Martin del Potro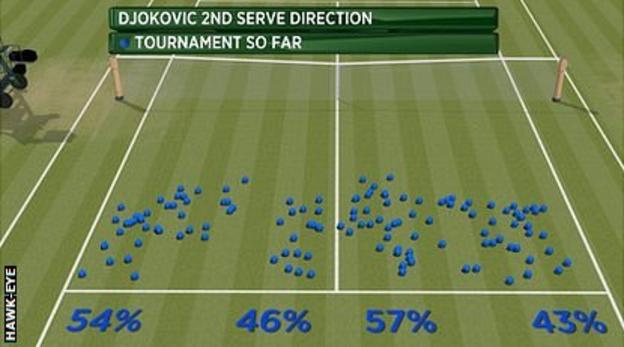 Jim Courier: "On form, and given the fitness of Del Potro, you have to favour Djokovic. It's so unlucky for Del Potro that he has hyper-extended his left knee twice now, but he had the courage and mental strength to stand strong against a player of the calibre of
"It was really inspiring and he has nothing to lose when he plays Djokovic. He's beaten him on Centre Court before, he'll remember that, and I just hope he's healthy enough to give it a full go. The knee may alter the way he plays and he might have to pull the trigger a little earlier, but he has the firepower to trouble Novak.
"Novak has looked extremely tough. He has a wonderful combination of great offence and defence, and like a wounded animal he is at his most dangerous when he is pushed into a corner.
"When he was down 0-3 in the second set he came out gunning and got himself back into it quickly. What he can do with the ball is very obvious - what he can do mentally is less obvious but equally impressive, and that could prove the difference."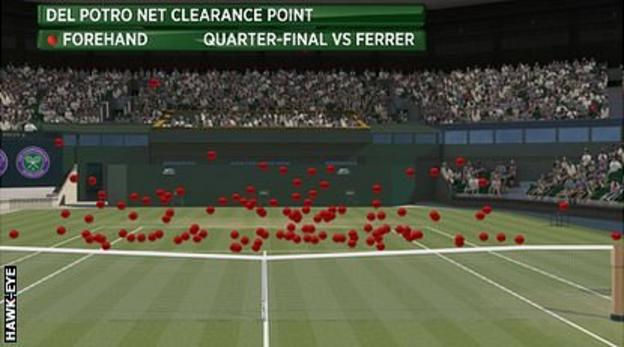 Mats Wilander: "Djokovic is the heavy favourite because he is a better player now than he has ever been. Del Potro has a few problems with his knee and this is not a best-of-three set match, it will be a marathon.
"To beat Djokovic in straight sets at a Grand Slam is unheard of, so if Del Potro is going to win, it is going to take at least three and a half or four hours. I'm not sure Del Potro is able, with or without his knee problems, to do that. I'm taking Djokovic to win in three sets."
Jonas Bjorkman: "Novak is looking better than ever on grass, so it's going to be tough for Del Potro. He has to really go for it - every time he's on the run he plays his best shots, particularly on the forehand but also on the backhand side - and he needs to serve extremely well, step in and attack.
"But the way Novak has been playing, I have to favour him; I've been so impressed with the way he's striking the ball and especially how well he's serving. His movement is exceptional and it's not easy to get past him - you've got to hit two or three extra shots and forcing opponents to go for it a little extra creates errors.
"For someone so tall, Del Potro moves great and, surprisingly for an Argentine, he adjusts well to grass. He's a dangerous player with the weapons to hurt anyone, but I will still go for Novak in four sets."