Wimbledon 2013: How the women's final will be won and lost
By Paul Birch
BBC Sport at Wimbledon
Last updated on .From the section Tennis
France's Marion Bartoli and Sabine Lisicki of Germany are the surprise names in the Wimbledon women's singles final on Saturday.
Despite an absence of top seeds, it looks set to be a fascinating encounter between the big-serving Lisicki, 23, and Bartoli, who boasts one of the best returns in tennis.
The 28-year-old Frenchwoman, seeded 15, lost in the 2007 final to Venus Williams, while 23rd seed Lisicki is competing in her first Grand Slam final.
Here, nine-time Wimbledon champion Martina Navratilova and three-time winner Chris Evert give their verdicts on the match.
Martina Navratilova
Lisicki became the bookies' favourite, and also my pick, once she beat Serena Williams in the fourth round.
I always go for the person who has the biggest game to win and she has a bigger game than Marion Bartoli. If she plays well, the match will be on her racquet more.
She has always been a bit up and down but she is very powerful and it's possible for her to beat anybody, but similarly to lose to anyone.
After beating Serena, it would have been easy to have had a let-down but there have been none as yet.
Lisicki has come through in three-set matches playing great under pressure and what helps her to do that is her big serve and a big forehand, which helps her end points early so she doesn't have to work too hard for them.
If she serves well, she can beat anybody. She didn't serve that well in the quarter-finals but it was still strong enough for her to win handily.
I think she is here to stay.
The fact that Bartoli has been in the final here in 2007 should be good for her, because when she was in that final she just seemed thrilled to be there.
I remember watching her from the Royal Box and she looked up and looked at everybody there and seemed overwhelmed by the occasion. But then she was facing Venus Williams, now she has Sabine Lisicki, which is obviously a winnable match for her.
I feel like Marion is now playing for herself and the split with her father [as her coach] was a really good thing for her. To me, I felt like she was feeling pressure to perform for her dad whereas now she is playing for herself.
She is playing much more relaxed tennis and is looking up to the box for encouragement, not help. There isn't a look of desperation on her face.
Because of that, she is playing much better tennis. She was in the zone against Kirsten Flipkens and if she plays like that it will be hard for Lisicki to beat her.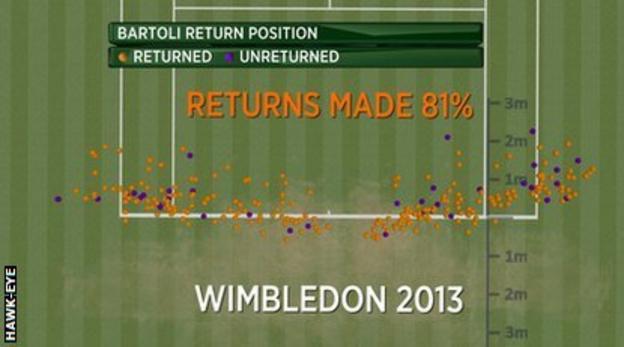 Marion stays very close to the baseline and takes the ball early, which could be a real problem for Lisicki because she won't have the time to set up for her shots as much as she normally likes. The ball will come back much quicker, particularly on the return of serve.
At the same time, Sabine has one of the best serves in the game and it's going to be hard for Marion to handle that. It will be interesting to see if Sabine can impose her will on Bartoli and hold her serve most of the time, or if Marion will return so well that it will force Sabine into errors and she will therefore have a harder time holding serve.
But I picked Lisicki to win through the quarters and the semis, and I will go with her again as she has more variety and a bigger game.
Chris Evert
This is the trophy that players most aspire to win when they are growing up. Lifting that trophy is a blissful feeling, you feel invincible at that moment. On top of the world.
Whichever of these two players does win, I almost feel it might be a bit confusing to them because it has been such an unpredictable tournament.
I don't know if either one of them had the confidence going into the tournament that they would be holding that Venus Rosewater plate so they might kind of get lost in the moment and it might be overwhelming.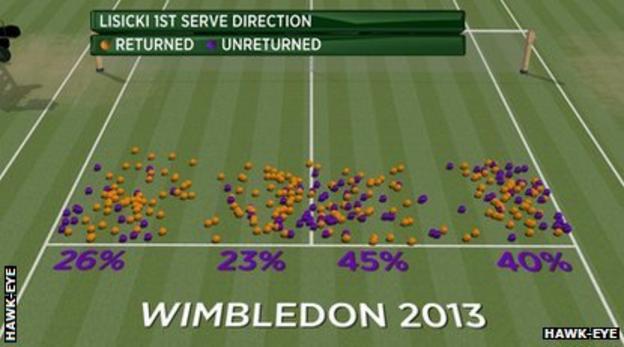 If Sabine Lisicki plays the same way she has been playing and serves like she has been serving, winning free points, along with that forehand of hers that has helped her hit so many winners, then I think she definitely has a slight edge.
She does blow very hot and cold, but the fact she got through by beating the number one player and then the number four player in the world, after being 3-0 down in the third set, says a lot.
It's Lisicki's first final but it isn't Bartoli's. I hope she can cope with that pressure.
I think the 'moment' will have a lot to do with the outcome of this match as this is not a quarter-final, this is a final.
If you asked me if I thought Marion Bartoli would ever reach the final of a Grand Slam again following her defeat to Venus back in 2007, I would have said 'no'. It's not like she has even had a great year. This has come out of nowhere.
She is playing great grass-court tennis and she is definitely playing better than she did six years ago, so she has a better shot.
It's a interesting match-up as both players' key strength is feeding into the other's strength - Lisicki's serve and Bartoli's return.
The match will come down to how well Bartoli returns the Lisicki serve.
But I see Lisicki as a slight favourite.