Wimbledon 2013: A great day for Andy Murray' - Tim Henman
By David Ornstein
BBC Sport at Wimbledon
Last updated on .From the section Tennis135
Andy Murray fought back from a set down to beat Jerzy Janowicz and reach the Wimbledon final for a second consecutive year.
The second seed looked in trouble against big-serving Janowicz - a 22-year-old Pole contesting his first Grand Slam semi-final - but came through in a match that finished under the Centre Court roof at 21:37 BST.
Murray, 26, is aiming to become the first Briton since Fred Perry in 1936 to lift the men's singles title at SW19 and will play world number one Novak Djokovic in Sunday's showpiece at 14:00.
Earlier on Friday, Serbia's Djokovic, 26, battled past 24-year-old Juan Martin del Potro of Argentina in a that lasted four hours and 44 minutes.
Former British number one Tim Henman, a four-time semi-finalist at the All England Club, reflects on the semi-finals and looks ahead to a 19th career meeting between Murray and Djokovic.
Murray defeats Janowicz in four sets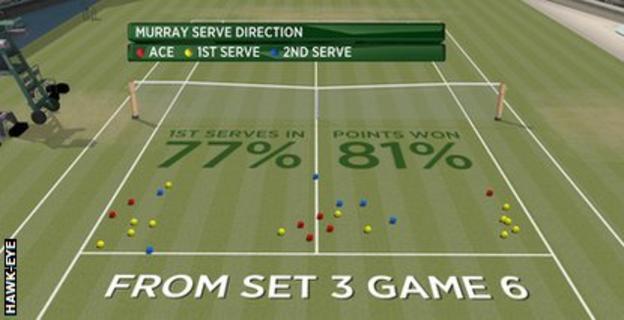 "Andy has talked about the pressure and expectation that's been put on him this year and, with that in mind, he's performed phenomenally well. I felt there was going to be a very positive reaction after he was and the way he dealt with all the challenges that Janowicz threw at him was sensational.
"In big matches at Grand Slams you have to be able to deal with adversity and Andy has now repeatedly shown he can do that. In the first set against Janowicz, he played very well and had break point opportunities but wasn't able to take them. Yet when he lost the set he didn't get down or frustrated - he broke serve at the start of the second set. Even at 4-1 down in the third set, Andy only dropped three points in the next five games to move ahead in the match. These are great examples of his character.
"The decision was then made to shut the roof and that was a tough time for Andy because he had all the momentum. But, again, he dealt with it and look at his statistics for the match: 20 aces to Janowicz's nine, 70% of first serves landed, 76% of points won on his first serve and 71% on his second. It was a high-class performance.
"Andy was unhappy with the roof being closed - and I would have liked to see them play for another 20 minutes or so - but it was going to have to be shut at some stage and it's a judgment call for referee Andrew Jarrett. He felt the best time to stop was at the end of a set but the problem for Andy was that he'd just won five games in a row and was on a roll. It's a very difficult situation, but I would always sympathise and support the referee's decision.
"It's important to stress that the roof is a massive advantage because without it they wouldn't have finished that match. They would have needed to come back on Saturday and, whoever won, there's no doubt it would have been detrimental to their chances in the final."
Djokovic defeats Del Potro in five sets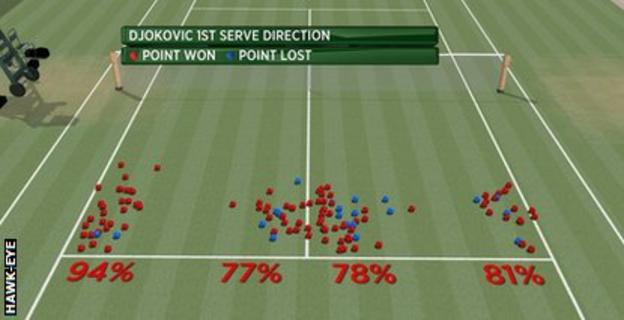 "The first semi-final was incredible, the level of tennis astonishing and the athletic ability of both players astounding. Some of the shots Djokovic returned were amazing, but also the way Del Potro was moving and hitting with a knee that is not 100% took your breath away.
"It really shows the character and durability these players possess right now and, as it was longest men's semi-final ever seen at Wimbledon, it will go down in history. When you think Roger Federer and Rafael Nadal have been the leaders of this sport for a number of years with all their Grand Slam victories, for Djokovic, Del Potro and later Murray to come out and produce that level just shows the game right now is in the best place it's ever been.
Looking ahead to the final
"In the context of what has happened in the tournament so far - with Federer and Nadal losing early - this is the final everyone wanted, the final everyone has talked about for the last 10 days.
"When you reflect that Andy has made the final of the last four Grand Slams he has entered, he's knocking on the door of the top spot and he now has a superb chance against Djokovic. It will be interesting to see how Novak responds to playing almost five hours but knowing him - his character, athletic ability, fitness and stamina - I'm sure he'll bounce back.
"However, I said before the tournament that Andy is going to win it and I'm not going to change my tune now. The support for him has been amazing and you only needed to be inside Centre Court on Friday to see how the crowd recognised the important moments, when they really needed to get behind him, and he was willing them to get even more involved. It was a great day for tennis and a great day for Murray."