Marion Bartoli 'will inspire millions' - BBC pundits on Wimbledon final
Last updated on .From the section Tennis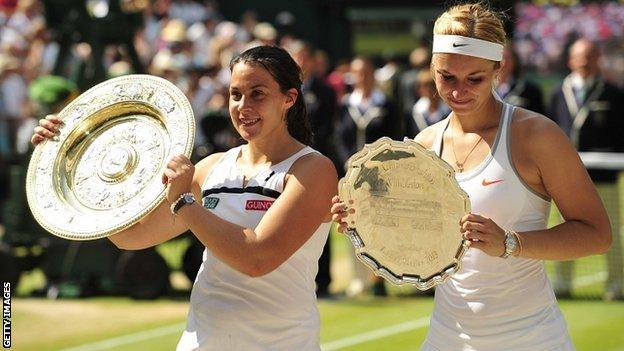 France's Marion Bartoli won the Wimbledon title with a 6-1 6-4 victory over Sabine Lisicki of Germany.
The 28-year-old triumphed in a one-sided 81-minute contest as Lisicki's game unravelled on Centre Court.
Few expected the 15th seed to make an impact at SW19 given her unremarkable record in 2013.
But Bartoli did not drop a set in winning her first Grand Slam title, her delight clear as she climbed into the players' box to celebrate.
Here former Wimbledon champions John McEnroe, Lindsay Davenport and Pat Cash give their verdicts on the match.
John McEnroe, three-time Wimbledon champion
"The thrill of victory and the agony of defeat. Most of the match was a blur for Sabine Lisicki. It really did not go as planned, not in the slightest.
"Just think what she went through to reach the final, think of the people she beat and the comebacks she made, yet she froze out there. That shows you how tough it can be.
"As for Marion Bartoli, you talk about impressive ways to end a match, well that last game was exhibit A right there. She pulled herself together and she completely outplayed Lisicki.
"It's so nice to see someone who was born to be a tennis player. She's not necessarily the most natural athlete you will ever see, but someone who wields a racquet like a paintbrush and she did her own version of Picasso - it was unexpected and amazing.
"She couldn't possibly have thought at any stage that she would have been able to pull off a Grand Slam victory or a Wimbledon triumph.
"It absolutely will inspire millions who will all be thinking, 'Hey, anything is possible!'."
Lindsay Davenport, 1999 Wimbledon champion
"Marion Bartoli showed everybody you can play a little differently and have some quirks and still be a champion.
"Coming into the tournament she had not won more than two matches in any tournament she had played all year long. It gives a lot of hope to the rest of the field that, in the era of Serena [Williams] dominating, crazy, unexpected things can still happen in tennis.
"She had waited and trained her whole life for that moment when she lifted the Venus Rosewater Dish.
"You could see the pain and disappointment in Lisicki's eyes, but she just didn't play her best match."
Pat Cash, 1987 Wimbledon champion
"Marion Bartoli has got some very good attributes - she's a great anticipator, she's got a good push-off in terms of speed - but she's by no means a superstar athlete and she's got all sorts of quirks.
"Nobody can believe she's holding this trophy, but you've got to give her absolutely full credit.
"Everything has fallen into place for her - the draw fell apart, she didn't really play top names the whole way, but she did it. Dream stories very rarely come true in sport, yet this is one of those crazy fairytale stories.
"But bless her; she has not had it easy. Everything has fallen into place, she's a lovely girl and it's a fairytale story."