Andy Murray v Novak Djokovic: pundits on Wimbledon 2013 final
By David Ornstein and Paul Birch
BBC Sport at Wimbledon
Last updated on .From the section Tennis124
Andy Murray will attempt to end Britain's 77-year wait for Wimbledon men's singles champion when he faces Novak Djokovic at 14:00 BST on Sunday.
Murray, who in last year's final, is bidding to emulate the feat of Fred Perry in 1936 against a player who he trails 11-7 in the career head-to-head.
The Scot has won one Grand Slam title to his Serbian opponent's six - including - but defeated Djokovic on Centre Court at the and repeated the trick in the
They have now been paired in three of the last four major finals and will remain world number one (Djokovic) and two (Murray) regardless of who lifts the SW19 trophy.
Three-time champion Boris Becker, who appeared in a further four finals, and 1996 winner Richard Krajicek gave BBC Sport their views on an meeting between the world's top two ranked male players.
The dream final?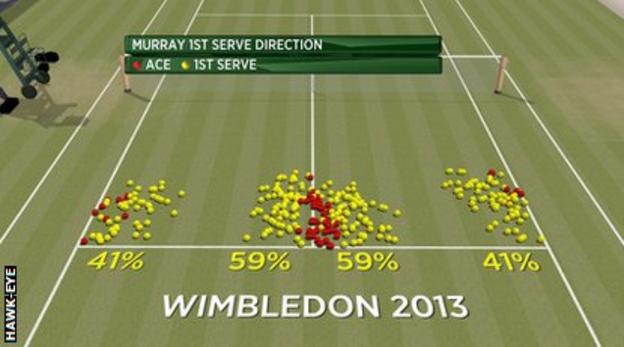 Boris Becker: "When the draw was made, and I saw Djokovic and Murray on opposite sides, my pick was a final between Djokovic and Murray because of their performances in the last 12 months on all surfaces apart from clay. These two are the new rivalry in tennis, they've overtaken Rafael Nadal and Roger Federer as the top two and at the biggest events they want to show that."
Richard Krajicek: "Wimbledon is arguably already the biggest tennis tournament in the world, but a British man winning it on home soil would make it the biggest tournament there is. This match is huge.
"I remember last year I was doing BBC Radio 5 live commentary for the first time and on the morning of the final a producer came up to me and said, 'Remember this is the biggest moment in British sport, bigger than the 1966 World Cup! Your colleagues might be a little bit nervous, and understand that for them it could also be their biggest moment.' You could just sense it in the air, the anticipation was massive."
The story so far
Boris Becker: "They both played like I expected them to in the first week. The matches obviously got tougher in the second week and, because of the competition, you're bound to drop a set of two.
"The comeback by was spectacular because he faced a guy who played at his very best. Djokovic's only tough match was and it turned out to be the longest men's semi-final in Wimbledon history. Murray was again tested - losing the first set and being 4-1 down in the third - but he ended up playing his best tennis of the tournament."
Richard Krajicek: "Andy played his worst match in the quarter-finals but he got through that, which is always good. It's great to play one ugly match, make it through and get that bad tennis out of your system - it gets the fighting spirit going. Andy is pretty well rested but as Friday's semi-final against Del Potro was a big battle for Novak, he will be tired and hurting."
Down to business
Boris Becker: "We're going to see lots of baseline rallies and the question is who can dominate them. If Djokovic is able to make Murray run, Djokovic will win. If Murray is able to make Djokovic run, Murray will win. It will be a hot day and could come down to who is the fittest. It will be a very physical match and the longer it goes on the better it is for Murray. But Djokovic has it in him to beat Murray in straight sets.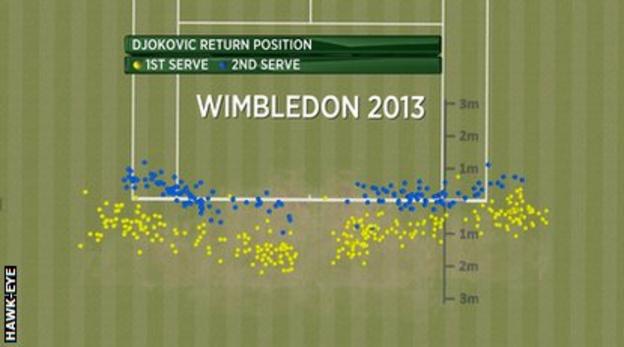 "The key element will be who controls the centre of the court, who makes the other guy run more. They are very similar in styles - great serves, great groundstrokes. Maybe their backhands are a bit better than their forehands, but ultimately it comes down to who is the dictator on the court - who can dominate the baseline rallies."
Richard Krajicek: "They are going to play some long rallies and make each other move an awful lot. Novak's consistency in this area is always strong, but because of his tiredness there is a possibility he might not get to all the balls like normal.
"The serve will be the deciding factor. Novak served far better than Del Potro, with a lot of aces, and every time Novak was in trouble he pulled out a big delivery. Andy served consistently through the whole match against Janowicz. He hit more aces than the Pole and wasn't troubled, except for a brief period in the third set.
"Novak's forehand in the fifth set against Del Potro started to break down a little bit under pressure. He started missing a few and he got unsure of himself. It will be intriguing to see how his forehand is going to be and whether he is going to be confident with it or not."
Verdict
Boris Becker: "It will be a great final, really open. On paper, Djokovic is the favourite - he's the number one player, has won Wimbledon before and is in fine form. But Murray has the support of the home crowd and if it's written in the stars then he will win. A Grand Slam final at Wimbledon for a British player is so much more than just stats. It's about re-writing history and I think that favours Murray.
"It's a very different Murray from last year. The fact he won Olympic gold, the US Open and has been a solid member of the top three over the last 12 months speaks volumes. He is the best prepared he has been, he and I've never seen him as confident as now. The crowd, media and whole country understands this is a once-in-a-lifetime chance to have a male British singles champion for the first time in 77 years.
"For British sport, it would be a changing moment for somebody to win the biggest tournament in tennis on home soil. It's something for the ages."
Richard Krajicek: "Although Andy does a good job of handling the expectation, 12 months ago it was just immense. But this year, after the year Andy has had, people expected him to be in the final - so maybe the pressure on him was less as a result.
"I really expect Andy to lift the trophy on Sunday."