Andy Murray: Dunblane celebrates Wimbledon victory
By Clive Lindsay
BBC Scotland Sport
Last updated on .From the section Tennis2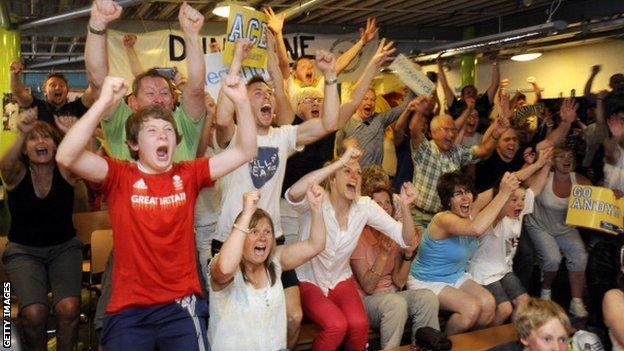 From far and wide, they descended on Dunblane in pursuit of a dream. They left having shared in a historic end to 77 years of British tennis hurt.
There was certainly an air of expectation rather than mere anticipation as the clans gathered in the small town a few miles north of Bannockburn, that scene of another famous Scottish victory.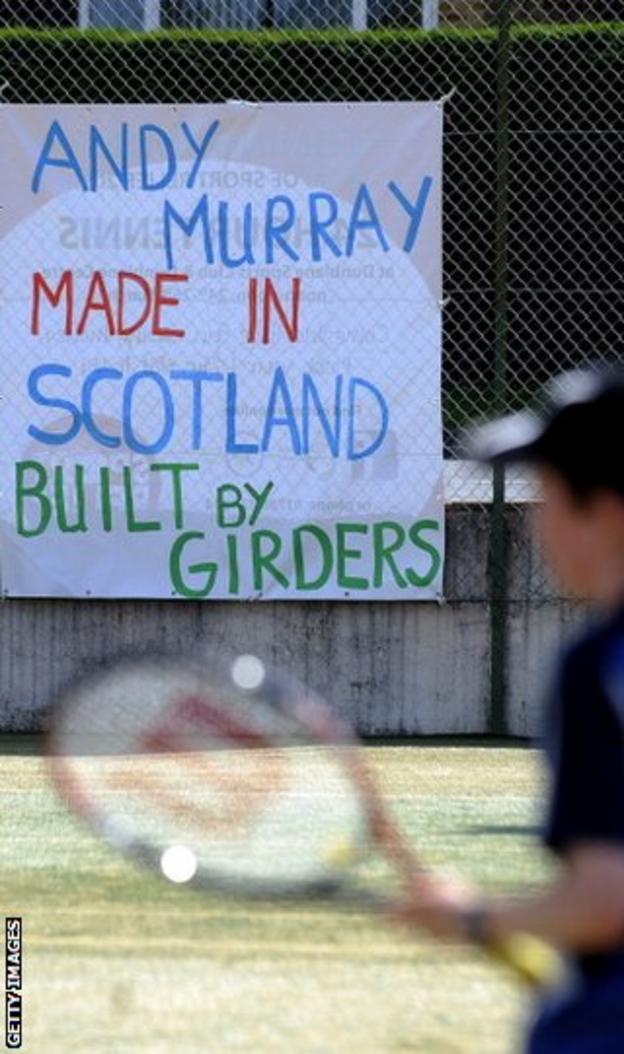 Earlier, as I passed the sign welcoming visitors to "The City of Dunblane", the picture postcard home of the Murrays was still deep in sleep mode as it basked in the morning sunshine.
There were just a few signs of what the day held in store: a couple of Saltire-covered tennis racquets in a shop window down the narrow main street; a tourist family's child posing atop the golden post-box installed to mark Murray's singles victory at the 2012 Olympics.
Youngsters with dreams of being the next big tennis star played their own little Grand Slam finals at Dunblane Tennis Club in front of a banner proclaiming: "Andy Murray, made in Scotland, built by girders". The reference was to a fizzy beverage but hinted at the iron will that would be needed later if their favourite son was to triumph.
Photos of Murray, brother Jamie and mother Judy adorn the walls of the small clubhouse in celebration of the famous family that have put Dunblane, Scottish and now British tennis on top of the world tennis map. It is a tale of success that has already led to a seven-fold increase in the number of youngsters within its coaching system in the last four years.
A possible further burst in participation numbers was, though, of secondary importance to most who gathered later in front of communal large screens at the tennis club, community centre and local pubs.
Jade Campbell and her friend had driven 245 miles from Thurso to join the crowd of about 300 packed sweatily into the Dunblane Centre, while Fiona MacLeod and her three children had journeyed even further, from Dunnet - their trip from Scotland's most northerly tip having started at 07:00 BST and only ended half an hour before the final at 14:00.
Londoners Matt Tingle and Davina Macnamara had taken a detour on their Scottish holiday, while Elaine Shirley from Livingston, two fellow Scots and three friends from Canada had planned their trip to Dunblane a year ago "to watch Andy in the final and for us to be here when he won it".
All were united in their belief that, on the back of last year's Olympic gold medal and US Open title, this was to be Murray's day. It was confidence that rarely seeped out of the sauna-like hall despite as many ups and downs as you could imagine in the heat of a battle won in three straight sets.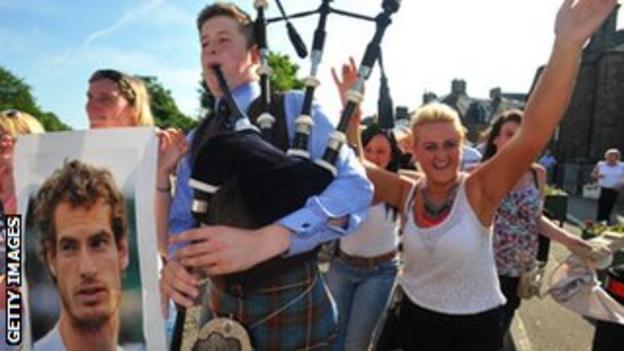 Where were the agonies, the tears, the heartache and ultimate disappointments of the Roger Taylor, John Lloyd, Greg Rusedski and Tim Henman years?
It all seemed a little too easy, even a little surreal as Novak Djokovic, the world number one, put that final backhand into the net to signal a collective pumping of Murray-style fists, voices roaring behind Lion Rampants and a few choruses of "Flower Of Scotland".
Of course, it wasn't easy and Dunblane tennis convenor Fiona Bennie, who had herself been taught the game by Andy's grandmother, summed up the immensity of Murray's achievement.
"The final went better than we could have ever expected," she said. "There were moments when he had to dig deep, but three sets against Djokovic!"
Of course, Dunblane will for many people always be the little town where one of the darkest chapters in recent British history was played out.
Indeed, before the final, Murray had said he hoped his success had helped heal the hurt of the shooting in 13 March, 1996, that left 16 children and a teacher dead.
But in a town that has hurt so deeply, Sunday was only about celebration.
Some 8,000 people call Dunblane home - and each and every one of them seemed to revel in the astonishing achievement of one of their own - a young man from a town boasting a cathedral and a hydro hotel who has become the first British Wimbledon men's singles champion since Fred Perry in 1936.
Fiona Bennie summed it up: "Even having a player in the world's top 10 from your own club is wonderful enough, but now he has won Wimbledon by beating the world's number one. He can be very critical of himself, but he needs to give himself a big pat on the back for that."