Andy Murray's Wimbledon win: What the papers say
Last updated on .From the section Tennis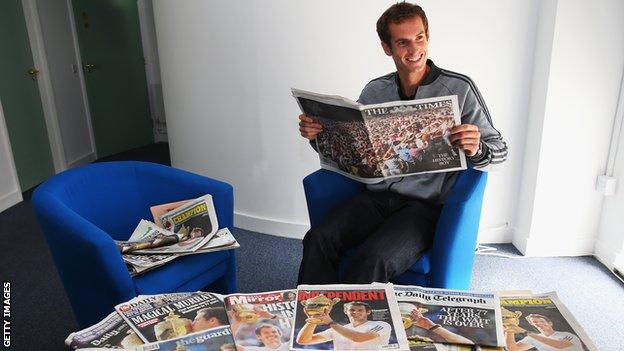 Andy Murray's first Wimbledon title dominates the front pages of Monday's national newspapers in England and Scotland, while there is also widespread coverage in the international press.
Headlines range from 'The History Boy' in the Times to 'Champion' in the Guardian.
'The thought of a Scot winning Wimbledon was not even an impossible dream', according to the Scotsman.
And in Novak Djokovic's home country, Serbia, Blic report that it would not be a surprise if Big Ben strikes 77 times in honour of Britain's first men's Wimbledon singles champion for 77 years.
Here, BBC Sport samples the flavour of the newspapers - home and abroad - and how they are reporting on Murray's Wimbledon triumph.
DAILY RECORD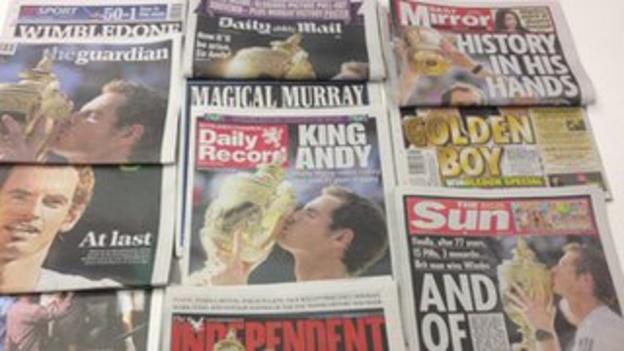 "Sir Alex Ferguson was not in Murray's corner as he was during the US Open success last September," writes Colin Duncan. "Fergie was enjoying a cruise around the Scottish islands but the sage advice he passed on before setting sail appeared to work wonders.
"The football man's words of wisdom on handling expectation proved invaluable as Murray showed the Wimbledon final loss last summer was the beginning rather than the end."
THE SCOTSMAN
"For those of us growing up in the 1960s and 1970s, the thought of a Scot winning Wimbledon was not even an impossible dream," writes Stuart Bathgate. "Arrant nonsense, no sooner imagined than dismissed.
"That supposed nonsense is now hard fact. There is nothing whimsical about it. The reality is as solid as the earth below Andy Murray's feet as he stood and saluted the crowd, champion of his home Grand Slam."
THE DAILY TELEGRAPH
'After 77 Years, The Wait Is Over' is the headline on the front page.
Simon Briggs opens his report with: "It is the sentence British tennis has been waiting for ever since a wild-haired 17-year-old from Dunblane won the junior US Open. Andy Murray is the Wimbledon champion."
THE DAILY MAIL
Chief sports writer Martin Samuel sums up what the victory means to the people of Murray's home town Dunblane.
"Murray has long been on a mission to alter public perceptions of his home town, Dunblane, in Scotland," writes Samuel. "He wanted it to be remembered for producing Britain's finest tennis player rather than a shooting tragedy at a school that claimed many of his young friends, and was lucky not to have taken him.
"When Murray looks to the skies after matches, it has been speculated this is an act of remembrance and thanks. Dunblane is Murray Town now. He can never erase that history, but he has obscured it."
THE TIMES
Neil Harman reflects on what Britain's previous men's singles champion Fred Perry might have been doing as Murray swept to victory.
"Dear old Fred Perry would have loved to see this," writes Harman. "One hopes that he was curled up with a nice glass of something upstairs, looking down with a fond fraternal nod to Murray, the 26-year-old who, at the climax to a day he will rarely better in his life, wandered around the court in a daze."
THE GUARDIAN
Securing a second major wipes away any suspicion that the US Open was a fluke, writes Kevin Mitchell in the Guardian. However, Mitchell doubts that winning Wimbledon will change Murray as a person.
"He will not assume that his second slam title entitles him to walk with any more of a strut," he writes.
"But neither will he deny that this is the next phase of his career, because, although winning one slam title was wonderful in itself, as was taking Olympic gold, securing his second major wipes away any suspicion that victory in New York was a one-off, when the wind blew kindly for him and every stroke clicked."
THE INDEPENDENT
"Of all the days he will know, and all the prizes he will win, these were the ones bathed in golden sunshine that Andy Murray will always have with him - and for which he will always be revered," writes James Lawton.
THE DAILY EXPRESS
Bob McKenzie writes: "Gone was the half-hearted, grudging support, a middle England feeling that if only he did not snarl, shout, grimace, and smile a bit more, was more like...well, Tim Henman, it would be easier to accept that he is a stunning player. We now know he is the best player since Fred Perry."
THE SUN
"As the 26-year-old Scot climbed up into the competitors' box to embrace his nearest and dearest, the Wimbledon trophy glistened in the sunshine below," writes Steven Howard.
"The tennis equivalent of the Golden Fleece, seemingly unattainable to anyone from these shores for all those years, sat on its table with a Union Jack underneath it."
THE DAILY MIRROR
Chief sports writer Oliver Holt: "At the post-match news conference, a veteran US commentator called Bud Collins, a little frail now and in his 80s, spoke to Murray from the floor and told him he had known Perry.
"Murray listened with a smile and thanked him. Out by Centre Court, as night fell, Perry's statue began to disappear in the darkness."
THE DAILY STAR
"Perhaps Murray's finest achievement was in making the stony-faced Ivan Lendl break into a smile," writes Ian Murtagh.
SYDNEY MORNING HERALD
"For Andy Murray and Great Britain, the wandering in the wilderness is over, the deed done. His victory prompted scenes and celebrations perhaps not seen in the UK since 1966 when England won the World Cup. You imagine that the next time they meet, it will be Djokovic versus Sir Andy."
NEW YORK TIMES
"Whatever will the British talk about next year at Wimbledon? For 77 years they had Fred Perry and the noble yet clearly star-crossed search for his successor as a conversation starter in the early summer days at the All England Club. But now, in a flurry of booming serves and full-stretch forehand winners, Andy Murray has given them the privilege of moving on."
L'EQUIPE (France)
"When Novak Djokovic's backhand found the net you had to understand the collective monster cry from the crowds on Centre Court that were on the verge of a nervous breakdown, then look at the incredulous face of Murray after the match point. You had to see the champion submerged by emotion."
BLIC (Serbia)
"It would not be a surprise if Big Ben strikes 77 times today. Once for each year without a Wimbledon champion. If it happens, we shouldn't blame them, they had long desired a king on the throne. Andy, well done. The 2013 edition of Wimbledon will be long remembered."
POLITIKA (Serbia)
"Serbia has failed to win its second Wimbledon trophy, as Great Britain breaks its 77-year fast. Fred Perry has waited a long time to see his successor on the throne, but in Andy Murray he has managed to get the right heir."
SUEDDEUTSCHE ZEITUNG (Germany)
"People were celebrating him as much as a champion can be celebrated, but Murray was still shaking his head. He looked serious, detached in a way. He tried to grasp the moment, to comprehend what had happened, but it did not look as if he was going to manage that."