Andy Murray: Ivan Lendl, the coach behind Wimbledon triumph
Last updated on .From the section Tennis196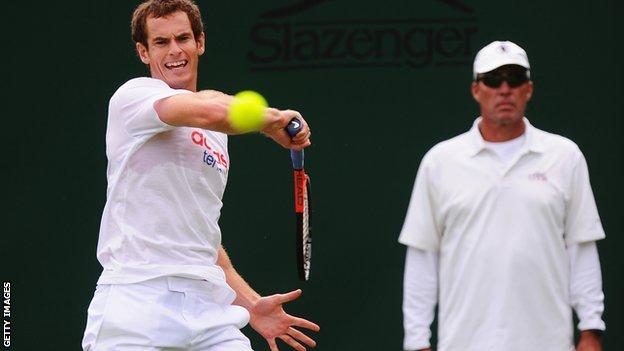 If his mother nurtured and encouraged Andy Murray towards Grand Slam tennis finals, it was coach Ivan Lendl who helped him make the last leap to champion.
Two men with a similar steely outlook bonded with a shared experience of bitter defeats and determination to fulfil their ambitions.
Eight-time Grand Slam title winner Lendl was the first to be hugged by Murray in the aftermath of his landmark Wimbledon triumph.
The 53-year-old Czech-born American's blend of experience, honesty and dry humour has struck a chord with the Scot half his age, who now has a tennis father figure to complement his mother Judy's years of dedication.
"He's made a really big difference to Andy in terms of the emotional control on the court," said Judy, who is six months older than Lendl.
"I think that's helped Andy to play his best tennis for longer periods of time. We all owe him a lot."
Murray had the innate ability, mixed with a strenuous strength-building programme, to become a top-four player, but needed an extra something to get past three of the all-time greats.
After a long search following his split from Miles Maclagan, Lendl - who retired from playing in 1994 - was plucked out of tennis obscurity towards the end of 2011 to mentor Murray.
A calculated gamble which, after Murray's defeat in the 2012 Wimbledon final, meant the only players in the Open era to have lost their first four Grand Slam finals were working together as player and coach.
Just two months later, Murray followed his tutor by succeeding at the fifth attempt - winning the US Open.
Where once he looked up to the players' box in matches with a pained 'Why always me?' expression when things unravelled, he now trades stares with the dark sunglasses of Lendl. No nonsense.
After beating world number one Novak Djokovic to become the first British man since Fred Perry 77 years earlier to win Wimbledon, the 26-year-old talked of his coach's advice.
"We spoke on the morning of the match and he basically said go out and work for every single point, that's your court, your fans are going to be behind you, just bring the title home, and I managed to do it," he said.
This is your time, this is your moment, Lendl was effectively saying. And Murray channelled the belief he had in him.
"His mental toughness has improved so much in the last 18 months since Ivan Lendl became his coach. There is no question that he has been so good for Andy," says Murray's grandmother Shirley Erskine.
In a five-year period from 1985 to 1990, Lendl won the US Open three times and the Australian Open and French Open twice each. He was world number one for an unbroken three-year stretch and a finalist eight years running at the American major.
The All England title at SW19 does not grace his playing CV, his strong baseline game unbalanced by the sometimes quirky bounces on grass which once prompted him to declare the surface was "for cows". He was runner-up twice.
"Ideally he would have won it himself, but this was the next best thing for him," said Murray as he clutched the coveted gold trophy.
"He believed in me when a lot of people didn't. He's been very patient with me. I'm just happy I managed to do it for him."
The Glasgow-born Murray may have been a toddler in his new hometown of Dunblane, just north of Stirling, when Lendl was in his pomp, but their playing careers have parallels.
While the Scot has competed in an era where Roger Federer, Rafael Nadal and Djokovic won 29 of 30 successive major titles, Lendl was part of a late 1980s 'fab four' that also featured the sumptuous skills of Boris Becker, Pat Cash and Stefan Edberg.
When defeat by Federer at Wimbledon last year meant Murray matched Lendl's losing 0-4 record in Grand Slam finals, his voice cracked and tears rolled as he told the crowd: "I'm getting closer."
Lendl does not do tears, not in public at least, and four weeks later, on the same court, Murray beat Federer to win gold at the London Olympics.
Behind the scenes, his US-based coach was plotting victory in America. The father of five daughters relishing this opportunity to guide a man made in his mould.
"He's taking care of matches a bit easier at times. He is also steadier in his results and doesn't seem to have so many downs as he has done before and I'm pleased with that," he said of Murray earlier this year.
Old rival Becker reckons the stoic Lendl almost cracked a smile when Murray clambered up to embrace him as the Sunday sun dappled the 15,000 Centre Court crowd at Wimbledon.
"You can't credit Ivan enough. He's been there before and faltered," said the German, whose three Wimbledon final wins included a straight-sets defeat of Lendl in 1986.
"Ever since Ivan has been in the corner, Andy doesn't shout and scream so much."
Murray has improved composure at Wimbledon, which brings the unique pressure of a demanding home crowd.
"He's made me learn more from the losses that I've had than maybe I did in the past," he said of Lendl.
"He's always told me exactly what he thought. And in tennis, it's not always that easy to do in a player/coach relationship.
"The player is sometimes the one in charge. But he's been extremely honest with me. If I work hard, he's happy. If I don't, he's disappointed and he'll tell me."
There might not seem many obvious similarities between cycling and tennis, but the kind of marginal gains which Britain's Olympic cycling guru Sir Dave Brailsford swears by, applies across all sports.
"Pressure is for tyres," say the coolest sportsmen, and Lendl's poker-faced support at matches may just give Murray that crucial extra lift he needs.
Fellow Scot Sir Chris Hoy - the winner of a record six Olympic cycling gold medals - watched Murray on Centre Court and saluted his resolve.
"He had the whole nation expecting him to win. He is tennis in the UK - it's him, Andy Murray," said Hoy.
"To deliver under that kind of pressure and expectation, I don't know how he did it. It really is one of the greatest British sporting moments of all time."
Now Murray may well become a knight too. A champion made in Scotland, with more than a little help from his Czech mate.