Andy Murray: Stefan Edberg says Scot can win Wimbledon again
Last updated on .From the section Tennis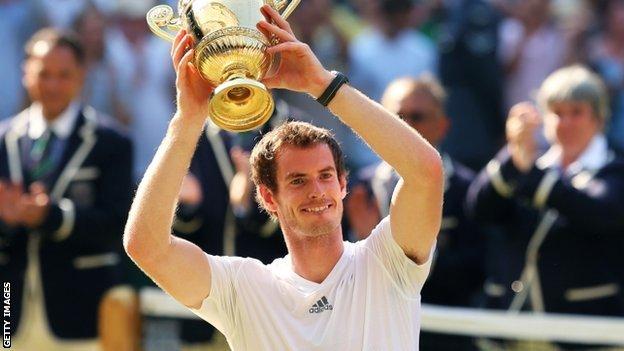 Wimbledon champion Andy Murray is still improving and can triumph at his home Grand Slam again, according to two-time winner Stefan Edberg.
Swede Edberg won six Grand Slams, including Wimbledon twice with defeats of Boris Becker in 1988 and 1990.
"I believe Murray can still win a lot more Slams. He's good enough and young enough," Edberg told BBC Radio 5 live.
"He's got a few really good years ahead of him."
Murray's 6-4 7-5 6-4 victory at the All England Club gave him his second Grand Slam title following his win in the US Open final, also against current world number one Djokovic, in September 2012.
"He's proved he can play well on grass and there is no question why he can't do it again," added Edberg.
"It could be in his mind to be the number one player in the world. It's going to be tough to get that but that's probably something that can be achieved.
"He needs to produce the results for 12 months, but this could be a great start of it."
Edberg, who had five spells at the top of the world rankings in the early 1990s, believes Murray's rivalry with fellow 26-year-old Djokovic - and several other high-ranked players - will help the sport flourish.
Though Rafael Nadal, 27, and Roger Federer, 31, both exited Wimbledon early, they have won a combined 29 Grand Slam titles, while Djokovic has six to his name.
Edberg said: "Djokovic has many good years to go, if Rafa Nadal can keep healthy he is always going to be a threat and Roger Federer cannot be counted out as well.
"Juan Martin Del Potro put on a great Wimbledon this year, and [world number six] Tomas Berdych has a chance so it will be interesting to follow tennis in the next few years because it's been predictable recently."