Andy Murray's win shows tennis is not elitist - LTA chief Roger Draper

By David Bond
BBC sports editor
Last updated on .From the section Tennis30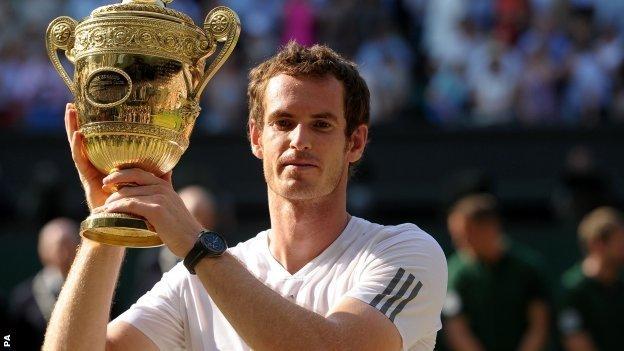 Even on British tennis's most glorious of days the Lawn Tennis Association couldn't escape vilification.
For seven years or the best part of it anyway, LTA chief executive Roger Draper has been the lightning rod for the annual disgust which accompanies the host nation's failure at Wimbledon.
So with the wait for a British champion now over Draper and the embattled LTA might have thought they would get a break.
Not a chance. Instead Andy Murray's victory has narrowed the focus on the lack of depth beyond Britain's newest sporting hero.
So it seemed only fair to put a few of the issues to Draper himself, who stands down from his post in September.
He told me he hoped Murray's victory would show once and for all that tennis has shaken off its elitist image.
"If you look at where Andy's come from, he was not born with a silver spoon in his mouth," he said.
"Sure he went to Spain as a teenager learning on the clay but his first experience was playing on the local courts in Dunblane, hitting with the adults and learning the game there. You couldn't say Dunblane had fantastic tennis facilities, not in those days anyway.
"It's a similar story with a lot of our players coming through. Look at Kyle Edmund. He comes from Hull, not exactly a tennis hotbed.
"What Andy and these guys are showing is that tennis is becoming a more widely played sport and that people from all backgrounds can have a go."
So is the LTA ready for the expected upsurge in interest that is sure to accompany Murray's triumph over Novak Djokovic on Sunday?
"The general state of readiness is good," added Draper. "I couldn't guarantee hand on heart that every court in every town and every coach at every club will be world class but we think we have most of the areas covered.
"We haven't just woken up to discover we have a Wimbledon champion. We have been planning for this for a long time. It's part of a long-term vision to grow the numbers of people playing the sport and to try and bring through more world class talent.
"Our juniors are getting better all the time, Laura Robson has just become number 27 in the world, the first British woman in the top 30 for years and I am optimistic that we will see more men coming through at the top.
"On the participation side, we now have 21,000 courts available across the country and we are doing a much better job now than when I came into the job of directing people who want to play the sport towards available facilities and coaching."
Does he think the constant criticism of the LTA is unfair?
"People have a pretty bad perception of the state of British tennis," he said. "But the reality is very different.
"I accept we have taken a bit of a hammering from Sport England on the numbers of people aged 16 and over playing the sport and we are working hard to remedy that.
"But I believe the sport is in a better state now than when I came into the job seven years ago."