Judy Murray fears tennis will not capitalise on Andy's success
Last updated on .From the section Tennis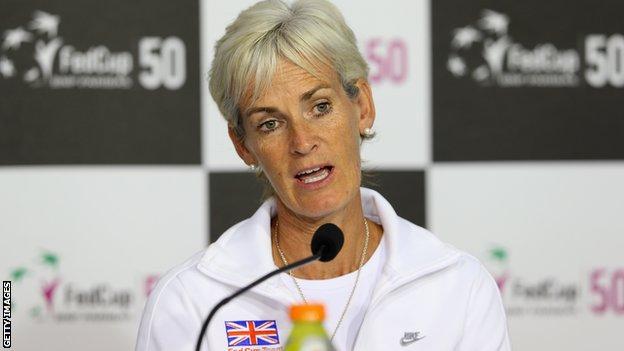 Judy Murray fears tennis does not have the infrastructure to capitalise on her son Andy's victory at Wimbledon.
Murray became the first British man to win Wimbledon in 77 years on Sunday.
But his mother Judy, coach of the British Fed Cup team, is concerned that the sport will not be able to make the most of increased interest.
"The country will go tennis crazy. Kids and adults will want to try tennis and not all of them will get the opportunity," she told BBC Newsnight.
"The key is to make sure there are as many public courts in as many communities we can put them in if we're going to tap into this great imagination."
She also believes that the sport remains elitist.
"I'd like it to become way more inclusive. I think it still is [too elitist]. Some moves have been made to make things better but there's still such a long way to go and there are huge swathes of the country where you can't find tennis courts.
"You need to build courts in areas where they currently don't exist for it to become a much more inclusive sport."
Murray said that as well as struggling for courts, she is worried that tennis needs more coaches and staff to enable the game to grow.
"We need to get into rural areas and disadvantaged areas and get tennis to people that haven't had the opportunity to play," she said.
Asked about the impact of the London Olympics, she said: "You have to plan for legacy and that has to start before the event starts.
"If there isn't a facility or a coaching team, if there isn't the opportunity on your doorstep you lose interest pretty quickly and find something else to do."
Tom Gibbins, head of education at the Lawn Tennis Association, maintains that tennis is accessible.
Gibbins told BBC London: "We're trying to dispel lots of myths about tennis and one is that it has to be an expensive sport to play. The average weekly membership of a tennis club is less than £1.50 a week for a junior to play.
"Andy gave British tennis its greatest moment ever and it's our job to capitalise on that interest and inspire more kids and adults to play tennis.
"There are 20,000 tennis courts up and down the country, 1500 of which are free. Tennis isn't an expensive sport especially at beginner and recreational level."