Ross Hutchins confirms Hodgkin's lymphoma remission
Last updated on .From the section Tennis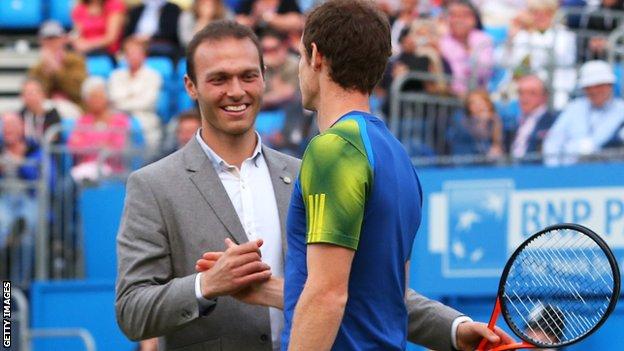 Great Britain Davis Cup player Ross Hutchins says he is in remission from Hodgkin's lymphoma, a form of cancer.
And Wimbledon-born Hutchins confirmed the good news on his Twitter account.
"Was a big day today. Met my oncologist and I am now in remission. So grateful to fantastic Professor Cunningham and his team at Royal Marsden," he tweeted.
"Thank you to everyone for your constant, incredible support, I couldn't be where I am today if it wasn't for all of you, I really mean that!"
Hodgkin's lymphoma is a cancer of the white blood cells found in the network of vessels and glands throughout the body.
The Londoner's condition came to light as he struggled with severe back pain that did not respond to physiotherapy.
Nearly 1,500 people are diagnosed with the disease each year in the United Kingdom, with almost all young patients fully cured.
Hutchins previously stated his desire to return to competitive action this year, having enjoyed his his best-ever season on the ATP Tour in 2012 as he and regular partner Colin Fleming reached four doubles finals, winning titles in Eastbourne and Delray.
Fleming has continued playing with last year's Wimbledon doubles champion Jonny Marray while Hutchins has been battling the illness.