Andy Murray: US Open champion 'mentally better' - Pete Sampras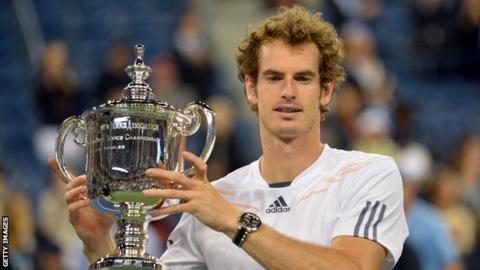 Andy Murray will cope well with his unfamiliar role as defending champion at the US Open, according to 14-time Grand Slam winner Pete Sampras.
Murray won his first major in New York last year, and returns to Flushing Meadows later this month as Wimbledon champion too.
"I think it's a little bit different when you're the man to beat, but you get used to that," said Sampras.
"I think mentally he's a bit better now."
Murray beat Novak Djokovic in five sets to win last year's US Open, added Olympic gold with a straight-sets victory over Roger Federer at London 2012 and won Wimbledon last month with another triumph over Djokovic.
Sampras, 41, added: "Now he feels like he belongs, like he's up there with Roger Federer, up there with Rafa Nadal. He's on his way to doing great things."
Over a 14-year professional career, the American won seven Wimbledon titles, five US Opens and two Australian Open crowns.
And he feels Murray's maturity has helped the 26-year-old achieve success.
"I just look at what Murray has been able to do the last year," said Sampras.
"He's progressed into this great player. He's figured it out.
"It was a great Wimbledon victory for him, he's always been a good hitter of the ball, been a great mover.
"I think mentally he's a bit better now. He recovers from some sort of bad situations in a match."
The Scot suffered a third-round exit at the Rogers Cup in only his second match since ending Britain's 77-year wait for a men's singles champion at the All England Club in July.
After Thursday's defeat by Latvia's Ernests Gulbis, Murray told BBC Scotland: "I'm positive about today. I wasn't expecting to come here and play my best tennis. But I hit the ball better today than I did yesterday.
"With every day I'll keep improving. My timing will keep improving.
"So long as my game's going in the right direction I've still got over two weeks until the US Open starts. That's what I want to be ready for."
The Scot still has doubles to play in Canada alongside his fellow Scot Colin Fleming.
Once his involvement there finishes, he will take part in one more Masters event in Cincinnati before heading to the year's final Grand Slam in New York, which starts on August 26.
Sampras sees no reason why Murray cannot successfully defend the trophy he won 12 months ago.
"He's got a good chance at the US Open," said Sampras, who reads little into Murray's defeat in Canada.
"I'm not worried about his game. I just think he's just got better. And it just takes time. As long as he's playing well and he's healthy, he's going to be, you know, there at the end.
"I see him being there in the last weekend."