Rafael Nadal beats Milos Raonic to win Rogers Cup in Montreal
Last updated on .From the section Tennis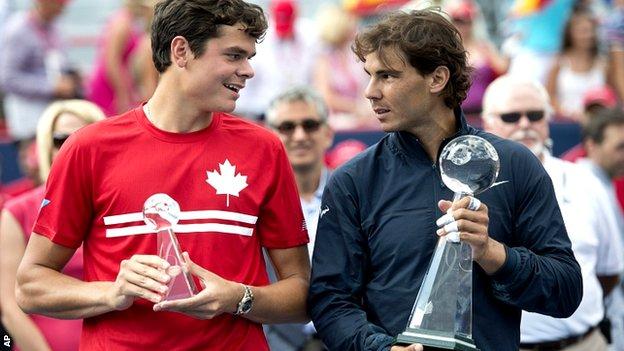 Rafael Nadal crushed Canada's Milos Raonic with a brilliant performance to win the Rogers Cup in Montreal.
The Spaniard, 27, needed just 68 minutes to win 6-2 6-2 and claim his eighth title and fourth Masters 1000 victory of 2013.
Despite his shock first-round loss to Steve Darcis at Wimbledon, Nadal is enjoying a stunning year.
Since returning from injury in February he has won 48 of 51 matches, picking up an eighth French Open along the way.
And he has shown that despite his knee issues, he remains a huge threat on hard courts, having in the semi-finals in Montreal and moved to 10-0 on the surface this year with Sunday's victory.
Raonic, ranked 13th, was the first Canadian in the tournament's final since Robert Bedard in 1958, but found himself out-served by a rampant Nadal.
The fourth seed dropped just one point on serve in the opening set, and Raonic could not defend his own usually formidable delivery with a first-serve percentage of just 50%.
Two breaks saw Nadal race through the first set and when Raonic double-faulted at break point down early in the second, the game was as good as up.
The second set followed a similar pattern to the first as Nadal gained the insurance of a second break in game seven, and he served out to claim the 25th Masters title of his career.
Nadal will move back up to three in the world rankings next week, and is scheduled to play in Cincinnati before he attempts to win a second US Open title later this month.
The 12-time Grand Slam winner believes he has a chance of returning to world number one by the end of the year, having made a successful comeback from a seven-month lay-off.
"I feel I have an advantage, but not enough to say that I am the favourite," he said.
"On this kind of surface, Novak is really good. There remains three Masters 1000s, one grand slam, World Tour Finals - more favourable surfaces for him than for me. So we are talking about 6,500 points.
"We have to realise how many points I have to win to be number one. I think I will not be number one if I have less than 10,000 points at the end of the season. Today I have 8,000. I need to win minimum 2,000 more.
"That's very difficult in this part of the season, but I'm going to try."