US Tennis plans roof over main Arthur Ashe Stadium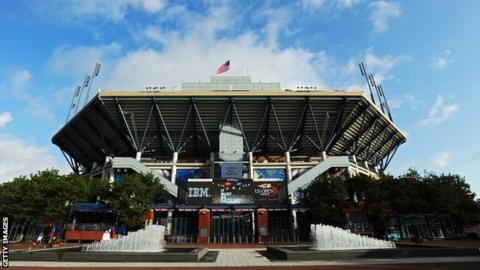 The US Tennis Association has announced plans to construct a retractable roof over the main Arthur Ashe Stadium at Flushing Meadows in New York.
Bad weather has seen the US Open men's final postponed to a third Monday for the last five years at the venue.
Arthur Ashe Stadium is the largest in tennis, holding 22,500 spectators.
Both the Australian Open and Wimbledon have covered stadium courts, while the French Open plans to have a retractable roof on its main court by 2018.
The USTA plans will also see the Louis Armstrong and Grandstand courts rebuilt, with a retractable roof also added to the former, and three new tournament courts and practice courts with public viewing access.
Work on the $550m (£350m) scheme could start as early as October and be finished by 2018.
USTA executive director and chief operating officer Gordon Smith said: "It's nothing less than a transformation and it's centred on a new movable roof on Arthur Ashe Stadium."
The Arthur Ashe Stadium was built in 1997 and its large size compared to Wimbledon's Centre Court, which holds 13,500 spectators, meant there had long been doubts over whether constructing a roof would be feasible.
has welcomed the news of the development.
"For certain reasons it's great," said the Scot. "For TV and stuff, it's fantastic. It's always good that you know matches are going to get finished.
"I don't necessarily miss being rained off but rain delays and stuff, it used to be part of it; whereas now that's kind of going away gradually.
"I don't particularly like going from indoors to outdoors to indoors but it's good for TV."