US Open: Marion Bartoli refuses to rule out comeback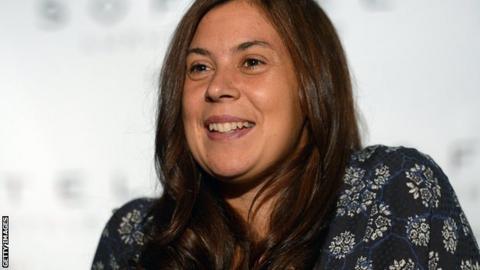 Wimbledon champion Marion Bartoli has admitted for the first time that it would be hard to say that she will never return to tennis.
Earlier this month, the 28-year-old Frenchwoman 39 days after
But although she told BBC Sport she has had no second thoughts, she knows that the feelings could change.
"You can't predict what is going to happen down the line," she said.
"[Any return] would come from desire deep inside, but for now I am just not at this point at all. My career has finished."
Bartoli has prepared for this year's US Open, where she will be having a stint in the commentary box, by visiting New York's art galleries and museums.
But even though she is aware that Martina Hingis, Justine Henin and Kim Clijsters all returned after taking a break from the sport, she admits that she has not missed the pain of competing on the circuit.
Bartoli was in constant discomfort as she won Wimbledon so memorably without dropping a set, but after retiring from her next tournament in Toronto and then losing her opening match in Cincinnati to Simona Halep, she decided - with a characteristic degree of spontaneity - that she had reached the end of the road.
'It looked so clear to me," she added. "I just called my dad at the end of the match, because obviously he was there for my first ball when I hit it at five and a half, and there when I hit my ace to win Wimbledon at 28.
"He totally understood my decision because he knew more than anyone in the world all the hard work I had put in and everything I had to go through to be a Grand Slam champion.
"He knew 100% that my body is way too tired and I just can't do it any more. Of course I'm a tennis player, but I'm a human as well, and to suffer that much - I don't see the point of it."
Bartoli, who says she does not mind losing at cards or ping pong, does not think she will miss the competitive thrust. Some of her future plans include trying to help other French players achieve what she has, developing a fashion line with her American sponsor, and spending as much time as possible supporting Marseille's football team.
And she thinks she will be very much at ease on the first Tuesday afternoon of Wimbledon, when as defending champion, she has earned the right to be the first to walk out onto Centre Court.
'That will be totally fine to me," she said. "I think Phillip [Brook, the Wimbledon chairman] told me I will be in the Royal Box, which is great, and I will be very happy as I think Sabine [Lisicki, this year's runner-up] will do it, and she is my friend.
"But you know what, the 2013 Wimbledon title has just my name on it, and everyone will remember that."