Roger Federer: US Open defeat confirms his time has passed

By Russell Fuller
BBC tennis correspondent at Flushing Meadows
Last updated on .From the section Tennis253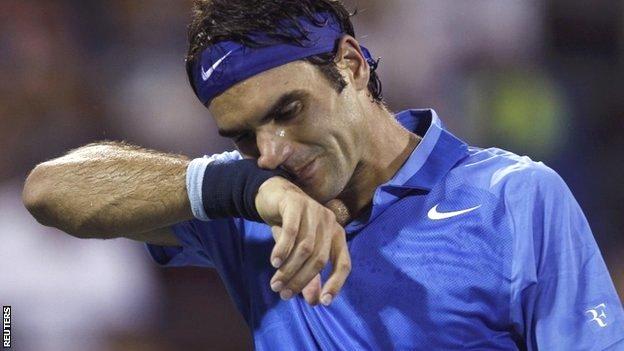 We should not be that surprised by Roger Federer's even if it does leave us feeling a little empty and pining for a chance to reacquaint ourselves with the master in his prime.
I remember watching the late Severiano Ballesteros struggle for much of the 1990s, and refusing to accept that his genius of the previous decade wouldn't be able to carry him to another major title.
We have witnessed so much artistry and dominance flow from Federer's racquet so recently that it's hard to accept that age, and some significantly younger and phenomenally talented players, have caught up with him.
He was incredibly honest after his straight sets defeat by Robredo, as he admitted: "I struggled throughout. I missed so many opportunities. Rhythm was off."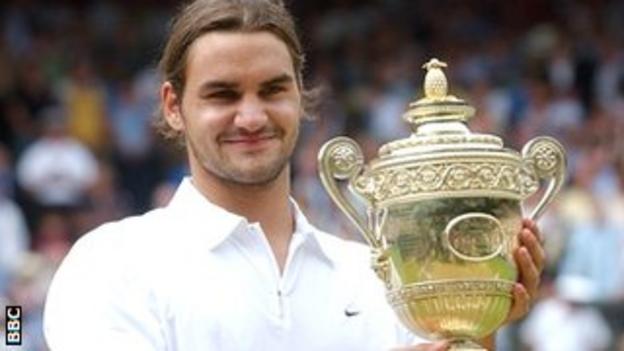 And there was a real indication of the frustration the 32-year-old is feeling when he said: "I kind of self-destructed, which is very disappointing, especially on a quicker court. It just ended up being a bad combination of many things today."
Federer's forehand has been one of the most potent weapons in the history of the sport, yet it failed him spectacularly against Robredo - a man who had only three sets to show from 10 fruitless meetings with Federer before Monday.
The defeat by was even harder to accept, and this will be the first year since 2002 that the Swiss has not appeared in a Grand Slam final.
That is not meant as a criticism. Federer won 16 of a possible 27 Grand Slam titles between Wimbledon 2003 and the Australian Open of 2010.
It was exhilarating to watch, and will never be repeated. He has won just one of the last fifteen, although we should celebrate the fact that he managed to win last year's Wimbledon just a few weeks before his 31st birthday.
He will have to play well for the next couple of months if he is to make his 12th consecutive appearance at the ATP World Tour Finals (much will depend on how far Richard Gasquet, Stanislas Wawrinka and even Robredo himself go here in New York), but I believe he can remain in the world's top 10 for a while to come.
He is still very much in love with the sport and says becoming a father has not affected his hunger to compete. If his back stays strong, and he can reconcile himself with being an outside bet for the game's major prizes, then retirement may still be some way off.
And if he wants to experiment again with a larger racquet head, or play a couple of smaller clay court tournaments after Wimbledon, then we should not despair. It is to his eternal credit that he is prepared to try things he has not needed to try before.
Winning another Grand Slam, however, seems an ever more distant dream.
Sampras won his 14th and final Grand Slam at virtually the same age Federer was when he beat Andy Murray in last year's Wimbledon final.
Jimmy Connors reached the US Open semi-final a few days after his 39th birthday, but he was blessed with attributes less affected by the ageing process.
Andre Agassi offers the most hope for Federer, as he won the Australian Open just a couple of months before his 33rd birthday, although he remains the only man over 32 to have won a Grand Slam singles titles in the past 40 years.
Federer will be a very similar age to Agassi when the next Grand Slam is staged in Melbourne in January, and will have so many obstacles blocking his path.
There's Rafael Nadal, Novak Djokovic and Andy Murray - who have amassed 20 Grand Slam titles between them - and a supporting cast of top 10 players, who with the exception of David Ferrer, are all at least four years Federer's junior.
So, we will have to settle for 17. Even if I am still desperately hoping to be proved wrong.