Andy Murray must set new goals - Boris Becker
By Piers Newbery
BBC Sport at Flushing Meadows
Last updated on .From the section Tennis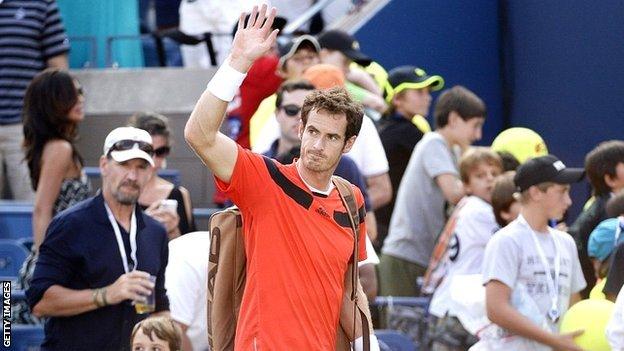 Wimbledon champion Andy Murray needs to set himself new challenges after losing his US Open title with defeat in the quarter-finals, says Boris Becker.
The Briton, who won his first major title at Flushing Meadows last year,
Becker, a former US Open and six-time Grand Slam champion, believes Murray must find new inspiration.
"He needs to set new goals, find new reasons to work harder and play better," Becker told BBC Sport.
"He hasn't been the number one player in the world, he hasn't won at the O2 [ATP World Tour Finals], he hasn't won the Australian Open.
"There are a few major ones but right now step away for a little bit and be crystal clear about what he wants to do for the rest of the year.
"He's been playing so well for so long that eventually there's going to be a downer, eventually there's going to be a disappointment.
"A quarter-final is a respectable result at the US Open, although obviously the match on Thursday wasn't, but I'm sure he's going to come back."
Murray, who won and the in 2012, admitted after Thursday's defeat that it had not been easy to adjust after becoming
"When you work hard for something for a lot of years, it's going to take a bit of time to really fire yourself up and get yourself training 110%," said the Scot.
Becker followed up victory at Wimbledon in 1989 with his only US Open title two months later, and it was the only time in his career that he won back-to-back Grand Slams.
"If it was so easy, you would do it every week," said the German.
"Andy's certainly had a few very emotional highs over the past 18 months, and it's not easy to digest that, and to come to terms with that and find new motivation and inspiration, and that's what coming across.
"He's doing everything he's supposed to do but the extra 10% is missing."
Murray will play for Great Britain against Croatia in the Davis Cup next week, with his next tournament scheduled to be the Thailand Open in Bangkok from 23 September.