Novak Djokovic beats Wawrinka to make US Open final
By Piers Newbery
BBC Sport at Flushing Meadows
Last updated on .From the section Tennis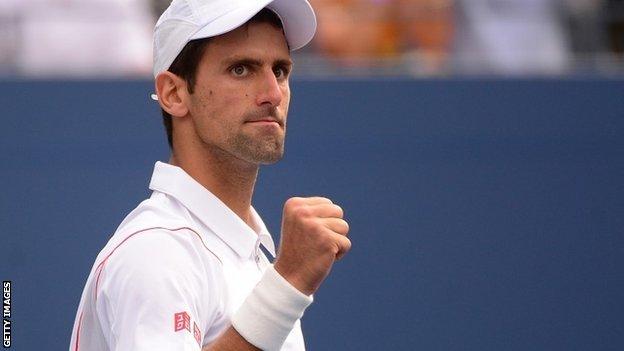 World number one Novak Djokovic reached his fourth straight US Open final with a stunning five-set win over Stanislas Wawrinka in New York.
Djokovic came back from a set and a break down - as he had against the Swiss ninth seed at the Australian Open in January - to win 2-6 7-6 (7-4) 3-6 6-3 6-4.
The Serb, 26, will face Rafael Nadal in Monday's final after the Spanish second seed beat Richard Gasquet 6-4 7-6 (7-1) 6-2.
Djokovic has twice beaten Roger Federer in dramatic five-set US Open semi-finals, and on a hot afternoon at Flushing Meadows he once again ended Swiss hopes in thrilling style.
A brilliant match peaked with an incredible 21-minute game at 1-1 in the decider, which saw Wawrkina fight off five break points and both men pause at one point to take the rapturous applause of 23,000 spectators on Arthur Ashe Stadium.
"Wawrinka was a better player for most of the match because he was aggressive and played better tennis," said Djokovic.
"I just tried to hang on and fight and be mentally tough and believe all the way through I could actually win.
"And I sincerely believed that as the match progressed maybe I would have that physical edge over him.
"Also, being in these kind of matches and situations and playing on a big stage in semi-finals, maybe that experience could give me a little bit more confidence mentally."
The first set was an absolute disaster for Djokovic as he was broken three times, made 14 unforced errors and won only 11% of the points on his second serve, double-faulting at key moments.
Andy Murray had been driven to distraction against Wawrinka, and Djokovic looked to be heading the same way when he furiously smashed a ball away early in the second set.
Wawrinka, in contrast, was in full flow and Djokovic was given a code violation for receiving coaching from the stands after he fired a forehand long to drop serve in game five.
Whatever insight coach Marian Vajda had been trying to pass on, it was 28-year-old Wawrinka who brought his man back into the match with an edgy service game at 4-2 that ended with a forehand framed into the stands.
Djokovic took advantage in the tie-break, but if the Swiss had Melbourne in his mind after being pegged back to one set all, he banished it quickly.
A break point was saved at the start of the third and a tight set developing when Djokovic inexplicably produced another woeful service game at 4-3 down, netting a forehand to lose it to love.
Wawrinka came through a titanic rally at 30-30 to serve it out and regain the lead, but things began to unravel for the Swiss in the fourth set.
If Djokovic's temper had frayed in the early stages, Wawrinka well and truly snapped - as did his racquet when he clattered it into the ground - after falling 3-0 down, and following an earlier warning for "ball abuse", the outburst cost him a penalty point.
More seriously for his hopes of winning the match, Wawrinka left the court for a medical timeout two games later, and a pumped up Djokovic finished off the set clinically on his return to force a decider.
Djokovic had vastly more experience at this level than an opponent playing in his first Grand Slam semi-final, but there was nothing to choose between the pair in an epic third game of 12 deuces.
Wawrinka held on magnificently, but Djokovic was back to his best on the return now and he put his opponent under constant pressure until the Swiss floated a backhand long in game five to give up the break.
After four hours and nine minutes, Djokovic finally arrived at three match points and, after netting a forehand on the first, the 2011 champion fired an ace down the middle.
"At the end of the third set I started feeling my right leg, and at that moment I knew I was going to be out of fuel if I had to play a long match," said Wawrinka.
He added: "In the Australian Open I had to play my best game to stay with him. Today I had the feeling when I was still fit, when I was still healthy, I had the match in control.
"I think I was playing better than him. I was doing much more things than him. But he's not number one for nothing."