Rafael Nadal: Is the US Open champion better than ever?
By Piers Newbery
BBC Sport at Flushing Meadows
Last updated on .From the section Tennis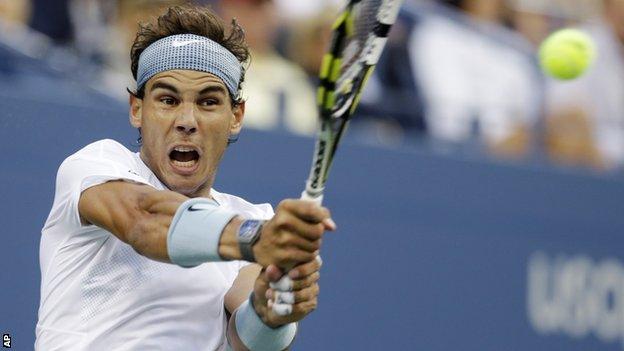 Rafael Nadal's incredible run of form on hard courts prompts the question: have the Spaniard's knee problems made him a better player?
The 27-year-old completed an astonishing comeback from his most serious injury lay-off, to win his 13th Grand Slam title, by beating world number one Novak Djokovic 6-2 3-6 6-4 6-1 in Monday's US Open final.
Clearly the months out of the game and the pain he has endured because of a partially torn patella tendon have been a heavy price to pay for the Majorcan.
However, as a result of trying to shorten the points and protect his knees, a newly aggressive Nadal has chalked up an unprecedented 22-0 record on hard courts this year, and seven-times Grand Slam winner John McEnroe believes he is playing the best tennis of his career.
It leaves him in pole position to end the year at the top of the rankings, something that would have been hard to believe when he pulled out of the Australian Open last December.
Nadal finally returned to competition in February, choosing low-key clay-court tournaments in Chile, Brazil and Mexico, where, despite winning two titles, his form was unconvincing.
Asked if he could have hoped for such a successful run to follow, Toni Nadal, the player's uncle and coach, told BBC Radio 5 live: "Never.
"I couldn't imagine it in December, in January, and the same when we went to Vina del Mar or Sao Paulo.
"We had many problems and I couldn't think that seven months later Rafa can be where he is now."
Nadal felt more comfortable with the knee when he was able to slide on his favoured clay surface, and subsequent victories in Barcelona, Madrid, Rome and - for a record eighth time - at the French Open were truly remarkable, but they only confirmed that the greatest clay-courter ever still ruled on that surface.
The real test would come on hard courts, where Nadal has always felt his knees come under greater stress than on clay.
"It would be great if some doctors create an opinion on that, but it's a conversation that we had hundreds of times in the past," he said at Flushing Meadows.
"I am talking not for my generation, because that's not going to change, but for the future generations it would be better if they, the ATP, can find a solution for that.
"The hard courts are still a little bit, in my opinion, too aggressive to have a very long career."
Nadal has already been out there a while, having turned professional in 2001 aged 15, but with 12 Grand Slams to his name and the end of his career a lot closer than the start, the decision was taken to step up the aggression.
"We talked about this some months before when we prepared the season," said Toni Nadal.
"We know that he should be more aggressive for the knees, but when you think about playing aggressively, what makes you play like this is the confidence.
"Without confidence it's impossible to play aggressively and take the right decisions."
There had been reports that Nadal would not even compete on the hard courts of Indian Wells in March, with the European clay-court season looming and grass to follow, but not only did he play, the Spaniard beat Roger Federer, Tomas Berdych and Juan Martin del Potro to take the title.
He described it as "probably one of the most emotional victories of my career".
And if his Wimbledon first-round loss to Belgian Steve Darcis was certainly a shock, it was not completely out of the blue to those who had heard him talk soon after his record-breaking French Open win.
"I am going to try to arrive in good shape to Wimbledon, and if not I am going to look at the rest of the season," he said, and so it proved as the backlog of matches caught up with him and a second successive early exit followed in London.
With a six-week gap until the North American hard courts, Nadal arrived in Montreal firing on all cylinders and he saw off Djokovic on his way to the title, before following it up with his 26th Masters victory in Cincinnati.
Standing closer to the baseline, hitting closer to the lines, serving superbly and moving forward more than ever to finish points at the net, Nadal had added several dimensions to a game that was already far too good for most.
"I think you can play aggressive when you are playing well," he said last week. "That's the first and important thing.
"It's true I'm trying to take the ball a little bit early, that I worked on my game to be a little bit more aggressive, but at the same time it's true that in the past, when I was playing well on this surface, I had good success too."
True enough, Nadal had already won five Masters, a US Open and an Australian Open on hard courts before this year, and victory over Djokovic on Monday has capped an extraordinary seven months.
And Toni Nadal, speaking ahead of Monday's final, said there was no mystery about the way his nephew approached his showdown with Djokovic.
"Sport is very simple, always," he said. "Journalists, the media, the public think he should do this or this. For me, it's so much easier.
"You should play good, nothing else. You should play very well.
"And when you want to beat Novak Djokovic, you should do all the things very well - a good serve, a good return, a good forehand.
"This is so simple. Sport is not for making philosophy or science. It's easy - play very well."