Andy Murray wants Davis Cup ties made mandatory

By Russell Fuller
BBC tennis correspondent
Last updated on .From the section Tennis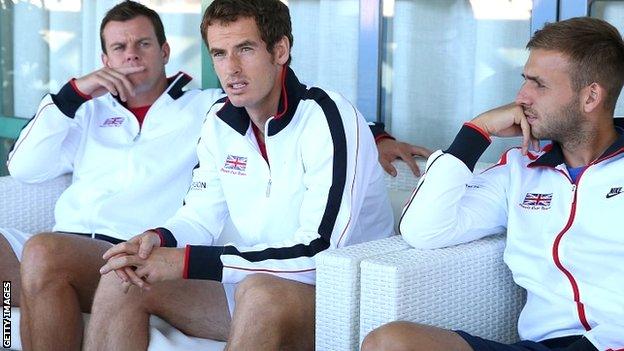 British number one Andy Murray has told BBC Sport that the Davis Cup should become "a mandatory event".
On the eve of Great Britain's World Group play-off tie in Croatia, Murray feels the demands of the ATP Tour force top players to skip some ties.
"We're told which events to play throughout the whole year," said the Wimbledon champion, who has not played a Davis Cup match for two years.
"They should make Davis Cup a mandatory event so it isn't up for discussion."
The 26-year-old used to turn out regularly and is unbeaten in 14 matches since losing to Stanislas Wawrinka on his debut in 2005.
"It isn't about prioritising Davis Cup. We, as tennis players, are told which tournaments to play," he said, after Thursday's draw in Umag.
"We don't have much flexibility in our schedule at all, and that's why I don't understand why they don't make Davis Cup a mandatory event. We are meant to play 18 mandatory events during the year, which is about 27, 28 weeks worth of tournaments, and we don't get to decide which ones we do and don't play."
The "mandatory events" are the 18 tournaments which can count towards a player's world ranking. For the elite like Murray that means the four Grand Slams and the nine Masters 1000 events, plus up to five others.
At least three of those five are supposed to be ATP 500 events, and as players are also likely to want to play warm-up events before both the Australian Open and Wimbledon, Murray feels also committing to up to four Davis Cup ties a year puts too much strain on the body.
"The hard part about it is the surface changes," he said. "Going from hard courts to clay courts to hard courts in a three-week span [is difficult].
"Davis Cup finishes on a Sunday and there are tournaments that start on the ATP Tour on Tuesday. That's unhealthy - it's not good for the body to travel from Croatia on a Sunday night, hit once on a hard court, and then play a match on it going flat out."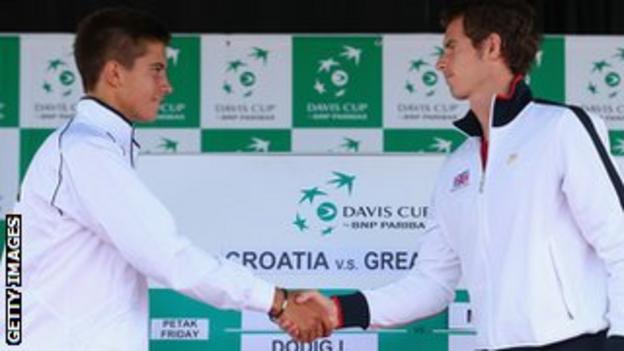 Murray withdrew from this year's French Open after suffering a back injury at the Rome Masters and has to manage a condition which tends to flare up on clay.
He has not pushed himself too hard in training in Umag ahead of Friday's opening rubber against 16-year-old Borna Coric and has been having regular physiotherapy, so does not expect the transition to cause him too many problems this time.
Where the Davis Cup should sit in the annual calendar has become a torturous issue. Seven years ago, a number of top players wrote to the International Tennis Federation (ITF) to ask them to stage Davis Cup ties in weeks immediately after a Grand Slam.
Murray said: "That's also challenging but they've got a good turn out this week. Rafa's playing, Novak's playing, so the competition still does very well. They draw big crowds - there just needs to be a few tweaks."
Losing in the quarter-finals of the US Open did at least allow Murray more time to prepare for this tie.
He flew to Croatia on Sunday and started practising on the clay later that evening. Nadal and Djokovic had to play the US Open final in New York on Monday night, before flying to Madrid and Belgrade respectively to get ready for a Friday Davis Cup start.
The ATP is yet to respond to Murray's comments, but the ITF president Francesco Ricci Bitti has told BBC Sport that he finds the world number three's suggestion "interesting".
"The ITF is always open to consider new ideas to improve the competition and available to discuss with the relevant parties," he added.