Davis Cup: Great Britain promotion was a team affair

By Russell Fuller
BBC tennis correspondent
Last updated on .From the section Tennis120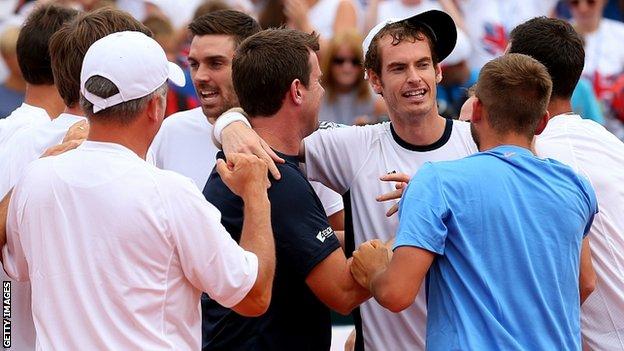 When the Turkish team arrived in Eastbourne just after Wimbledon 2010, Great Britain were haunted by the prospect of relegation to European Zone Group 3 of the Davis Cup.
Matches against San Marino, Andorra and Iceland loomed on the horizon, until a 5-0 victory on the grass ended those thoughts. That was Leon Smith's first tie as captain, and three years on, his team are back in the World Group after this weekend's comfortable win in Croatia.
A nation which has such vast Wimbledon profits to sink back into the sport should of course be regulars in the top tier, but that should not detract from what has been a hugely impressive team effort.
Andy Murray's decision to take a break from the team at the end of 2011 has had positive repercussions. Other players have started performing much better than their ranking should allow: doubles players like Colin Fleming, Ross Hutchins and Jonny Marray have played an important part, and Britain would not be in the position they are today without the stunning Sunday singles' wins by James Ward and Dan Evans in the comeback from 2-0 down against Russia in Coventry in April.
Smith's captaincy has been astute and bold. In his dual role as the Lawn Tennis Association's head of men's tennis, he has given the players the confidence to perform. His travelling support cast of coaches, physios, doctors and fitness trainers is huge, but having been made Britain's youngest Davis Cup captain in 35 years, he has proved more than a couple of people wrong.
"When I took over, maybe a few eyebrows were raised, but I have tried to involve a lot of people in it because I think it's important for British tennis to have more British coaches involved at this level," he told me, in the aftermath of victory in Umag.
"When they go back to the day job of coaching some of the younger players, there's no doubt they are going to benefit from spending time with Andy and our doubles players this week. And we have also been very well prepared: each tie, we do a lot of scouting and analysis of the players and I think that has served us well."
Murray led from the front magnificently at the Stella Maris Stadium, and says his decision to make himself unavailable for three ties over the past two years was motivated by a desire to make Britain a more rounded team.
"I wanted the younger guys to step up and experience it," he told BBC Sport.
"There was no point in being in the World Group because we weren't ready for it. But now I think we are ready to do well. If I'm fit and healthy, I will be there to play."
Murray also took the decision to step away from the team to enhance his chances of winning what was proving to be an elusive Grand Slam. Less Davis Cup meant less time on the road, and no danger of being asked to switch surfaces at short notice at the immediate conclusion of a Grand Slam. His schedule over the past two years has paid handsome dividends.
The Wimbledon champion remains a big fan of the Davis Cup - even suggesting last week that participation should be made mandatory for players who are selected. And his country needs him, because however well others have played in the past, stars like Rafael Nadal and Novak Djokovic await in the World Group.
The draw takes place in London on Wednesday morning. Spain away? It would be "a very difficult proposition," according to Smith, and an "ugly match-up," in the words of Murray.
The draw will be crucial to Britain's chances, as a home tie allows the hosts to choose the venue and the speed of the court. Jeremy Bates was a member of the last British team to win a World Group tie, way back in 1986.
"We played against Spain in Telford and we put a nice fast carpet court down," he explained. "We played against Sergio Casal and Emilio Sanchez. John Lloyd played number one singles, and I played number two. Great memories - all the Davis Cup memories were great memories."
So could a slick piece of carpet be Great Britain's secret weapon next year?
"Unfortunately it's not allowed any more, as there are rules about the speed of the courts you can put down," he went on. "The parameters are much narrower now, but that said, you can have an indoor court that is pretty quick. You would certainly take any one of the indoor surfaces over getting an away tie indoors in Madrid, against Nadal, Ferrer, Verdasco, or whoever else feels like playing for Spain."