Andy Murray: Back surgery set to end Wimbledon champion's year
Last updated on .From the section Tennis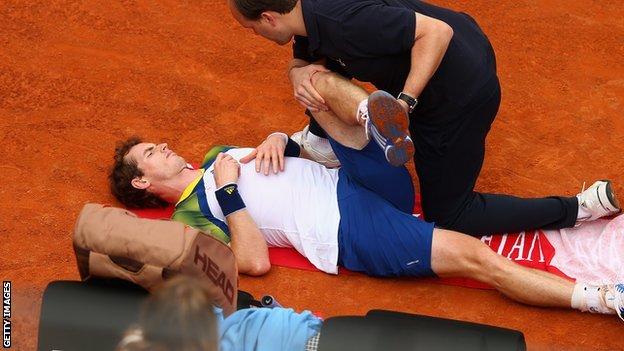 Andy Murray will undergo surgery on a long-standing back injury on Monday and is unlikely to play again this season.
The 26-year-old has a disc problem in his lower back and is set to miss this year's remaining tour events, including November's World Tour Finals in London.
The injury flared up in May, forcing him to withdraw from the French Open.
He returned to become Britain's first male Wimbledon singles champion since 1936, but struggled on the hard courts and lost in the US Open quarter-finals.
Murray tweeted on Thursday: "Having operation on Monday. Will let everyone know how it goes. I'll be 'back' stronger."
The problem, which Murray has suffered for two years, affects a nerve in his lower back which can send pain shooting down his hip and upper leg.
It appears to cause him more problems when he plays on clay and the harder surfaces than on grass courts.
He had pain-killing injections before the 2012 French Open and withdrew from this year's Rome Masters midway through a match against Marcel Granollers. After taking medical advice, he chose not to play at Roland Garros in May.
There were signs of discomfort at the US Open, but he only took the decision to have surgery after last weekend's Davis Cup tie on clay in Croatia. He admitted his back was sore after last Friday's opening singles victory over Borna Coric.
Murray had been scheduled to play three more events in Asia this season, including the Shanghai Masters, then the Paris Masters before heading to the ATP World Tour Finals at London's O2 Arena from 4-11 November.
There is no suggestion that next year's schedule will be affected and it is hoped he will kick off his regular pre-season training block in Miami in the middle of November.
Jamie Baker, Murray's friend and former Davis Cup team-mate, said: "Andy does have a knack of always looking in pain, but this is something he feels is the right thing to do and we have to trust him.
"We can't underestimate how tough emotionally the last 12 months has been, so it's understandable if he's a little bit burned out, and this break will give him the best chance of picking up more major titles next year."