Michael Downey named as new LTA chief executive
Last updated on .From the section Tennis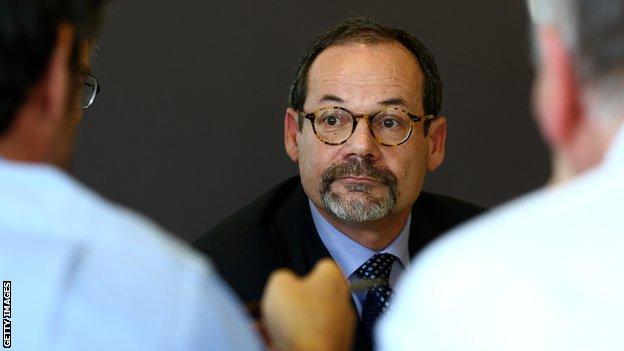 Canadian Michael Downey has been appointed as chief executive of the Lawn Tennis Association (LTA).
Downey, 56, has been Tennis Canada's president for nine years and succeeds Roger Draper, who leaves in six days.
He takes over an organisation threatened with a funding cut of £10.3m from Sport England if it fails to increase participation.
"I believe there's a bevy of young talent in Great Britain that can follow Andy Murray to the podium," he said.
"The opportunity that Andy Murray is now a Wimbledon champion, two-time grand slam champion, is immense for tennis in Britain.
"Andy Murray's biggest contribution to tennis in Britain is winning.
"That's when you want to write about him, that's when people want to follow him, that's when kids are going to go out, pick up racquets and want to be Andy Murray."
The LTA was criticised by Baroness Billingham, the chair of the All-Party Tennis Group, in December 2012.
She said: "The LTA is one of the wealthiest sporting organisations in the country and it's my honest and genuine opinion that they are useless."
Draper's £640,000 salary was also described by Billingham as "unthinkable". He received a basic wage of £394,000, a bonus of £201,000 and a pension contribution of £45,000.
Since Billingham's criticism, Murray has won Wimbledon and the LTA has reported an upturn in people playing the sport.
It says there was a 100% increase on the previous year of people playing tennis in July, with 36,000 players registering on its website.
Downey will be paid a salary of £300,000 with a chance to earn up to 30% more in bonuses if he meets performance targets.
He was a senior executive at Maple Leaf Sports & Entertainment, owners of the Toronto Maple Leafs and Toronto Raptors, before taking over at Tennis Canada.
Downey added: "I really do believe this is a great organisation but great organisations can get better and need to continually get better by looking at themselves and also being open to criticism from the outside.
"What the LTA is about is trying to engage others to help us collectively grow the sport. The mission is to help get more people playing tennis more often.
"A critical part of that mission is continued high-performance success for British tennis."
The Canadian tennis team lost to Serbia at the semi-final stage of the Davis Cup on September 15.
LTA chairman David Gregson said: "We set out to recruit a CEO with true success in business, with exceptional leadership credentials and ideally with significant knowledge of tennis.
"Michael demonstrably fits the bill perfectly and was the unanimous choice of our recruitment panel."
Downey starts his new role on 6 January, 2014, with chief operating officer Nick Humby taking charge during the interim period.