Michael Downey: Why has the LTA opted for the Canadian?

By Russell Fuller
BBC tennis correspondent
Last updated on .From the section Tennis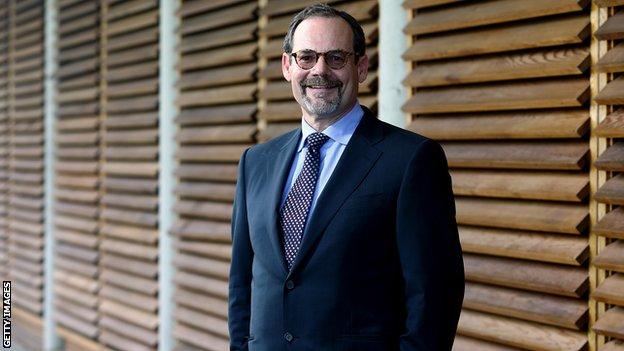 The Lawn Tennis Association's search for a new chief executive took the best part of six months, but chairman David Gregson seems in little doubt that in Michael Downey he has found the ideal man for the job.
So for the benefit of those who weren't on the recruitment committee, let me try to answer some of the questions that his appointment has raised.
WHO IS MICHAEL DOWNEY?
He is the latest Canadian import into British life. He doesn't know either Greg Rusedski or Mark Carney (the new governor of the Bank of the England), but spent a holiday exploring London with his two sons a couple of years ago.
A relatively slight man of 56, with round tortoise shell glasses, Downey will relocate from Toronto where he is currently the chief executive of Tennis Canada.
He will be moving to London with his fiancee Jinder in time to start work in January, and has already stressed the importance of making sure his partner is happy and settled.
Downey does not play tennis, but says that was an attraction to the board of Tennis Canada when they hired him. "I don't think my backhand is important as a CEO," he told me, after his appointment was finally made public.
HOW IMPRESSIVE IS HIS CV?
He is a marketeer by trade, and now has the job of selling tennis to those who see it as no more than an armchair sport.
He led the expat life in Jakarta for a few years, before returning home to work first for the Toronto Raptors NBA team, and then for the Maple Leafs NHL team. Canada's largest brewery was then added to his CV before he was asked to run Canadian tennis.
According to David Gregson, he ticks all the boxes. Nearly 30 of the 350 applicants for the post were interviewed, but "what made Michael stand out is that he has top-level business experience, he has run a sport, and of course knows tennis backwards, so he was the unanimous choice".
Canadian tennis has certainly had a good few years. Milos Raonic made his debut in the world's top 10 in August, 19-year-old Eugenie Bouchard is now ranked inside the top 50, and Canada reached the semi-finals of this year's Davis Cup.
And perhaps more significantly, participation levels have been increasing: over 1.2 of 35 million people play tennis at least twice a month in season.
HOW MUCH WILL HE COST BRITISH TENNIS?
Not as much as the outgoing chief executive Roger Draper, whose salary so horrified the chair of the All Party Tennis Group, Baroness Billingham.
Downey's total package will be worth about two thirds of Draper's: he will earn a basic annual salary of £300,000, plus a 10% pension contribution and up to an extra 30% in performance incentives.
Downey will also get a car, but I'm told he has declined the offer of a Jag. The company is one of the LTA's commercial partners, but the new chief exec would apparently rather be seen in a Polo.
WHAT IS HIS BLUEPRINT FOR SUCCESS?
He is a strong believer in performance incentives - from the top to the bottom of the organisation. At Tennis Canada, even the person who answers the phones has an element of performance-related pay.
The word that came up time and time again in his round of interviews was 'partnership': he believes in involving others who also have an incentive to see tennis grow - whether that's the council, charities or private clubs. By example, here's how he told me he would get more people to play on a sparsely used court.
"The key is looking at the core problem and saying that court is an asset which needs to be used - so what is the best way of encouraging the local community to use it?
"Courts in one area of Britain may be used in a different way to courts in another. We need to work with local groups on how actually to stimulate more participation."
He also believes that elite performance drives participation, and is clear that Andy Murray's Wimbledon victory gives the LTA an "immense opportunity".
"Andy Murray's biggest contribution to tennis in Britain is winning," he told me. "It's the emotive side of tennis. High performance success feeds into getting more people playing - more often."
Michael Downey will start work on Monday, 6 January - by which time Sport England will have decided whether participation levels have increased sufficiently enough to allow them to transfer £10.3m in withheld funding.
The new man at the helm understandably did not want to make too many firm promises in his opening address. But he did promise to be transparent, and to listen to voices both friendly and hostile - although not always to follow their advice.
There is a blank piece of paper, and Downey is controlling the pen.