The Murray who could still be at the ATP World Tour Finals

By Russell Fuller
BBC tennis correspondent
Last updated on .From the section Tennis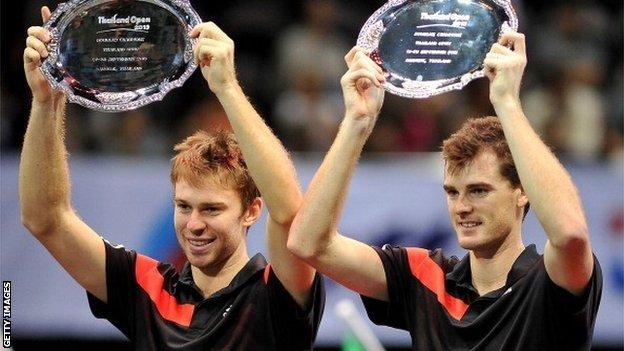 Jamie Murray's 2012 season ended with a first-round straight-sets defeat at a Challenger event in Helsinki, and a doubles world ranking of 75.
He had 13 different partners over the course of a very difficult year, and his career was stalling.
Fast forward 12 months, and he has found a winning combination with the Australian John Peers, and if they continue their form of the last three weeks over the final three weeks of the season, they could well find themselves in the elite eight-team field for London's World Tour Finals.
"There have been a lot of ups and downs over the last three or four years," the 27-year-old told me, after losing in the Shanghai semi-finals - the first Masters 1000 tournament the pair have been ranked high enough to enter.
"It hasn't always been good fun to be out on the Tour. I have taken a lot of hits, but I have learnt a lot about myself and tennis. I think now that I've got this partnership with John and things are working so well, there's a desire to really make it work, because I know what the other side of the coin can be like."
Murray's career took off in 2007, when he won three men's doubles titles and beat his brother Andy on to the Wimbledon Rolls of Honour by taking the mixed doubles crown with Jelena Jankovic. Another title followed in 2008, before his ranking started to slide to a level too low for the tournaments to which he had previously gained automatic entry.
Suddenly it was a case of dispatching a flurry of text messages to potential partners, and of searching for a combination that would be able to find its way into that week's main draw.
"It's stressful and frustrating because you can't really plan for anything," he said. "It's difficult. No-one really enjoys doing that, but for a lot of doubles players that's just the way it is."
Life took a distinct turn for the better at this January's Australian Open, when Murray practised with Peers - a 25-year-old who was outside the world's top 350 two years ago after a college career in the United States.
They decided to link up, and a semi-final appearance at their debut event in Montpellier has has been followed by titles in Houston (where they beat the world number one Bryan brothers in the final), Gstaad and Bangkok, as well as a quarter-final appearance at the US Open.
The last three weeks have been especially profitable, as after the success in Bangkok they reached the final in Tokyo before last week's run to the last four in Shanghai.
They are now 11th in the Race to London, and the possibility of qualifying for the season finale has belatedly sprung to mind.
"For us, it was never really a goal at the start of the season, because we weren't able to play any Masters 500 and 1000 tournaments - these last two weeks are the first ones we have played.
"We've performed well, and our rankings are moving up [Murray is expected to return to the top 30 when this week's rankings are published] and next season we will be able to play in all these events, and will have a much better chance to make it.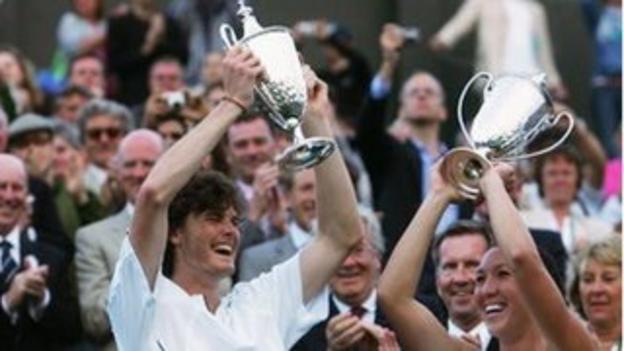 "The fact that we're so close to doing it having not played any gives us a lot of belief that we can do it next year."
Murray and Peers are the fourth seeds for this week's 16-team event in Vienna, and are then scheduled to play in Valencia and at the final Masters event of the season in Paris. That week will prove decisive, with 1,000 ranking points on offer to the winners.
Even if they fall just short of qualification, tournament directors will be much more welcoming in 2014. And, after a two-and-a-half-year absence, there is also the possibility of a return to Great Britain's Davis Cup team for the World Group first-round tie with the United States.
Captain Leon Smith will want to field Andy Murray in the doubles rubber, so could his brother prove the perfect foil?
"If I get picked, I get picked," the older Murray added. "It's always fun to represent your country, but I'm not really losing sleep over it or thinking about it a whole lot.
"But it's an exciting tie in the States in February, and obviously it would be a lot of fun to play in and be part of the team."