Fed Cup 2013: Fixture clash sees competition set for farcical finale

By Russell Fuller
BBC tennis correspondent
Last updated on .From the section Tennis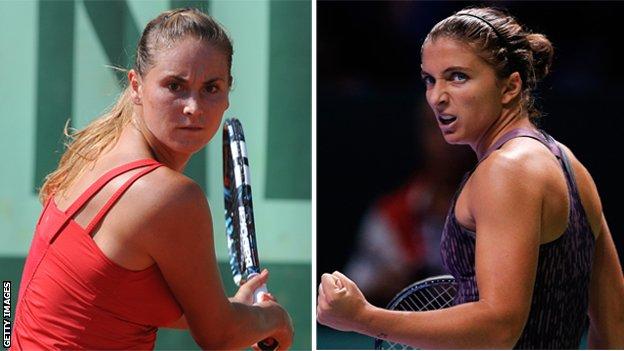 The Fed Cup is the largest annual international team competition in women's sport and has been celebrating its 50th birthday this year. But this weekend's final between Italy and Russia is unlikely to provide the icing on the cake.
While Italy have named the strongest four players at their disposal, none of Russia's top 11 have made themselves available for the trip to Sardinia.
Italy boast Sara Errani and Roberta Vinci. They are the top two doubles players in the world, and are ranked seventh and 13th respectively in singles.
Russia's top player will be the world number 136 Alexandra Panova, and she has not won a match on the WTA tour since February.
A combination of factors have conspired to produce this disappointing line-up.
Maria Sharapova, who plays very sparingly anyway, is injured, and Ekaterina Makarova - the star of Russia's thrilling semi-final comeback against Slovakia at a converted speed-skating rink in April - does not think her wrist has healed sufficiently to play both singles and doubles on the clay in Cagliari.
Svetlana Kuznetsova and Nadia Petrova feel their Fed Cup years are now behind them, and the odd grumble about a lack of funding from the Russian Tennis Federation could explain other omissions from the team.
But the main reason for Russia's under-strength squad is that the Fed Cup final clashes with the WTA's Tournament of Champions in Sofia.
This is the tennis equivalent of football's Europa League in that it rewards players who have won some of the lower-profile events, and tend to be a little further down the rankings. (Keen followers of European football's secondary competition may be interested to note that Victoria Azarenka has not been offered a place in this week's event as consolation for failing to make it out of her group at last week's WTA Championships.)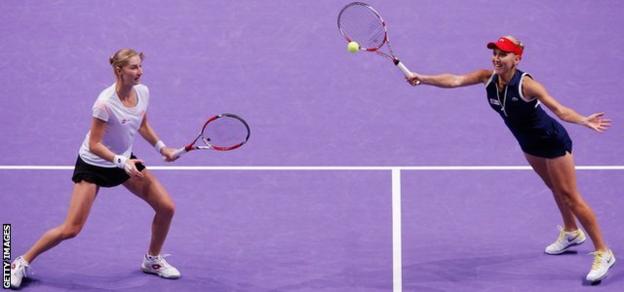 Four of the world's top 20 have made it to Bulgaria this year: the eight-woman field includes Ana Ivanovic, Samantha Stosur and, crucially, the heart of the Russian Fed Cup team.
Maria Kirilenko, Elena Vesnina and Anastasia Pavlyuchenkova all featured in this year's semi-final, but decided that the opportunity, prize money and ranking points offered in Bulgaria were just too good to turn down.
"I've been playing Fed Cup for eight years and I have won the Fed Cup twice, so I already know that feeling," Vesnina told me in Istanbul, where she was competing in the doubles at the WTA Tour Championships.
"It means a lot to me to play for my country and I have always done that with pleasure. But I have qualified for the first time in my career for this Championship and I have a chance to end the year in the top 20 - so I really want to use this chance.
"That's why I told my captain [Shamil Tarpischev] back in the summer that there's a 90% chance that if I make it to Sofia, I'm going to play there."
Having to make that choice, she added, frustrates her.
"Me and Ekaterina [Makarova] played two matches against Japan and Slovakia. We gave all we had. We got injured and we got sick after that but we were fighting for our country so much, and it is such an unfair situation that we cannot play there in the final because of that.
"It's just ridiculous, I think."
No player should be put in that position she describes. But the two competitions are managed by different promoters. The Fed Cup is run by the International Tennis Federation (ITF), and the Tournament of Champions by the WTA, whose chief executive is Stacey Allaster.
"The Tournament of Champions has been on the calendar for five years," she said.
"The ITF hasn't wanted to move the Fed Cup final, so we've said to the athletes, look, if you want to play Fed Cup you are released from any obligations. We have never really had that much of an issue because the Fed Cup final only involves a limited number of players. Roberta Vinci has qualified for Sofia and she's not playing."
"I will acknowledge that if they were in separate weeks, that would be better."
The ITF could invoke the language of the playground for its refusal to budge, on the grounds that it got there first. Instead, it has decided to take the moral high ground, and stage next year's final a week later. It will be played in the gap that will open up between the ATP Masters event in Paris and the season-ending World Tour Finals.
ITF President Francesco Ricci Bitti said: "By changing the date, we believe we have shown flexibility and concern for the players in helping them to continue to represent their country in this prestigious competition."
The format of the Fed Cup may be opaque, and its scheduling far from straightforward, but it has to be in the long-term interests of everyone in the sport to have one team competition that can be promoted, nurtured and celebrated - for at least another 50 years.