Novak Djokovic: Viktor Troicki ban is a 'total injustice'
By Piers Newbery
BBC Sport
Last updated on .From the section Tennis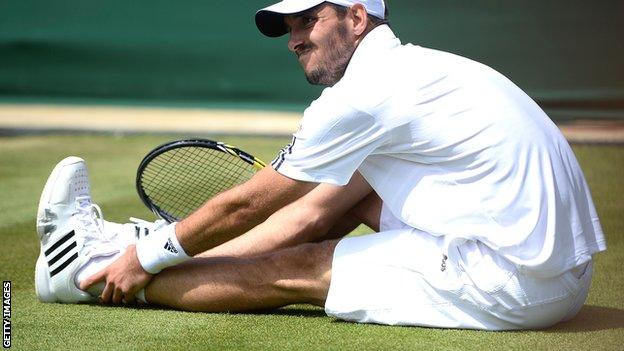 Novak Djokovic says Viktor Troicki's ban for missing a drugs test is a "total injustice" and that he has lost trust in the anti-doping system.
The 27-year-old Serb claimed he had been given permission to delay the test as he felt unwell.
"It's just not bad news for him," said Djokovic. "It makes me nervous as a player to do any kind of test."
The six-time Grand Slam winner was critical of the World Anti-Doping Agency and claimed the current anti-doping system "does not work".
The original ban handed down to Troicki by the International Tennis Federation was reduced this week by the Court of Arbitration for Sport (Cas), which found the player's "fault was not significant".
Troicki had always claimed the doping control officer (DCO) in Monte Carlo assured him he could delay giving the blood sample, but Cas said on Tuesday that "the DCO should have informed the player in clearer terms of the risks caused by his refusal to undergo a blood test".
Speaking after his win over Roger Federer at the ATP World Tour Finals in London, Djokovic defended his countryman and was scathing about the role of the DCO.
"I don't have trust in what's going on," said Djokovic, who has known Troicki since he was eight years old.
"I don't know if tomorrow the representative, the DCOs, who are representatives of Wada there at the tournaments, because of their unprofessionalism, because of their negligence, because of their inability to explain the rules in a proper way, I don't know if they're going to misplace the test that I have or anything worse than that."
Djokovic also cited the case of Croatia's Marin Cilic, who had a nine-month ban for testing positive for banned substance nikethamide reduced to four months in October.
"So what happened?" said Djokovic, 26. "Who is going to be responsible for that? Whose duty is it going to be that he lost four or five months of points, money, everything?
"That is his job, that is his life. Who is going to be answering for that?
"Now in Viktor's case, he's going to be sanctioned until July next year, and this lady, the DCO, the representative that was there that day, she's going to come back tomorrow for the job. Nobody is going to answer for that, only him. Why?"
Djokovic was also critical of the role played by the Association of Tennis Professionals (ATP) in, as he saw it, not standing up for Troicki.
"The ATP, which is supposed to be an association of players of tennis professionals, which is supposed to be the governing body, the association that stands behind the players, is not going to answer on this announcement," said Djokovic.
"It is not going to do anything for Viktor, so Viktor is there by himself. Tomorrow it can be anybody else."
Amid all the talk of securing the number one ranking on Wednesday, Rafael Nadal was asked for his thoughts.
"I prefer to not talk about these things, but at the end we have rules," he said. "We can like or not bad rules, but we have rules.
"I am very sorry for Viktor because I believe 100% on him. Probably the doctor, you know, make the mistake. But he knows that he has to pass the doping."